Crispy Pan-Fried MACKEREL With Sweet & Sour BEETROOT SALAD is on the menu in Book recipe, and we are going to teach you how to make this delicious recipe from scratch!
Cook a fried mackerel on a delicious bed of beet with horseradish cream sauce. You will need simply half an hour to receive rave reviews of your guests and family! Don't be afraid it is beyond your ability to cook a proper mackerel fillet. That's easy – watch our video recipe.
Follow along with the ???? recipes below????????????????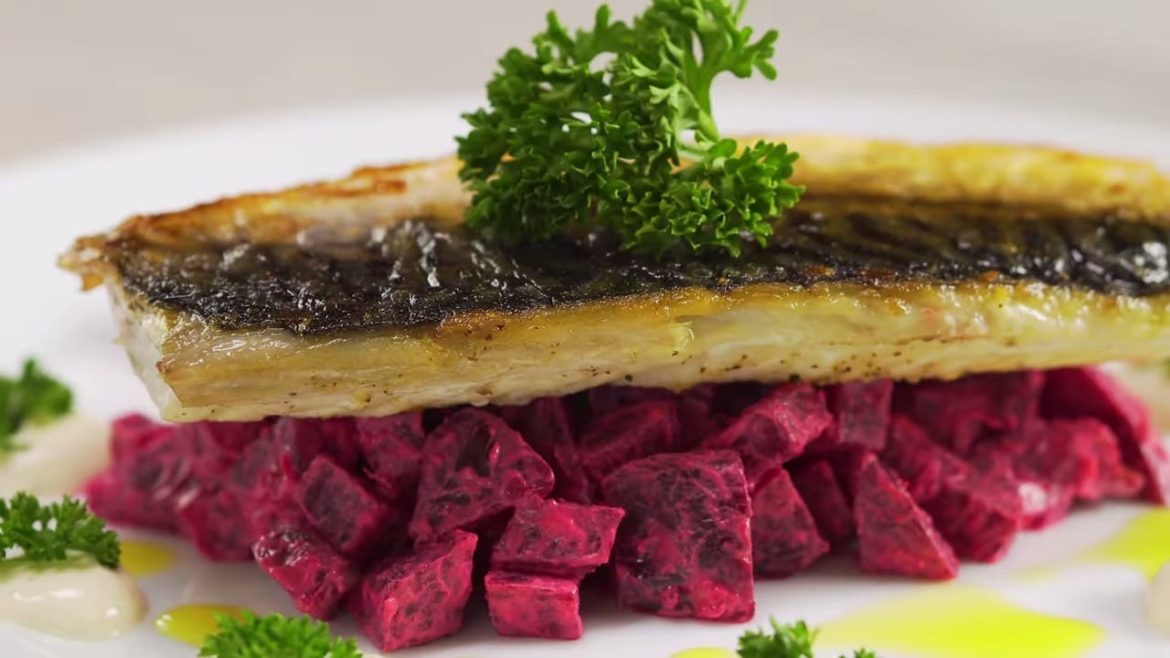 Ingredients
fresh mackerels – 2
boiled beet – 18 oz /500 g
sour cream – 1 cup /300 g
horseradish – 3 tbsp
dijon mustard – 1 tbsp
lemon juice – 3 tbsp
green onion – 2 stalks
salt – ½ tsp
ground black pepper – ½ tsp
vegetable oil – 2 tbsp
olive oil – 1 tbsp
parsley – 2 tbsp /10 g
You will need:
pan
deep bowl
bowl
carving board
Instructions
Prepare the fish fillet: clean and debone.
In a deep bowl combine well the sour cream, mustard, horseradish, lemon juice, salt, black pepper and chopped up green onion.
Cut the beet into small dices and season with 2-3 tbsp of the prepared sauce.
Heat a pan over medium heat, add 2 tbsp of vegetable oil and lay out the mackerel fillet with the skin down, salt and pepper to taste, fry for 3 minutes until golden brown, then flip carefully and fry for a minute more.
Onto the centre of serving plate lay out 3 tbsp of beet and lay the mackerel fillet on top, drizzle with the sauce and olive oil, sprinkle with parsley and serve the fried mackerel to the festive table.
Did You Make This Recipe?
Recipe video
---
Bon Appétit