Stuffed Potato With 3 Fillings are on the menu in Book recipe, and we are going to teach you how to make this delicious recipe from scratch!
Follow along with the ???? recipes below????????????????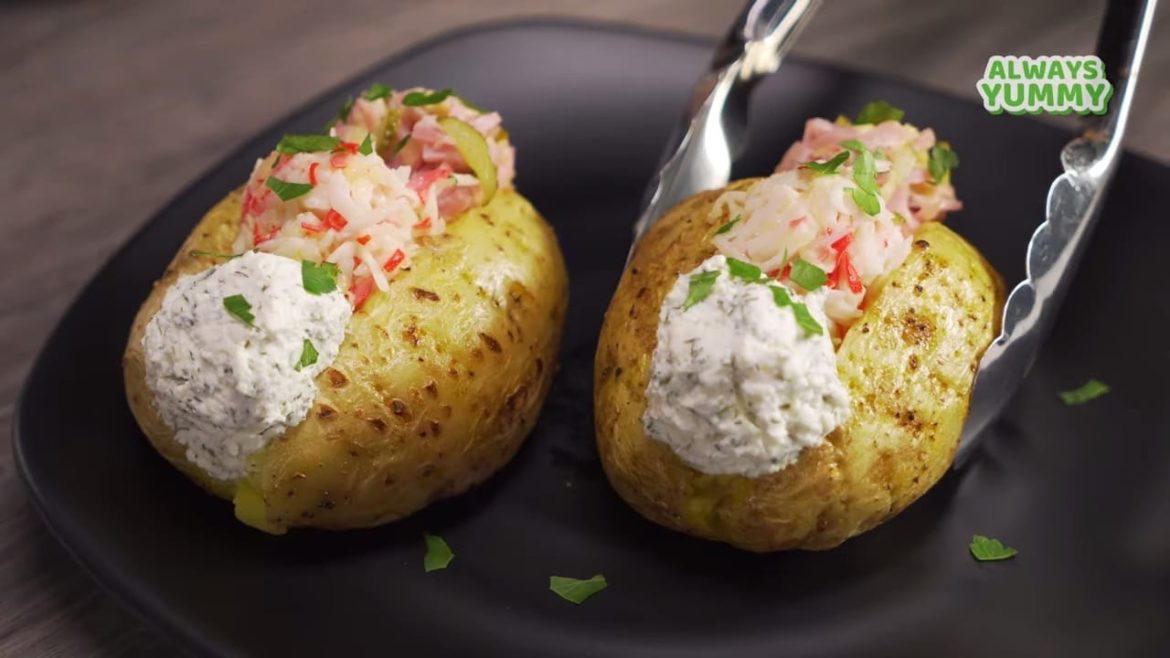 Ingredients
potato – 1 lb /500 g
vegetable oil – 1 tbsp
butter – 1 tbsp /10 g
feta – 120 g
ham – 3 oz /100 g
surimi sticks – 3 oz /100 g
cheese – 2 oz /50 g
pickled cucumbers – 1 oz /25 g
mayonnaise – 2 tbsp
sour cream – 1 tbsp
salt – ½ tsp
chopped up dill – 1 tsp
ground black pepper – ½ tsp
potato seasoning mix – ½ tsp
You will need:
carving board
microwave oven
Instructions
Wash potatoes thoroughly, dry with a towel, and pierce easily with a fork on all sides.
To the potatoes on a plate add ½ tsp of salt, ground black pepper, potato seasoning (optionally), and 1 tbsp of vegetable oil. Coat the potatoes well with these spices and put them into the microwave oven for 10 minutes at 800W covered with a microwave plate cover.
Meanwhile cut the ham, pickled cucumbers, and surimi sticks into thin strips and grate the cheese.
Combine the ingredients for filling in three bowls.
Ham and cheese filling: 3 oz /100 g of ham, 1 oz /25 g of cheese, 1 oz /25 g of pickled cucumbers, and 1 tbsp of mayonnaise.
Surimi filling: 3 oz/100 g of surimi sticks, 1 oz /25 g of cheese, 1 tbsp of mayonnaise, and salt to taste.
White cheese and dill filling: 120 g of white cheese, 1 tbsp of sour cream, and 1 tsp of chopped-up dill.
Cut the potatoes lengthwise leaving 2 cm of base uncut, add the butter inside and mash with a fork. Be careful – hot plate and potato after microwave oven can burn you.
Add the filling to your taste and sprinkle with fresh parsley.
Serve your stuffed potatoes hot.
Did You Make This Recipe?
There has long been this way of cooking a stuffed potato. The recipe of a baked potato stuffed with a variety of fillings – meat, fish, salad, appetizer, sauce, or vegetable – was derived from middle eastern cuisine and became incredibly popular in street food. You will need just 20 minutes to cook delicious stuffed potatoes. In our video recipe, we present three variants of salad stuffing for such a dish and a quick way of potato cooking.
---
Enjoy