Simit is on the menu in Book recipe, and we are going to teach you how to make this delicious recipe from scratch!
Follow along with the ???? recipes below????????????????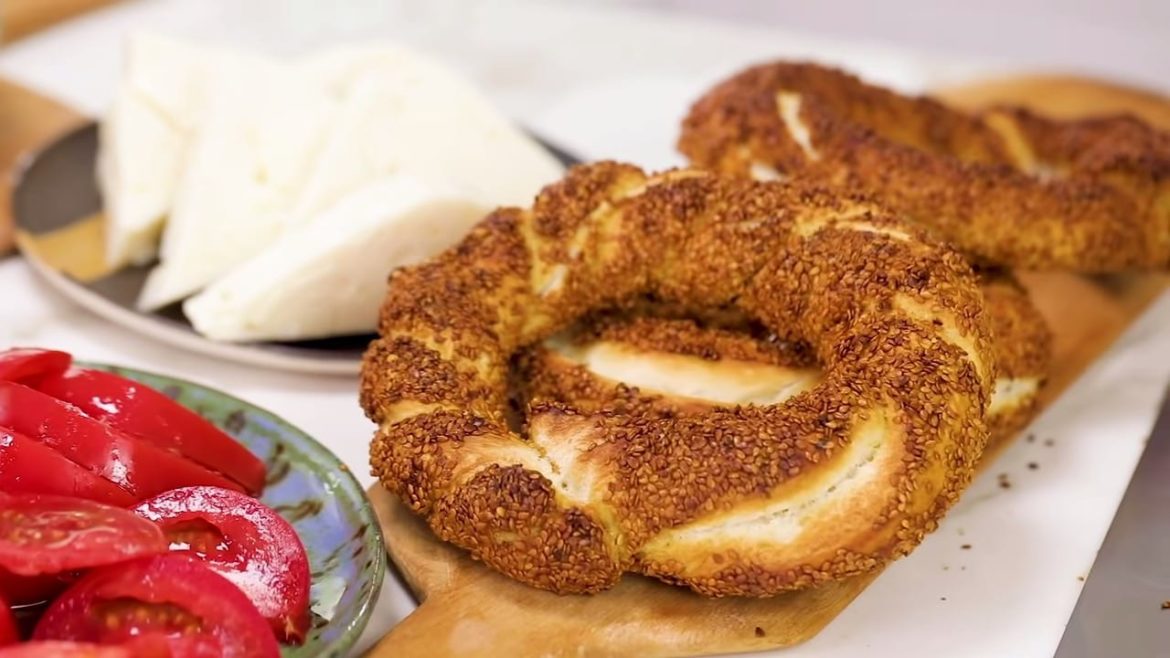 Ingredients
For the dough:
1 kg strong flour (13% and higher protein works great, or bread flour would do great as well)
1 heaped teaspoon instant yeast
1 tablespoon salt
600 ml lukewarm drinking water
For the dip:
1 cup of mulberry molasses (or grape molasses)
1/2 cup of water
1 tablespoon flour
A generous amount of half-roasted sesame seeds
Instructions
Heat your oven to 280 C (535 F) on upper and lower heat with a fan. If you have fire bricks (or oven stone) place them into the oven and heat them as well.
To make the dough, it is quite important to choose a brand of flour with 13% protein content in order to achieve the classic simit taste. You can check the back of the flour package to see the protein level. If you can't find it, bread flour works great as well.
Mix the instant yeast with the lukewarm drinking water and wait for a couple of minutes for the yeast to wake up.
Pile 1 kg of flour on the work surface (or in a bowl) and create a well at the center of the pile.
Add the water to the well, then mix the flour and the water gradually. Knead for about 8-9 minutes until you reach a smooth, tackless consistency. If the dough is stiff, wet your fingers and keep on kneading.
When your dough is ready, cover the bowl with a damp cloth and wait for half an hour. When it rises, knead once more and portion into 120 g lumps. By dividing each lump into two pieces you'll get two 60 g lumps.
First, shape the lumps into long strips (around 40-45 cm / 16-18 in). Then, take two strips side to side and wrap one another, forming a spiral. Tie two ends of the spiral to form a circle and make sure you join them well.
Dust your work surface and rest the simits while shaping others.
Using a deep plate, pour the molasses, water, and flour and mix well.
On a separate tray pour a generous amount of sesame seeds. If you can't find half-roasted sesame seeds you can roast them on a pan until they slightly change color.
Set your oven to 230 C (445 F) on upper and lower heat without the fan.
Starting with the first shaped one, dip your simits into the first station to coat with the molasses mixture, then to the second station to cover with sesame seeds.
Then place them into the oven with a pizza peel and bake for 15-20 minutes until lightly brown and crunchy.
Did You Make This Recipe?
The day has come! Today, we are making the #1 street food of Turkey – crunchy sesame seed-covered bagels that we call SİMİT. We eat them in the morning as breakfast, with watermelon, during lunchtime, with cream cheese, and even with hummus and falafel.
If you ever came to Turkey you already know the amazing smell and taste of this baked beauty and if you haven't yet, you can make them at home and enjoy with your loved ones any time of the day!
---
Bon Appétit