Fried eggplants & meat Kadisha are on the menu in Book recipe, and we are going to teach you how to make this delicious recipe from scratch!
In Korean families from Russia taste and way of cooking of regular dishes differ a bit from those cooked in Korea. Kadisha is the case. Fried eggplants with meat, bell pepper and tomatoes, seasoned with spices, you can add hot pepper to your taste by the way, are perfect for tasty dinner or festive table.
Follow along with the ???? recipes below????????????????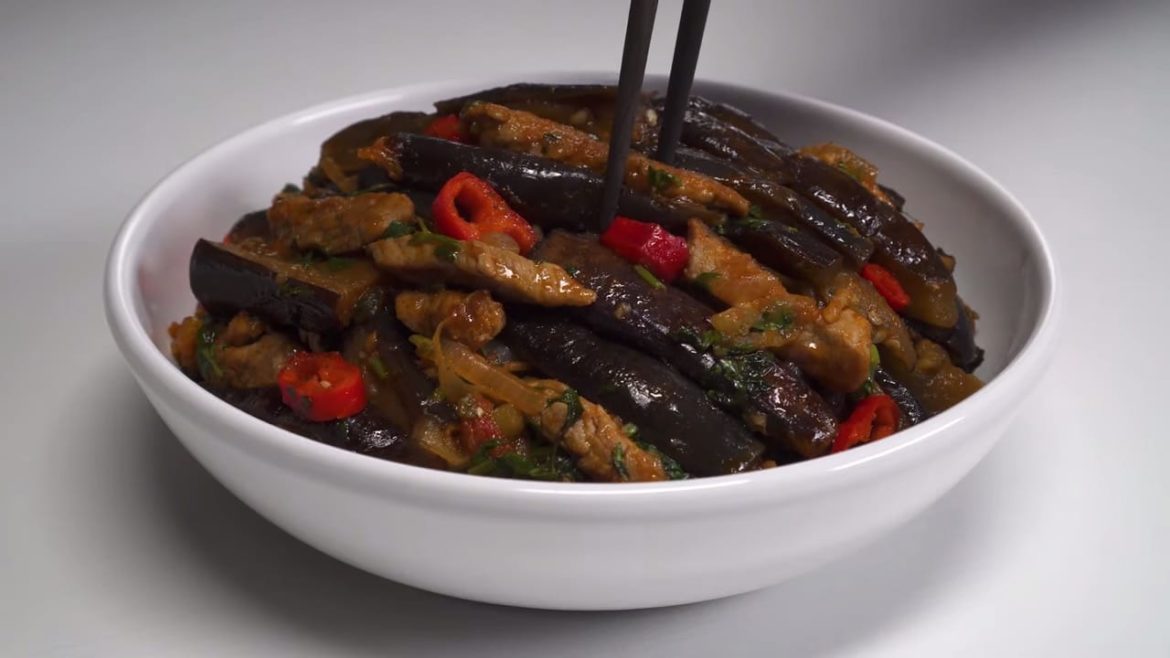 Ingredients
eggplants – 35 oz /1 kg
tomatoes – 17½ oz /500 g
bell pepper – 14 oz /400 g
pork tenderloin – 17 oz /400 g
bulb onion – 10½ oz /300 g
garlic – 6 cloves
vegetable oil – 2 fl oz /60 ml
red chili pepper – ½ tsp
fresh cilantro – 2 oz /50 g
classic soy sauce – 3 tbsp
ground coriander – 1 tsp
paprika – 1 tsp
ground black pepper – ½ tsp
salt – 3 tbsp
You will need:
carving board
saucepan or stockpot
bowl
Instructions
Halve the eggplants lengthwise and cut into bars, add 3 tbsp of salt, toss and leave for 30 minutes tossing occasionally.
Cut the tomatoes into wedges, bell pepper into strips, bulb onion into half rings and meat into strips, mince the garlic and chop up the cilantro.
Rinse the eggplants with cold water, drain and squeeze.
Heat a saucepan over high heat, add the vegetable oil and fry the meat for 5 minutes over high heat until golden crust, stirring occasionally.
Add the bulb onion and fry for 3 minutes over high heat stirring occasionally.
Add the tomatoes and fry stirring for 5 minutes over high heat.
Add the eggplants and bell pepper, fry for 20 minutes over medium heat until readiness of eggplants, stirring occasionally.
Add the sweet paprika, ground black pepper, ground red chili pepper, ground coriander, garlic, cilantro, salt to taste and soy sauce and stir. Add hot chili pepper to taste, sliced into thin rings.
Switch the heat off and leave the dish for 20 minutes.
Serve the kadicha, fried eggplants and meat, hot.
Notes
Add soy sauce and salt necessarily to taste as eggplants supposed to have been salted already.
Cut eggplants so that there is peel on each bar.
Cooked eggplants should be a bit al dente.
Did You Make This Recipe?
---
Enjoy