Cypriot SİLKME Potatoes are on the menu in Book recipe, and we are going to teach you how to make this delicious recipe from scratch!
We do so much with potatoes… We have them fried, mashed, roasted with köfte, boiled, in a salad or as a gratin. Today I want to share a family recipe with you, which is silky inside, crispy outside, cold fried potatoes.
Furthermore, it is springtime and almost all the vegetables started to sprout so I want to share with you some storing and growing tips for potatoes to reduce the enormous waste of this beautiful vegetable.
Follow along with the ???? recipes below????????????????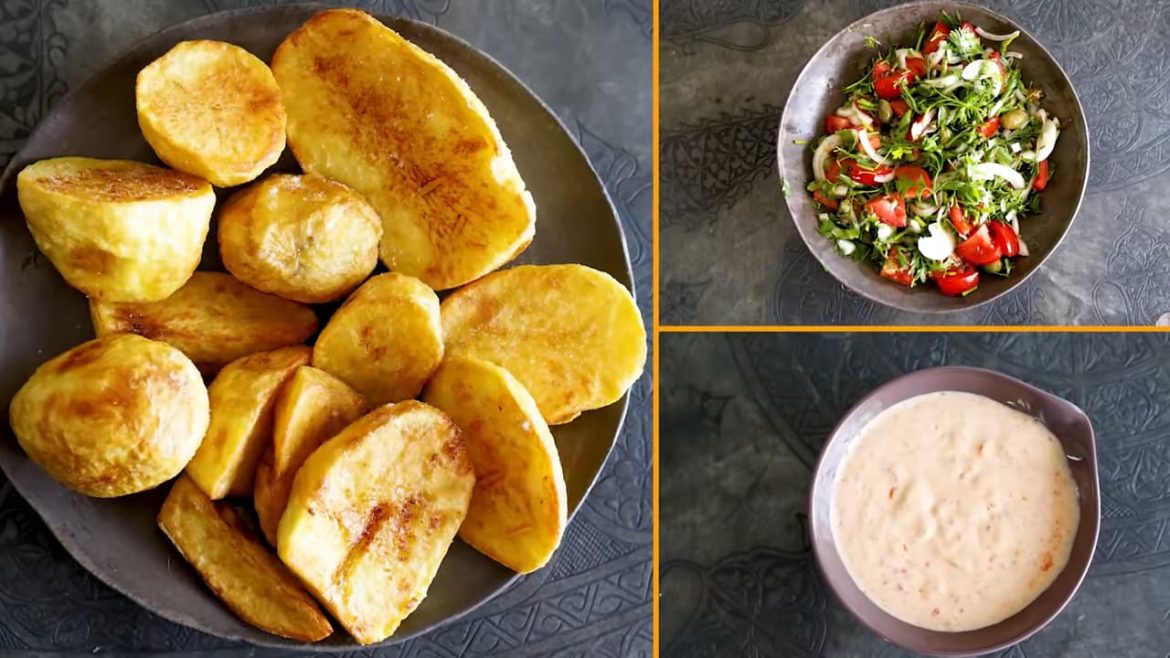 Ingredients
7 potatoes, peeled and halved (dry ones are better because of the high starch content, but whatever you have is fine.)
1,5-2 L frying oil (sunflower seed oil or any seed oil would do great)
Salt, to taste
Hot Sauce:
1 red hot chili pepper, roughly chopped
3 cloves of garlic, peeled
80 ml water (1/3 cup)
1/2 teaspoon salt
1 teaspoon sugar
2 teaspoons white wine vinegar (1 teaspoon if using a stronger vinegar)
4 tablespoons mayonnaise
Coriander Salad
A bunch of coriander, chopped
1/2 onion, sliced as semicircles
3 small tomatoes, diced
2 pinches of salt
1/2 lemon's juice
1/2 teaspoon white wine vinegar
4 tablespoons olive oil
A handful of green olives, stone in
Instructions
Halve the large potatoes lengthwise and the medium ones crosswise then prick them with a small knife.
Heat the oil in a deep pot to 110-120 C (230- 250 F) and check the temperature with a thermometer.
Turn the heat on higher and add in the potatoes. Turning the heat on will keep the frying oil around 120 C (250 F).
After adding the potatoes because they are at room temperature- the oil will cool down to around 110 C (230 F). If you don't have a thermometer, potatoes should look as if they are slowly simmering in water, and not like deep frying.
Carefully, transfer the pot to a small burner and slowly fry the potatoes around 100-110 C (212- 230 F) until fork tender- Poke the potatoes with a fork and lift slowly. Your fork should easily slide through the potato-. This will take around 25-30 minutes depending on the size of your potatoes. Don't rush at this step to fully cook the potatoes.
After the potatoes are fully cooked turn the heat on to medium-low and fry the potatoes until crispy and golden brown.
Transfer them to a sieve to drain excess oil. Generously salt and mix it well.
Your silky soft inside and crispy outside potatoes are ready! Eat your insanely delicious potatoes while they are hot and enjoy them with coriander salad, hot sauce, and of course with your loved ones!
To make the hot sauce, add the chili pepper, garlic, water, salt, sugar, and vinegar to a small saucepan and bring to a boil. Put the lid on and simmer for 10-15 minutes. Transfer the mixture to a small bowl and puree with an immersion blender- or pulse in a food processor-. Leaving some chunks will give an extra texture to your sauce. Mix with the mayonnaise and your hot sauce is ready
To make the coriander salad, rub the onion slices with a pinch of salt to soften the edgy taste. Add in a bowl with the coriander, tomatoes, salt, lemon juice, olive oil, vinegar, and olives -which are essential for a Cypriot salad-. Give it a good mix with your hands and your mouth-watering salad is ready as well.
Bonus tips:
Don't store your potatoes in the refrigerator. The refrigerator causes the acrylamide level of the potatoes to increase and the potatoes get darkened. If the browning grows towards the inside of potatoes and they can even become carcinogens.
Store them in a dark and cool place. Light and heat can quicken sprouting.
Deeply cut off the sprouted parts of potatoes. You can plant sprouted parts to grow your own potatoes.
Cut off the green parts of your potatoes, if there are any. Don't eat them if your potatoes are getting purple.
Try to use your potatoes without peeling. Peel is the most delicious part and you wouldn't want to waste it. Rub potatoes with a loofah or use a brush just for vegetables to clean them.
If you are making a recipe that requires peeled potatoes, always peel them with a peeler to minimize the waste.
You can use peels as compost or make potato peel chips with them.
Mix potato peels with olive oil on a paper-lined baking tray and bake them at 200 C (390 F) for 10-12 minutes until crispy. Take them out and mix with salt or spices.
Did You Make This Recipe?
---
Enjoy
Let us know what you think of today's Cypriot SİLKME Potatoes tips, tricks, and hacks!