CRISPY Sambousek is on the menu in Book recipe, and we are going to teach you how to make this delicious recipe from scratch!
Today we're revisiting Sambousek, a popular pastry, and appetizer in the Middle East. They have a flaky and crispy shell that can be filled with any filling. We'll be making 3 fillings today, Cheese & Pasterma, Spiced Chickpea, and Chicken Musakhan.
Follow along with the ???? recipes below????????????????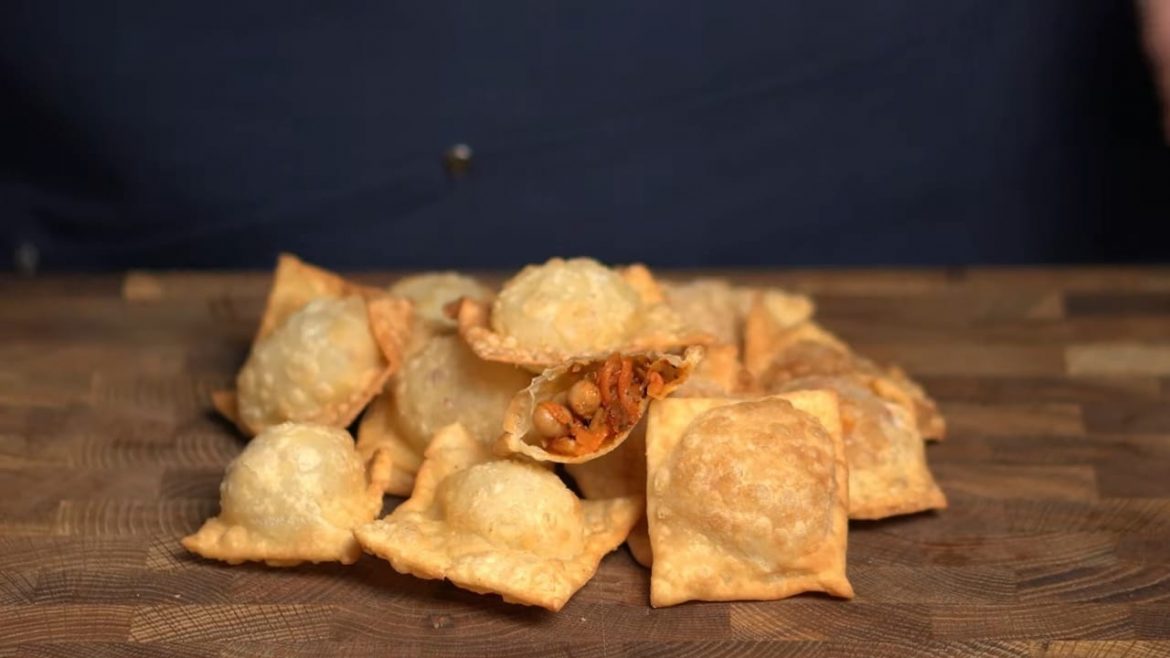 Ingredients
Dough:
375g (13.1 oz) AP Flour
3 Tbsp Vegetable Oil
1 Egg
1 Tsp Salt
150ml (5 fl oz) Water
Cheese filling:
50g (1.75 oz) Pasterma or cured meat
200g (7 oz) Kashkaval or melting cheese
50g (1.75 oz) Cream cheese
Musakhan stock:
250g (8.75 oz) chicken breast
1/2 Onion
1/2 Cinnamon Stick
3 Cardamom Pods
2 Cloves Garlic
1 Bay Leaf
1 Piece Mastic
1 Tbsp Olive Oil
1 Tsp Salt
1/2 Tsp Black Peppercorns
1/4 Tsp Cumin seeds
1 Tbsp olive oil
Musakhan onions:
50ml (1.7 fl oz) Olive oil
1.5 Medium Onions
25g (1 oz) Sumac
25g (1 oz) pine nuts
1/2 Tsp Salt
1/4 Tsp pepper
Spiced Chickpeas:
200g (7 oz) Canned Chickpeas
1/2 Small Onion
1 Garlic clove
1 Tomato
1/2 Tsp Salt
1/2 Tsp Cumin
1/4 Tsp Pepper
1/4 Tsp Cayenne pepper
Chickpea filling:
100g (3.5 oz) Carrots
20g (1 Tbsp) Red pepper paste
35g (1.2 oz) Slivered almonds
1.5 Tbsp Olive Oil
2 cloves Garlic
1 Onion
1/4 Green pepper
1/4 Red pepper
1/2 Tsp Salt
1/4 Tsp Pepper
1/4 Tsp Cumin
1/2 Tsp pul biber
1 Tbsp Olive Oil
Instructions
Cheese filling:
Shred the kashkaval cheese
Dice the Pasterma into small squares
Mix everything together
Musakhan stock:
Add 1 Tbsp olive oil to a pot over medium heat, add the mastic, and let melt completely
Add the whole spices for the stock, toast for 1 minute
Roughly chop the onion then add to the pot and saute for 5 mins
Add the garlic and chicken to the pot. Sear on all sides till lightly browned
Add salt and enough water to cover the chicken
Turn the heat to high and bring the pot to a boil, then turn to medium and cover
Cook for 30 mins
Confit sumac onions:
Add the olive oil to the pot on low heat, cut onions into thin strips, and add them
Mix together well, then cover with a tight-fitting lid. Cook for 15 minutes
Add the Sumac into the pot as well as the pepper and salt. Cook for 10-15 minutes until the onions have softened
Making Musakhan:
Shred the chicken into small pieces
Add the onions
Toast the pine nuts in olive oil until golden, then drain and add to the chicken
Mix everything together well until evenly combined
Spiced Chickpeas:
Add the Spiced Chickpeas ingredients to a pot and add boiling water to submerge the chickpeas
Cook on medium for 30 minutes (adjust for raw chickpeas)
Chickpea filling:
Add olive oil to a pot over medium heat, add 1 onion sliced into thin strips
Saute for 5 minutes then shred the carrot and add in. Mix then add 30ml of the chickpea cooking liquid
Let cook for 5 minutes until the carrots have softened
Slice your red and green pepper into thin strips then add to the pot as well as the Red pepper paste and spices. Mix and cook for 5 minutes more
Toast the almonds until they go golden, then drain and add to the pot
Mix until evenly combined
To make the dough:
Add all the dough ingredients to the bowl of a stand mixer (or knead by hand) and mix on low speed until combined into a rough ball of dough
Knead on medium speed for 5-8 minutes until the dough is tacky
Oil a large bowl, then add the dough to it. Let it rest for 1 full hour
To shape the sambousek:
Flour your work surface and empty the dough onto it
Divide into 4 pieces, then roll a piece out into a rectangle 1-2mm (1/16th") thick
Use a round cutter to cut as many circle pieces as possible
Add a heaped tbsp of filling into the circle, then fold in half and pinch the two sides together
Seal the entire thing until you are left with a semi-circle shape
To freeze:
Place the shaped sambousek on a tray heavily dusted with flour, in a single layer
Place it in the freezer for 30m until the dough begins to harden
Move the sambousek to freezer bags and allow it to freeze through completely
To cook:
Heat frying oil to 170-180c or 340-460f
Remove your sambousek from the freezer 15m before cooking
Add 3-4 pieces of sambousek into the oil, and push them down below the surface of the oil
Allow them to fry like this for 20-30 seconds then flip them over
Cook them for 2 minutes in total, flipping them over a couple of times in between
Did You Make This Recipe?
---
Enjoy
Let us know what you think of today's CRISPY Sambousek tips, tricks, and hacks!