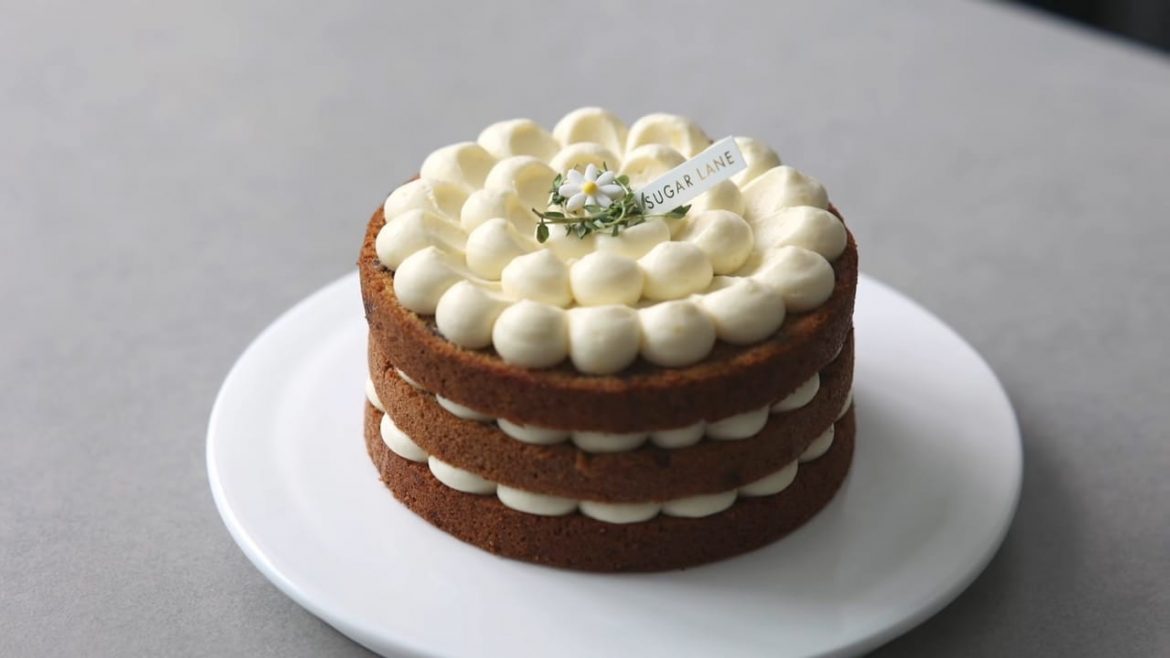 Ingredients
Carrot Cake Sheet :
Cake Flour 111g
Almond Powder 55g
Cinnamon Powder 3g
Baking powder 4.4g
Baking Soda 2.1g
Salt 1g
Light Brown Sugar 89g
Grapeseed Oil 77g (any other odourless oil works)
Eggs 122g
Chopped Pecans 25g
Chopped Walnuts 25g
Raisins 50g
Grated Carrots 168g
Cream Cheese Frosting
Cream Cheese(room temp) 320g
Sugar Powder 120g
Unsalted Butter(room temp) 160g
Lemon Zest 3.5g
Heavy Cream 30g
Instructions
Carrot Cake Sheet:
Add eggs & light brown sugar into a bowl and whisk.
Add the grapeseed oil & mix.
Add the dry ingredients (cake flour/almond powder/cinnamon powder/baking powder/baking soda/salt) and mix well.
Add all the rest (pecans, walnuts, raisins, carrots) and mix.
Pour into the pan and bake for 45~50mins at 165℃ (Pre-heat to 165℃). Adjust the baking time to suit your oven and taste. Stick in a wooden rod to check if any wet batter comes out – if so, then bake further.
Place the carrot cake onto a cooling rack and let it cool completely.
Slice it into 3 sheets of 1.5cm thickness.
Cream Cheese Frosting:
Make sure the cream cheese and butter are at room temp (20℃)
Smooth out the cream cheese by lightly beating it.
Sift in the sugar powder and mix.
Smooth out the butter and add it in.
Add in the lemon zest, followed by heavy cream.
If you find that the frosting is a bit too runny, then put it in the fridge to harden it up a bit.
Putting things together:
Notes
How to store:
Store the finished carrot cake in the fridge for up to 5 days. It's best to store in an air-tight container so it doesn't dry out.

Did You Make This Recipe?
---
---
Quantity: 1 Carrot Cake (3 sheets/layers of 1.5cm thickness + plenty of cream cheese frosting)
Carrot Cake Sheet (15cm x 7cm (diameter/height). For an 8-inch pan (20cm diameter), multiply all the ingredients by 1.8x)⊙