Pita bread (versatile flatbread) is on the menu in Book recipe, and we are going to teach you how to make this delicious recipe from scratch!
Here's how I like to make Arabian-style pitta (pita) bread. These differ from the Greek ones in shape, thickness, and texture. They're a very versatile bread that can be used for sandwiches or dipping and the recipe is deceptively easy.
Follow along with the ???? recipes below????????????????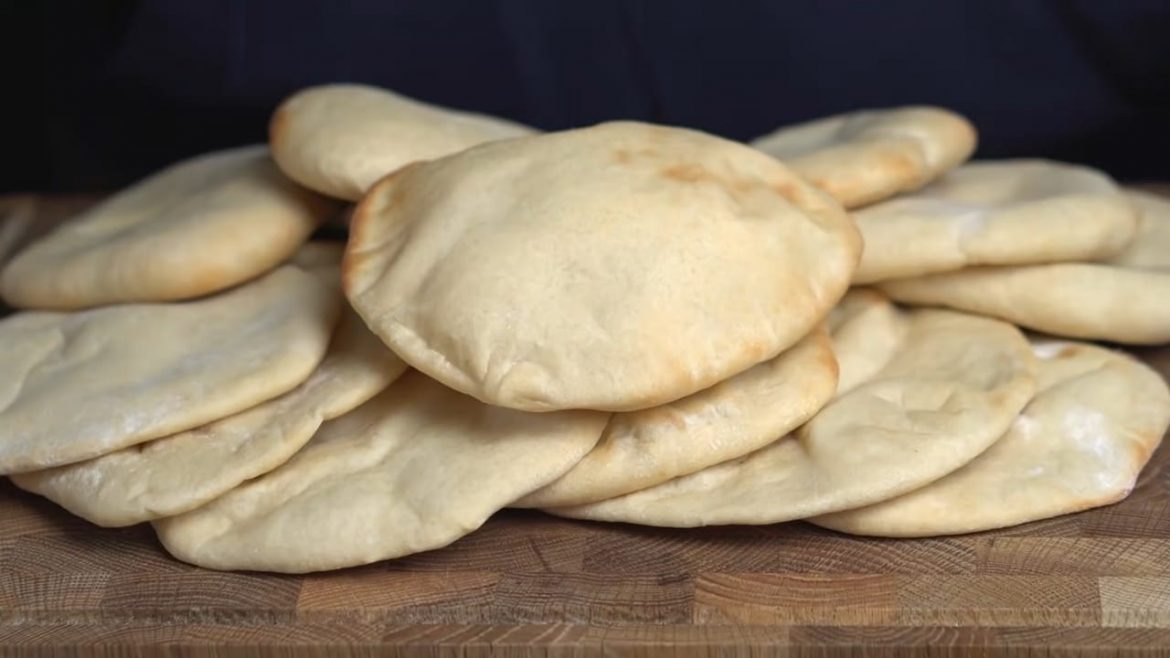 Ingredients
Ingredients (makes 6 80g Pittas or see below for other sizes):
300g (10.6 oz)AP flour
85g (3 oz) Milk whole or part-skim
85g (3 oz) Water
20g (0.7 oz) Olive oil
13g (0.45 oz) Sugar
8.5g (0.3 oz) Salt
7.5g (0.26 oz) Active or Dry yeast or 18-19g (0.63-0.67 oz) Fresh Yeast
Recommended sizes:
7-inch pitta - 80g balls - recipe yields 6
6-inch pitta - 70g balls - recipe yields 7
5-inch pitta - 60g balls - recipe yields 8
4-inch pitta - 45g balls - recipe yields 10
Instructions
Add the water and milk to a jug and check the temperature. If it's cold warm it up to room temperature and no hotter
Add the sugar and yeast to the milk and stir to combine. Allow sitting for 10-15 minutes to bloom
After 10-15 minutes check if the yeast has activated and a frothy layer exists, if not your yeast is dead and the dough will not rise
Add the flour and salt to your mixing bowl, and mix briefly to combine
Make a well in the center and add the yeast mixture and the oil. Use the dough hook attachment on your stand mixer or your hands to combine the yeast and flour together into a shaggy dough ball
Knead on low speed for 8-10 minutes with the mixer or 12-15 by hand until the dough ball is smooth and soft. It should be only a tiny bit sticky to the hand
Oil a bowl lightly then add your dough to the bowl, ensuring there is space for it to double in size. Cover with plastic wrap or a kitchen towel and allow it to rise for 1 hour
After one hour flour your worktop and place the risen dough on it. Knock out the air and cut into the desired number of pieces
Weigh your pieces to ensure they are all equally sized, then roll the dough into balls. Keep them covered until needed
Flour your worktop then flatten a dough ball on it. Use a rolling pin to roll the dough out to the correct size in one direction. Turn it 90 degrees and roll the other way
Allow your dough to rise for between 15-30 minutes before cooking
To cook Pitta in the oven:
Preheat your oven to its hottest temperature with a fan
Place a pizza stone or steel in the middle of your oven, or use an oven tray by placing it upside down. Allow the oven to preheat fully with the tray inside
Once heated, toss on a rolled-out pitta. I prefer doing 1 at a time but you can do multiple if you want to speed things up
Cook until it puffs up, and a brown ring forms around the edge. In my oven at 240°C, this took 3 minutes and a half. I would recommend testing a single pitta first to figure out your exact timing on the temperature you use.
Remove the pitta once browned and immediately place it on a tray or plate. Cover with a kitchen towel and allow to rest before serving
To cook in the pan:
Preheat a heavy-bottomed pan over high heat
Add a rolled out pitta to the pan, allowing it to cook for 30-45 seconds
Every 30-45 seconds flip the pitta over until it inflates and browns on the outside
Remove and allow it to rest
Notes
If you are working with more than 12 pieces of dough, I do not recommend rolling them all out at once. After they have sat and risen for more than 40 minutes without cooking they will over-proof and you'll have to re-roll them and wait for them to rise again otherwise they will fail to inflate. Work in batches while the rest are cooking.
These will stay good for 3-4 days in an airtight container and they freeze great
Did You Make This Recipe?
---
Enjoy
Let us know what you think of today's Pita bread (versatile flatbread) tips, tricks, and hacks!