McDonald's Travis Scott Burger is on the menu in Book recipe, and we are going to teach you how to make this delicious recipe from scratch!
Hey everyone! We're gonna try something a little different than our usual content today. We're gonna be making the now-famous Travis Scott quarter pounder burger from McDonald's.
I gotta say, I don't really listen to Scott's music but he really does know his signature burger. We have a more audacious claim, however, that our gourmet version of this delicious burger turned out… well, even more delicious! We did not stop there though, we added the crispy and has-been famous McDonald's french fries to the mix, and voila! Don't forget to watch the entire video and let us know what you think! ????
Gourmet Travis Scott Meal
We are making McDonald's Travis Scott meal, which includes a quarter pounder with lettuce, gherkin, and onion. Of course with McDonald's addictive French fries. Plus this will be a homemade and gourmet version!
Follow along with the ???? recipes below????????????????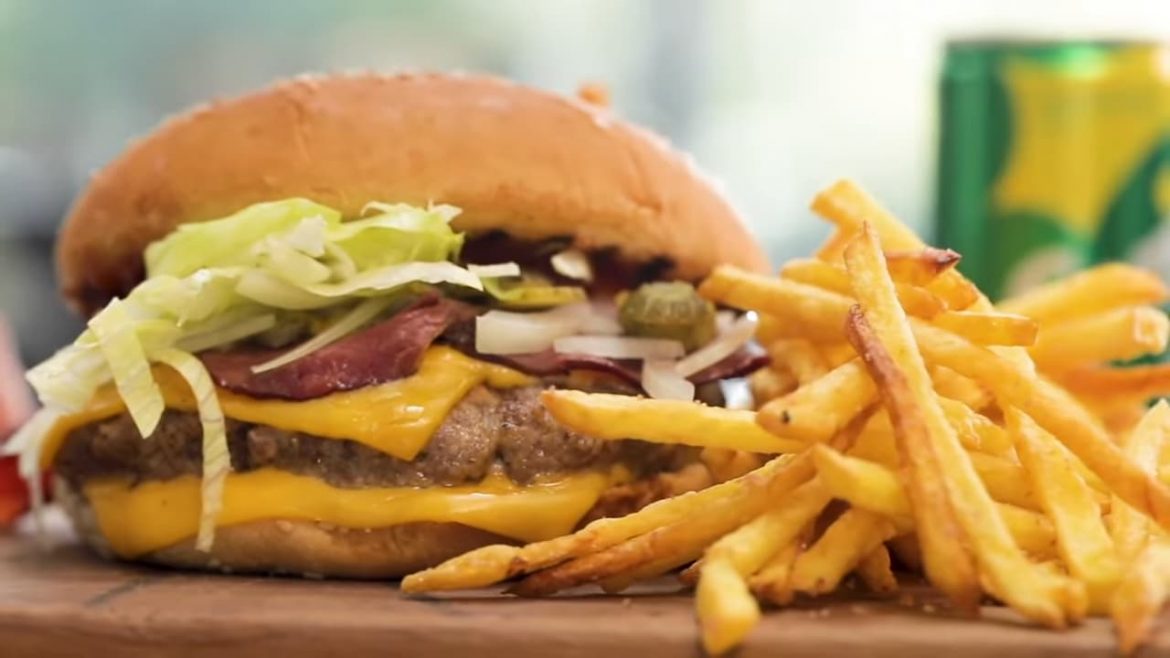 Ingredients
Gourmet Travis Scott burger:
250 gr ground beef, (plate, rib or brisket, ground once through the medium plate)
1 teaspoon smoked salt, (see the recipe below)
½ teaspoon black pepper
1 egg
1 tablespoon breadcrumbs
2 slices of smoked, cured meat (any kind of smoked meat is fine)
8 slices of American cheese (or Cheddar cheese)
2 small handfuls of sliced onion
2 small handfuls of sliced lettuce
4 gherkin pickles, sliced
6 capers, chopped
2 burger buns
Mustard
McDonald's French Fries
1 large potato, peeled and sliced (½ cm by ½ cm thick or 0,2'' by 0,2'' thick and choose a starchy potato)
1 tablespoon sugar
2 cups ice
2 cups cold water
To fry
3 tablespoons beef fat (alternatively you can use lard as well)
A slice of smoked, cured meat
Sunflower oil (any frying oil, the smoke point around 220-230 C/ 430-445 F)
Smoked Salt:
A slice of smoked, cured meat
1 tablespoon coarse, rock or sea salt
Instructions
To make the smoked salt, add the smoked meat and the coarse salt to a food processor and pulse until they are well combined. You can use this salt for any food that you want to add a smoky flavor too.
For the McDonald's French fries, combine the potatoes, ice, cold water, and sugar in a large bowl. Refrigerate for at least 30 minutes or overnight if you have time.
While the fries are soaking, in a big pan heat the oil with the beef fat and the smoked meat until the oil reaches 180 C (350 F).
Remove the fries from the water and pat dry. Add them to the oil in 2 batches and partially fry them for 3.5 to 4 minutes at 130 C (226 F). Don't add the second batch immediately, wait until the oil is hot enough again.
Remove them from the pan onto a wire rack. When they have cooled down, place them in your freezer for 15 minutes. If you want to stock fries for later, you can prepare big batches and after freezing, place them in plastic bags and store them for up to 6 months. They will be ready to fry whenever you want.
For the final frying, heat the oil to 220 C (428 F) and add the fries carefully. Fry them on high heat until they are golden brown.
Drain the fries. Generously sprinkle with smoked salt and serve immediately.
For the Travis Scott burger, mix the ground beef, smoked salt, black pepper, egg, and breadcrumbs. Don't over knead them, just mix roughly.
Divide into two and pat them into patties.
Heat a cast-iron pan and add a patty and a slice of smoked meat.
Cook each side of the patty for two minutes and the smoked meat until it is crispy.
After flipping the burger, place the burger bun in the pan as well.
Lay two slices of cheese over the bun base and 2 slices over the patty.
To build the burger, place the patty on the bun base and then top with smoked meat. Add onions, gherkins, capers, and lettuce. Rub the bun top with mustard and ketchup to your taste. Gently press together. Repeat for the second burger.
With addictive French fries, this Travis Scott meal is ready to take you to happiness!
Did You Make This Recipe?
---
Enjoy
Let us know what you think of today's McDonald's Travis Scott Burger tips, tricks, and hacks!