Libyan Mbakbaka is on the menu in Book recipe, and we are going to teach you how to make this delicious recipe from scratch!
Today we're making Libyan Mbakbaka, a pasta dish with loads of earthy and warming flavors that's perfect for a winter meal. It's so easy to make and I guarantee it will be completely different from any other pasta you've ever tried.
Follow along with the ???? recipes below????????????????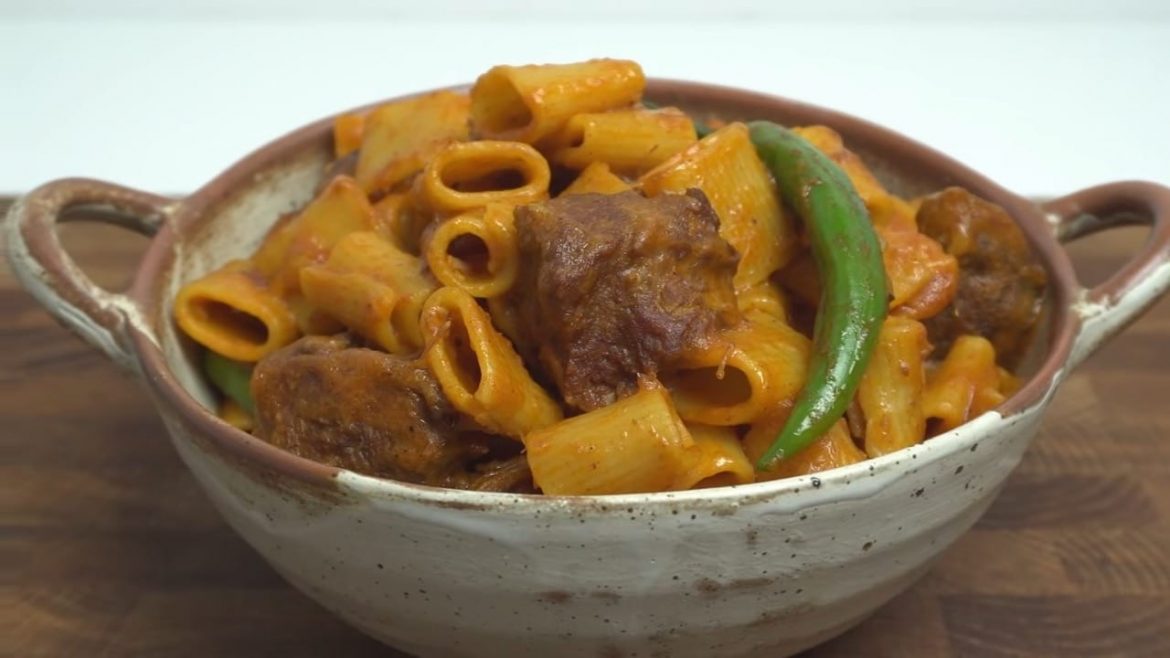 Ingredients
7 Spice ingredients: (makes 1 Tsp)
1/4 Tsp Black Pepper
1/4 Tsp Ground Cumin
1/8 Tsp Ground Ginger
1/8 Tsp Ground Cloves
1/8 Tsp Ground Coriander
1/16 Tsp Ground Cardamom
1/16 Tsp Ground Nutmeg
Bzaar ingredients: (makes 3 Tsp)
Turmeric 1 1/4 Tsp
Carawy 3/4 Tsp
Coriander 1/2 Tsp
7 Spice 1/2 Tsp
Remaining Ingredients: (4-5 servings)
1 Kg (2lbs) Lamb Cubes or Beef
500g (1lb) Pasta elbows or short tubes
2 Medium Onions
2-3 Cloves of Garlic
2-3 Green Chillies
1/4 Cup Vegetable Oil
4 Tbsp Tomato Paste
2.5 Tsp Salt
2 Tsp Bzaar mix
1.5 Tsp Hot Paprika or 1 Tsp Paprika and 1/2 Tsp Cayenne Pepper
500ml (17fl oz) Lamb or Beef stock
Instructions
To make the Bzaar:
Mix the 7 spice ingredients together into a fine and well-mixed powder
Crush your caraway in a mortar and pestle
Add the ingredients for the Bzaar, as well as the freshly ground carraway and the 7 spice
To make the Mbakbaka:
Dice your onion into a medium dice, mince your garlic, and slice your meat into large chunks
Add the vegetable oil to a pot on high heat and once heated add half of your meat pieces to the oil
Allow them to sear for 3-4 minutes until they have developed a brown crust, then turn over and sear the other side for 3-4 more minutes
Once seared all over remove the meat and set it aside, sear the remaining meat the same way
When all the meat has been seared, turn the heat down to medium and add the onion. Saute for 2 minutes then add your minced garlic in
Saute for 5-7 minutes until the onions have softened and any fond in the bottom of the pot has been deglazed
Add the meat back to the pot as well as any drained liquid, or vegetables you'd like to incorporate
Add the Tomato paste, Salt, Paprika, and Bzaar to the pot, and add enough stock or water to the pot to cover the meat. Bring to a boil then turn the heat down to medium and cook covered for about 45 minutes until your meat is cooked through and tender
When the meat is ready, add your pasta to the pot. I'd recommend removing any bones before doing this
Add enough water or stock to the pot to just cover the pasta and bring the pot to a boil
Allow the pot to boil until the pasta is cooked through (according to the time on the pasta packet) and the sauce has thickened a little
Serve immediately and enjoy
Did You Make This Recipe?
---
Enjoy
Let us know what you think of today's Libyan Mbakbaka tips, tricks, and hacks!