Muffins are on the menu in Book recipe, and we are going to teach you how to make this delicious recipe from scratch!
Chocolate Banana Muffins are the best combination of ingredients since peanut butter and chocolate, and Chef Anna Olson is here to show you how to make the best Chocolate Banana Muffins on the planet! Follow along with the recipe below and you will be in Chocolate Banana Muffin heaven!
Follow along with the ???? recipes below????????????????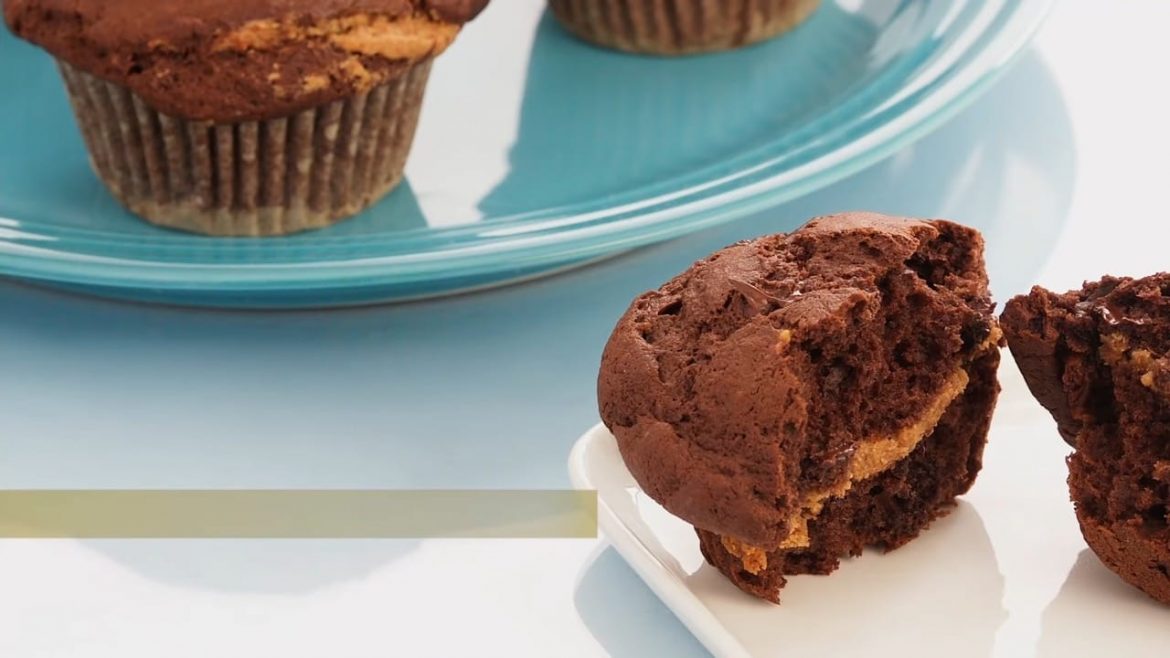 Ingredients
Hazelnut Ribbon
½ cup (125 mL) hazelnut butter or almond butter
¼ cup (50 g) packed light brown sugar
½ tsp (2 mL) vanilla extract
Muffins
1 ½ cups (375 mL) mashed ripe banana (3-4 bananas)
¾ cup (150 g) granulated sugar
½ cup (115 g) unsalted butter, melted
2 large eggs
1 tsp (5 mL) vanilla extract
2 cups (260 g) cake & pastry flour
½ cup (60 g) Dutch-process cocoa powder
2 tsp (6 g) baking powder
½ tsp (2.5 g) baking soda
½ tsp (2.5 g) salt
1 cup (250 mL) chocolate chips
Chocolate Hazelnut Spread
1 ½ cups (200 g) whole hazelnuts
¾ cup (100 g) icing sugar
¼ cup (60 mL) hazelnut oil (or vegetable oil)
4 oz (120 g) dark chocolate, chopped
1 tsp (5 mL) vanilla extract
½ tsp (2.5 g) salt
Instructions
Preheat the oven to 350 F (180 C) and line a muffin tin with paper liners.
For the hazelnut ribbon, stir the hazelnut butter, brown sugar, and vanilla in a small saucepan over medium heat, stirring until the sugar has dissolved. Remove from the heat to cool while making the muffin batter.
In a large mixing bowl, whisk the banana, sugar, and melted butter, and then whisk in the eggs and vanilla.
In a separate bowl, sift the flour, cocoa, baking powder, baking soda, and salt together. Add this to the banana mixture and stir until blended.
Stir in the chocolate chips. Spoon enough batter to fill each muffin cup two-thirds of the way.
Spoon the cooled hazelnut mixture into each muffin cup and then top with the remaining muffin batter (don't worry if some of the hazelnut paste is still exposed).
Bake the muffins for 20-25 minutes, until a tester inserted in the center of a muffin comes out clean. Cool the muffins in the tin for 10 minutes and then tip out to cool completely. Serve the muffins with Chocolate Hazelnut Spread (recipe follows).
Chocolate Hazelnut Spread
Preheat the oven to 350 F (180 C). Place the hazelnut in a single layer in a baking dish and toast for about 15 minutes, until the skins darken and start to crack. Allow the hazelnuts to cool then either rub them in a tea towel to remove the skins, or put them in a colander and swirl them around (the skins will come off and fall through the holes of the colander).
Place the peeled hazelnuts in a bowl of a food processor along with the icing sugar, oil, chocolate, vanilla, and salt. Pulse this until the mixture becomes a smooth paste – the chocolate will melt from the friction of the spinning blade, making the paste fluid, but once it sets up to room temperature, it will be a spreadable consistency. If the paste doesn't set within 2 hours, it can be chilled to set, but then stored at room temperature to be spreadable.
Notes
The muffins will keep in an airtight container for up to 3 days.

The chocolate hazelnut spread will keep in an airtight container at room temperature for a month.

Did You Make This Recipe?
---
Enjoy
Let us know what you think of today's Chocolate Banana Muffins tips, tricks, and hacks!