Phyllo Goulash (Baklava) is on the menu in Book recipe, and we are going to teach you how to make this delicious recipe from scratch!
Today we're making Goulash, the Savoury version of Baklawa. It's essentially meat or vegetarian filling sandwiched between two layers of Phyllo pastry. The top and the bottom are made up of 8+ individual layers of Phyllo with butter between them. I'll show you how to make this using both Phyllo (Filo) or Puff Pastry.
Follow along with the ???? recipes below????????????????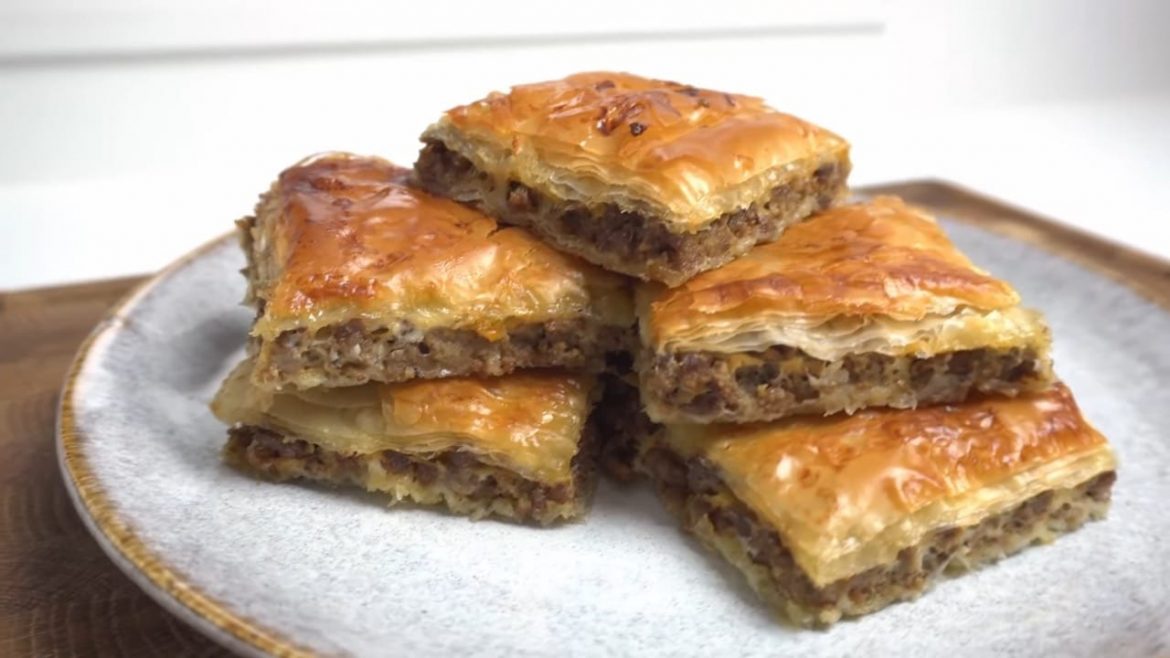 Ingredients
Ingredients for Phyllo version:
1kg (2 lbs) Beef Mince
500g (1lb) Pack of Phyllo (Filo) pastry
250g (1/2 lb) Butter
150ml (2/3c) whole milk
2 Medium Brown (Spanish) onions
3 Garlic cloves
2 Tbsp Olive Oil
2 Tsp Salt
1 Large Egg or 2 Small Eggs
1/2 Tsp Pepper
1/2 Tsp Bharat (Optional)
Instructions
Directions for Beef Filling:
Dice the onions into small cubes and mince your garlic
Add Olive oil to a pan on medium-high heat and add the onions, Saute for 2-3 minutes
Once the onions have softened add the garlic and saute for 5 minutes until onions are opaque, add any other vegetables you want now
Add the Salt, Pepper & any other seasonings you would like to the onions, stir, then push to one side of the pan
Add the minced beef to the pan and press in firmly, allow it to brown for 5 minutes
Break the meat into sections and flip, allow it to fry for 4-5 minutes before breaking it up into small pieces with your spatula
Mix the onions into the meat and cook until a deep brown color, remove and set aside
How to clarify butter:
Place your butter in a pot to melt on high heat until completely liquefied
Allow it to come to a boil and it will foam up
Your clarified butter is done cooking when you can see the golden melted butter in the pot, pour it out into a jug to cool
How to assemble the Phyllo:
Prepare a 9 X 12 inch (22 X 30 cm) deep baking dish by brushing the base and walls with clarified butter
Lay a phyllo sheet in the dish allowing any excess to run up the walls of the dish
Using a pastry brush, coat the sheet from corner to corner with a thin layer of clarified butter. (You must coat all the surfaces including any excess pastry)
Place another phyllo sheet on top, and press out any air bubbles. Allow it to adhere to the sheet below it. Coat it in butter once more and repeat this process until you have a minimum of 8 layers of phyllo
Using a sharp knife, trim off any excess phyllo that is running up the walls of the dish
Brush your topmost layer of phyllo with butter, then pour on your meat filling. Spread it out into one even layer from edge to edge
Place a sheet of Phyllo on top of the filling and then repeat the layering/laminating process with a minimum of 8 layers of Phyllo
When adding your last layer of Phyllo, trim any excess off the walls before placing it, then brush the top surface with butter
Using a sharp knife slice your pastry into equal-sized portions, use a ruler to get accurate edges
Whisk together your milk and egg into an egg wash and then pour it evenly over the Goulash
Bake in a 180c or 350f oven for 40 minutes, rotating at the halfway point. Remove when it is Golden Brown all over and bubbling
Allow to cool for a minimum of half an hour before serving (it will be really buttery, that will be reabsorbed when cooled)
How to assemble the Puff Pastry Version:
When making the puff pastry version, you only need to do about half to two-thirds of the filling amount. You will also need 2-3 300g (10.5 oz) pre-rolled puff pastry sheets.
Prepare a 9 X 12 inch (22 X 30 cm) deep baking dish by brushing the base and walls with clarified butter
Add a layer of pre-rolled puff pastry to the bottom of the dish and trim off any excess
Add half of your filling on top of the pastry in an even manner
Lay another layer of puff pastry on top
Add the remaining fill on top of this layer of puff pastry
Add the last layer of pastry then slice into portions
Make an eggwash like above and then pour it onto the dish
Bake for 40-50 minutes until the top layer puffs up well
Allow cooling for 30 minutes before eating.
Notes
The bottom two layers will not puff up, due to the weight of the layers above them and the eggwash holding everything in place. If you want them to crisp up, then I suggest rolling out a single layer of Puff Pastry into 2 thin layers and then using them for the bottom and middle.
clarify butter:
Make sure not to pour out any of the cooked milk solids into the jug.

Did You Make This Recipe?
---
Enjoy
Let us know what you think of today's Baklava tips, tricks, and hacks!