Stretchy Cheese Kunafa is on the menu in Book recipe, and we are going to teach you how to make this delicious recipe from scratch!
We're making a Stretchy Cheese Konafa that is mind-blowingly good. It's a dessert that combines crispy Konafa pastry with stretched melted cheese. Originally Palestinian in Origin, it has become a fixture throughout the entire levant and is one of the Middle East's most popular desserts
Follow along with the ???? recipes below????????????????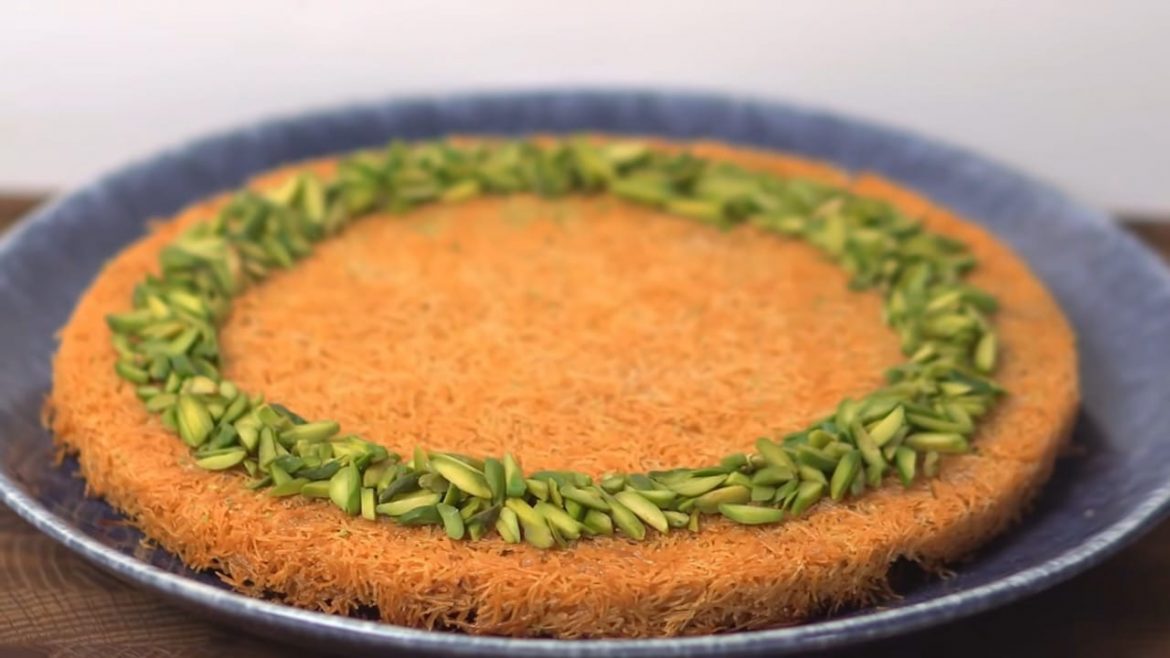 Ingredients
These are the correct amounts for a 10" or 25cm round cake pan. For an 8" pan use half the ingredients, and for 6" use a third of the ingredients.
300g (10.5 oz) Konafa (Kataifi) pastry
120g (4.2 oz ) Samna/Ghee/Clarified Butter +15g (0.5 oz) for coating the tray
600g (21 oz) Melting Cheese (I used 400g buffalo mozzarella, 200g low moisture mozzarella)
Syrup:
170g (6 oz) Sugar
100g (3.4 fl oz) Water
1/2 Tbsp Lemon Juice
1tsp orange blossom
Instructions
To make the simple syrup or ghee, check out my Dessert Essentials video linked above
To prepare the cheese:
If using low moisture mozzarella, shred it on a grater
For fresh mozzarella, remove from brine, then dry with a paper towel
Dice into cubes, then place in a strainer to drain off excess liquid
Before using, dab this with a paper towel to remove any surface moisture
To prepare the Konafa:
Cut the konafa into sections about 1cm or 3/8" long
Place the konafa in a bowl, then melt the Samna/clarified butter and pour over
Massage the butter into the konafa until evenly coated
To Assemble:
Butter your cake pan with the remaining Samna
Lay the konafa into the cake pan making sure to get an even layer
Use something heavy to press the konafa down and compact it into the tray
Preheat your oven to 200c (392f) and place the tray in there to bake for 15-20 minutes
Remove when the konafa is a golden color and the sides have pulled away from the walls of the pan
Lay your cheese in the center of the konafa, leaving a small rim (1cm-3/8") from the edge of the pastry. Layer it low moisture mozzarella, fresh mozzarella, low moisture
Place this back in the oven to bake for another 15-20 minutes until the cheese fully melts
a. If water accumulates, remove it from the oven and dab off any water, and you can add any extra Konafa dough on top to absorb the liquid
Remove once the cheese is fully melted, but do not allow the cheese to brown
To Serve:
As soon as you remove it from the oven, grease a plate or tray and flip the konafa onto the tray
Pour over the simple syrup
Serve immediately
Did You Make This Recipe?
---
Enjoy
Let us know what you think of today's Stretchy Cheese Kunafa tips, tricks, and hacks!