Salmon is on the menu in Book recipe, and we are going to teach you how to make this delicious recipe from scratch!
Follow along with the ???? recipes below????????????????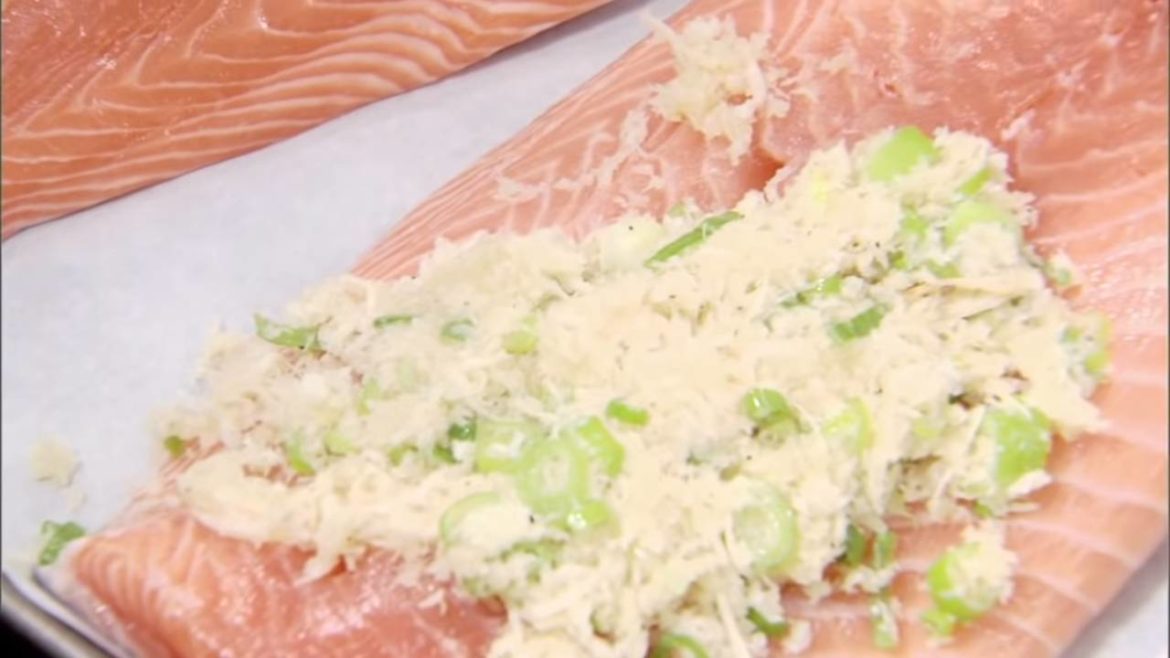 Ingredients
1 4 lb (1.85 kg) fresh salmon fillet, pinbones removed, skin on
1 cup Panko (Japanese) breadcrumbs
1 cup finely chopped green onion
¾ cup finely grated fresh horseradish (or 1/3 cup prepared horseradish)
tsp salt
1 tsp black pepper
4 Tbsp dry vermouth
2 Tbsp fresh lemon juice
½ cup butter, melted
lemon wedges and more grated horseradish for garnish
Lemon Dill Butter Sauce
1 cup dry white wine
1 cup chicken stock
1 Tbsp finely grated lemon zest
2 Tbsp fresh lemon juice
1 Tbsp champagne or tarragon vinegar
⅔ cup unsalted butter, cut into pieces and chilled
2 Tbsp chopped dill
salt and pepper
Instructions
Preheat oven to 375 °F and line a baking tray with parchment or foil. Place salmon fillet on tray, skin side down.
Stir bread crumbs, green onion, horseradish, salt and pepper to combine. Stir in vermouth, lemon juice and melted butter and toss. Pack the breadcrumb mixture over the salmon in an even layer.
Roast salmon for 18 to 20 minutes for medium (check by inserting a knife into center of salmon and lift open gently.)
To serve, remove the salmon from tray using 2 spatulas and place on a serving tray or platter. Garnish the platter with lemon and horseradish and let everyone help themselves.
Lemon Dill Butter Sauce
Bring the white wine to a simmer in a saucepot and reduce to 1/3 of cup (approximating is OK). Add chicken stock and lemon zest and simmer for 5 minutes. Stir in lemon juice and champagne or tarragon vinegar and remove from heat. Whisk in cold butter, a few pieces at a time, waiting until first butter is almost melted before adding more (return to low heat if needed). Stir in dill and season to taste. Serve warm with salmon.
Did You Make This Recipe?
---
Bon Appétit