Seafood parcels are on the menu in Book recipe, and we are going to teach you how to make this delicious recipe from scratch!
Follow along with the ???? recipes below????????????????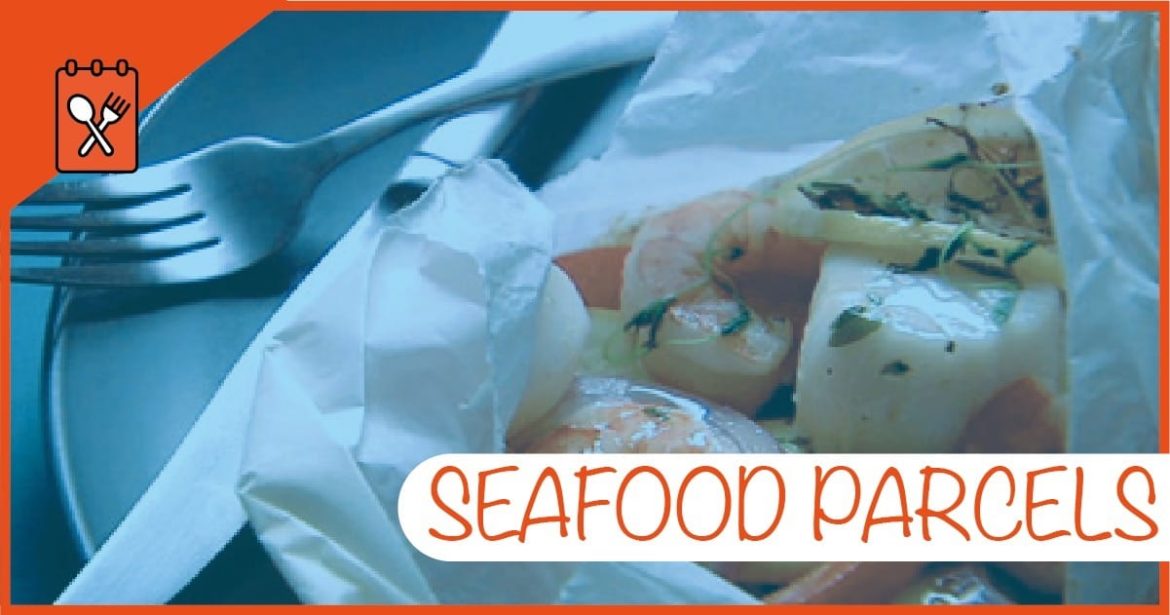 Ingredients
Parchment paper
1 cup sliced green and/or yellow zucchini
1 cup sliced red and yellow bell pepper
8 oz large shrimp (21/25), peeled, de-veined with tails off
8 oz sea scallops
salt and pepper
1 red onion, sliced
4 sprig fresh marjoram or oregano
4 sprig fresh thyme
4 Tbsp dry white wine
4 thin lemon slices
2 Tbsp butter
Instructions
Preheat oven to 375 F.
Cut 4 sheets of parchment 16-inches by 12-inches. Fold paper in half to make a crease, then open up. Arrange zucchini slices and peppers on parchment paper, then distribute shrimp and scallops over zucchini and peppers. Season lightly and top with red onion and herbs. Sprinkle seafood with white wine, arrange lemon slices and top with a tablespoon of butter on each paper.
To create the parcel, fold paper over seafood. Starting at a folded end, make a small crease in the paper, folding on an angle. Make the next fold so that the crease overlaps the first fold (this is how you create a seal). Continue with these small folds, working your way around the seafood, until you get to the end. Twist the parchment at the end to finish the seal.
Place parchment parcels on a baking tray and bake for about 15 minutes, until the parcels inflate. To serve, place parcel on a plate and cut or tear open (watch for the steam).
Parcels can be assembled up to 6 hours in advance and chilled.
Did You Make This Recipe?
---
Enjoy