Apricot Walnut Rugelach is on the menu in Book recipe, and we are going to teach you how to make this delicious recipe from scratch!
Follow along with the ???? recipes below????????????????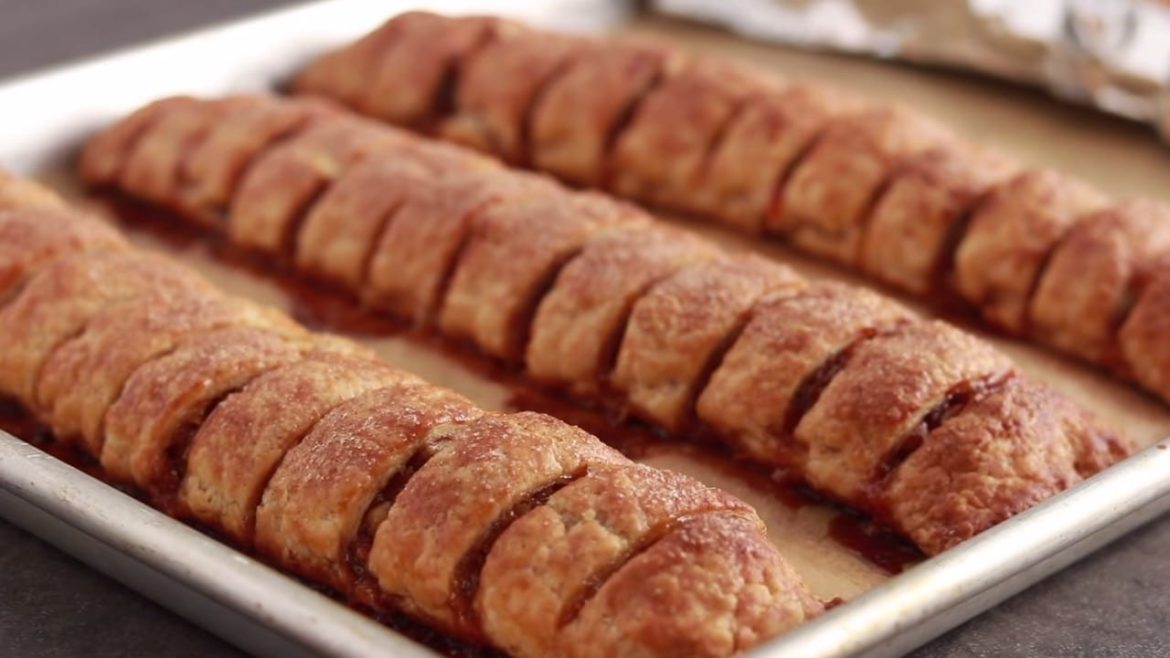 Ingredients
The Dough (make at least 1 day before baking):
284g unbleached all-purpose flour
1/2 tsp table salt or 1 tsp Diamond Crystal Kosher salt (2.8g using a 0.01g precision scale)
2 tsp sugar (8g)
226g unsalted butter, sliced 1/4 inch thick, kept cold
226g cream cheese, sliced 1/2 inch thick, kept cold
The Filling:
320g apricot preserves (about 1 cup)
160g golden raisins, chopped (about 1 cup)
120g walnuts, chopped (about 1 cup)
50g granulated sugar + 1 tsp cinnamon, mixed well
Zest of 1 lemon and 1 orange, removed with a vegetable peeler, sliced, and minced
Milk for brushing cookies
Instructions
If your food processor is smaller than 10 cups, divide all ingredients in half and make the dough in 2 batches as I do in the video.
Put the flour, salt, and sugar into a food processor and process for 10 seconds to combine.
Add the butter and cream cheese and pulse in 1-second intervals until the mixture looks like couscous (about 15 one-second-long pulses).
Turn the mixture out into a bowl and squeeze very firmly with your hands until it comes together into one big clump.
If using a large food processor, divide the dough in half. If using a small food processor, repeat with the second batch of ingredients. Shape each piece into a 1.5-inch thick rectangle that is roughly 5 by 3 inches.
Wrap in plastic and refrigerate overnight. The dough can be kept in the fridge for 5 days or frozen indefinitely.
The Filling:
Line the bottom of a half sheet (13x18x1 inch baking sheet) with parchment paper.
Cut the dough into 2 pieces that are half the thickness of the original piece (still 5 by 3 inches, but now about 2/3 inch thick). You should end up with 4 rectangles of dough. Chill the pieces you are not working with, wrapped in plastic wrap. Roll out each piece of dough as shown in the video to end up with a rectangle that is roughly 12x8 inches. Stack the rolled out pieces on a prepared half sheet and keep in the fridge until ready to fill.
Arrange 1 dough rectangle on the work surface with a long side facing you. Spread 1/4 cup (80g) preserves evenly over the dough with an offset spatula leaving a 3/4 inch border on all sides except for the one facing you. Sprinkle the dough with a quarter of the raisins (40g), a quarter of the walnuts (30g), 1 Tbsp of cinnamon sugar, and a quarter of the zest.
Roll up the dough tightly into a log. Seal and trim the edges and crimp with a fork. Repeat with the remaining 3 pieces of dough. Place the logs seam-side down onto the prepared half sheet.
Brush the logs with milk and sprinkle with the remaining sugar (if you are short on cinnamon sugar, add another teaspoon of sugar to the mix). Chill for 30 minutes. Put the oven rack in the middle position and preheat the oven to 350°F (180C).
With a sharp knife, make 3/4-inch-deep cuts crosswise in the logs (not all the way through) at 1-inch intervals.
Bake until golden brown, 45 to 50 minutes rotating the pan 180 degrees halfway through. Cool to warm in the pan on a rack, about 30 minutes, then transfer logs to a cutting board and slice all the way through. If some of the fillings leaked out during baking, don't panic. It usually ends up around the logs, not underneath. Carefully, scrape it off when transferring the logs to the cutting board.
Ideally, serve while still warm. Leftover cookies can be stored in an airtight container at room temperature for several days. Can be rewarmed for a few minutes in a 350F oven.
Did You Make This Recipe?
---
Bon Appétit