Chicken Pot Pie is on the menu in Chef Anna Olson's amazing kitchen, and she is going to teach you how to make this delicious recipe from scratch
Follow along with the ???? recipes below????????????????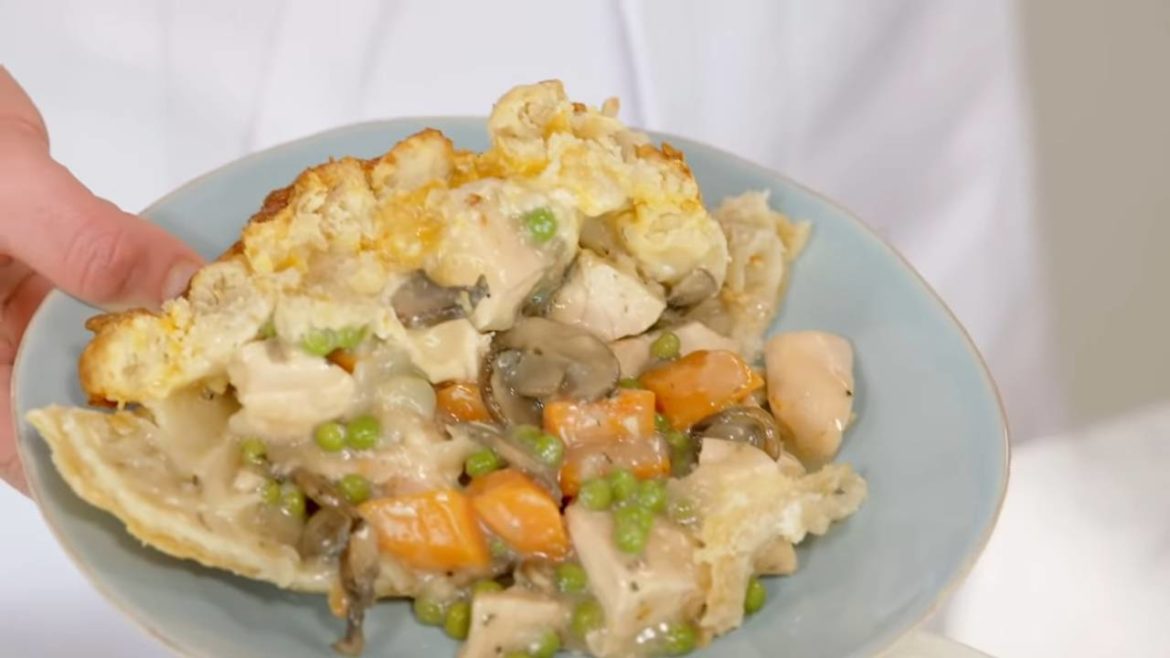 Ingredients
Filling
3 Tbsp (45 g) butter
½ lb (225 g) cremini mushrooms, sliced
1 medium onion, diced
1 large carrot, peeled & diced
¼ cup (35 g) all-purpose flour
2 ½ cups (625 mL) chicken stock
2 tsp (10 mL) chopped fresh thyme
2 bay leaves
4 cups (750 g) diced cooked chicken, (white, dark or both)
1 cup (250 mL) fresh or frozen peas
salt & pepper
Crust & Assembly
1 recipe savoury pie dough: https://youtu.be/B9SS3WR-ctM
¼ cup (35 g) all-purpose flour (plain flour)
2 tsp (10 mL) baking powder
2 cups (160 g) coarsely grated Cheddar cheese
1 large egg
3 Tbsp milk
Instructions
Preheat the oven to 375 F (190 C).
In a large saucepot, melt the butter over medium-high heat and add the mushrooms, sautéing until almost all the juices cook away, about 6 minutes. Reduce the heat to medium, add the onion and carrot and sauté 5 minutes more. Add the flour and stir constantly for about 2 minutes until the flour just begins to stick at the bottom. Add about ½ cup (125 mL) of the stock and stir (this will thicken quickly, but without lumps). Add another cup (250 mL) of the stock and stir, bringing to a full simmer before adding the remaining 1 cup (250 mL) of stock as well as the thyme and bay leaves. Bring this up to a simmer, reduce the heat to medium-low and cover, simmering until the carrots are tender, about 10 minutes. Remove the bay leaves, add the diced chicken and the peas and heat until warmed through, season to taste and then cool to room temperature or chill to assemble later on.
To assemble, roll one of the discs of dough on a lightly floured surface to just under ¼ inch (6 mm) thick and into the shape of the baking dish you wish to use (it should hold about 2L, but can be any shape provided it's more than 1 ½-inches (45 mm) tall). Dust the bottom of the baking dish with flour and line the dish with the dough, trimming away any excess.
Make the Cheddar topping by breaking up the other disc of pie dough into pieces in a bowl and add the additional flour and baking powder. Use a pastry cuter, or your hands, to break it down further and cut in the Cheddar cheese. Whisk the egg and milk together and add this to the cheese crumble, stirring until blended (it will look lumpy).
Spoon the cooled (or chilled) chicken filling into the lined baking dish and spoon the Cheddar crust onto top. Bake this for 30 minutes at 375 F (190 C) and then reduce the temperature to 350 F (180 C) and bake for another 30 minutes (adding 15 minutes more if the filling was chilled). Let the pie sit for 15 minutes before scooping to serve.
Notes
The chicken pot pie can be made up to 2 days in advance and reheated in a 325 F (160 C) oven.

Did You Make This Recipe?
---
Enjoy