Bumbleberry Cobbler is on the menu in Chef Anna Olson's amazing kitchen, and she is going to teach you how to make this delicious recipe from scratch!
Follow along with the recipe below!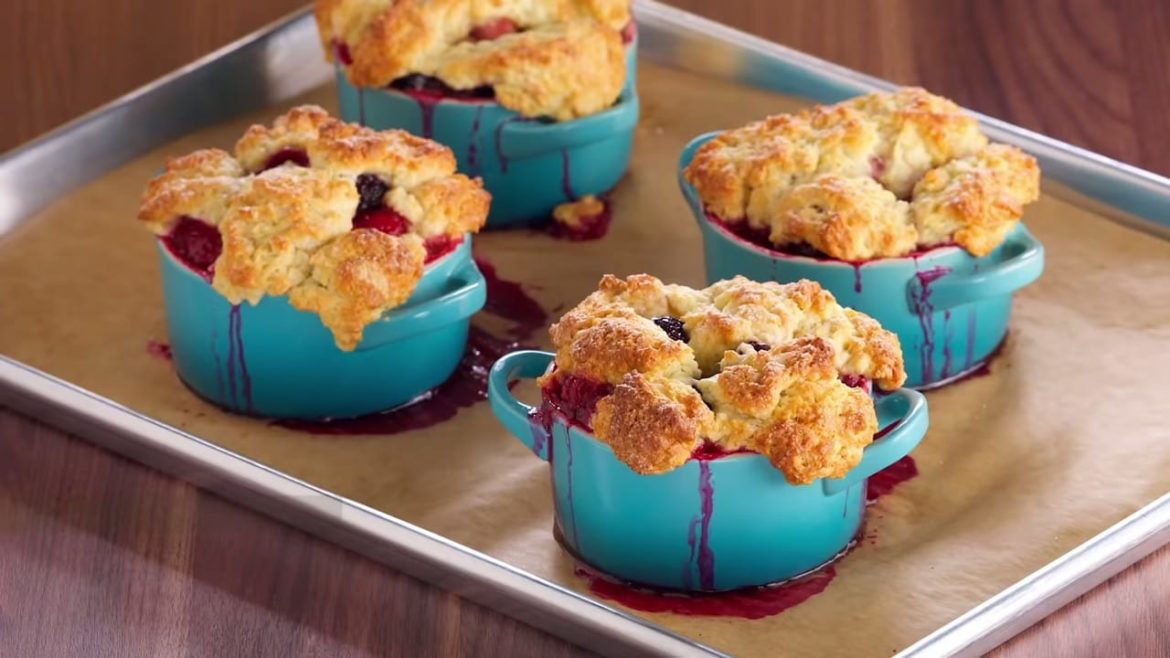 Ingredients
Fruit
4 cups (1 L) mixed fresh berries (raspberries, blueberries, blackberries)
1 fresh pear or apple, peeled and diced
½ cup (125 mL) berry jam (of your choosing), stirred to soften
1 tsp (5 mL) vanilla extract
Cobbler Topping
1 ½ cups (225 g) all-purpose flour (plain flour)
3 Tbsp (40 g) granulated sugar, plus extra for sprinkling (or caster sugar)
1 ½ tsp (7 mL) baking powder
¼ tsp (1 mL) salt
6 Tbsp (90 g) cool unsalted butter, cut into pieces
6 Tbsp (90 mL) milk
2 Tbsp (30 mL) maple syrup
1 large egg yolk
1 tsp (5 mL) vanilla extract
Instructions
Preheat the oven to 375 F (190 C).
Toss the berries and diced pear (or apple) gently with the stirred jam and vanilla. Spoon the fruit into four 1-cup baking dishes. Place the dishes onto a parchment-lined baking tray.
For the cobbler topping, stir the flour, sugar, baking powder, and salt in a mixing bowl. Using a pastry cutter or your fingers, work in the butter until the mixture is crumbly. In a separate dish whisk the milk, maple syrup, egg yolk, and vanilla.
Add this all at once to the flour mixture and stir until blended (the topping will feel like a soft scone dough).
Drop this in pieces on top of the fruit, leaving space between the pieces, as the dough will expand as it bakes. Sprinkle the cobblers with a little sugar and bake for about 30 minutes.
To check the doneness, gently spread apart a little of the cobbler topping in the center to see that it is fully cooked near the fruit (not wet-looking). Allow the cobblers to cool for 15 minutes before serving.
Notes
The cobblers can be served with a scoop of ice cream.

Did You Make This Recipe?
Recipe video
---
Enjoy