Do you often catch yourself daydreaming of the perfect way to use up your discarded sourdough? It could just be me. But these savory sourdough scones/biscuits with delicious mature cheddar and chives were dreamt up in exactly such a scenario.
It breaks my heart a little bit to discard half of my sourdough baby down the drain every week. I painstakingly try to keep it alive, feeding it every 5 days or so between fridge hibernations. So I love trying to come up with new ways of using the discarded sourdough. See, for example, the recipe I did on sourdough crumpets
By the way, what is the difference between a savory scone and a biscuit? One's from the UK and the other from the US, but is that all? I googled it, I took a detailed look at recipes. There doesn't seem to be a huge difference? If you know, I'd love to know!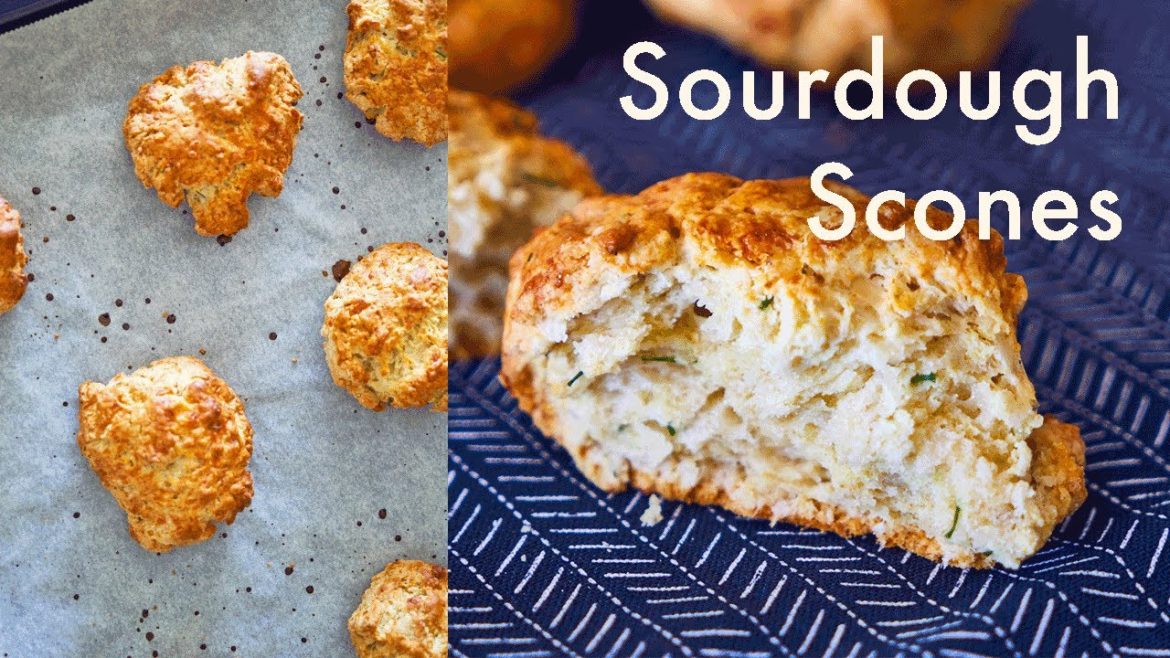 Ingredients
200g flour
1 tbsp baking powder
1/2 tsp baking soda
1/2 tsp dry mustard powder
1/4 tsp salt
2 pinches cayenne pepper
50g salted butter (cold and cut into cubes) (if using unsalted butter, add a pinch or two more salts instead)
100g grated mature cheddar
2-3 tbsp fresh or dried chives (you could try using thyme instead)
1/2 cup discarded sourdough starter
2-3 tbsp milk (plus a little extra for brushing on top)
Instructions
Preheat your oven to 200C.
Add flour, baking powder, baking soda, mustard powder, salt, cayenne pepper, and butter into a bowl. Rub together lightly with your fingers until the mixture resembles fine breadcrumbs. You can also do this in a food processor if preferred. But I like to feel the texture between my fingers, this way I know when it's right and there aren't huge lumps of butter leftover. Plus I don't own a food processor…
Add the cheddar and chives and give it a quick, little stir.
Add your discarded sourdough and knead lightly until it's forming big lumps. The sourdough alone won't make it come together, so you'll have to add some milk. Add your milk a little at a time, kneading lightly until it all comes together as a shaggy dough. The sides of your bowl should be squeaky clean by now!
Divide into 8 equal-ish pieces. Roughly form each piece into rolls and place on a baking tray lined with parchment paper. You can also roll the dough out and use a circular cutter to cut out more uniform scones/biscuits. But you might risk flattening them too much, so they don't rise. Plus, I think the shaggy, rough look of hand-shaped scones/biscuits is quite charming for these savory treats.
Brush with milk, so they can get that beautiful golden brown color in the oven.
Transfer to the oven for 15-20 minutes at 200C.
Once out of the oven, let them cool just for a few minutes. Enjoy immediately hereafter. These are best enjoyed straight out of the oven! However, if you have leftovers, you can keep these in a cookie tin wrapped in parchment paper. Airtight containers will make them go soft. "Resuscitate" these by warming them up in the oven at 150C for not more than 5 minutes.
Notes
For extra tips and tricks, and a scene-by-scene commentary, switch on the subtitles.
Savory Sourdough Scones with Cheddar | What To Do With Discarded Sourdough (Makes about 8-10)
Did You Make This Recipe?
Recipe video
---
Enjoy