Chocolate Cream Bread is on the menu in Book recipe, and we are going to teach you how to make this delicious recipe from scratch!
Follow along with the recipes below!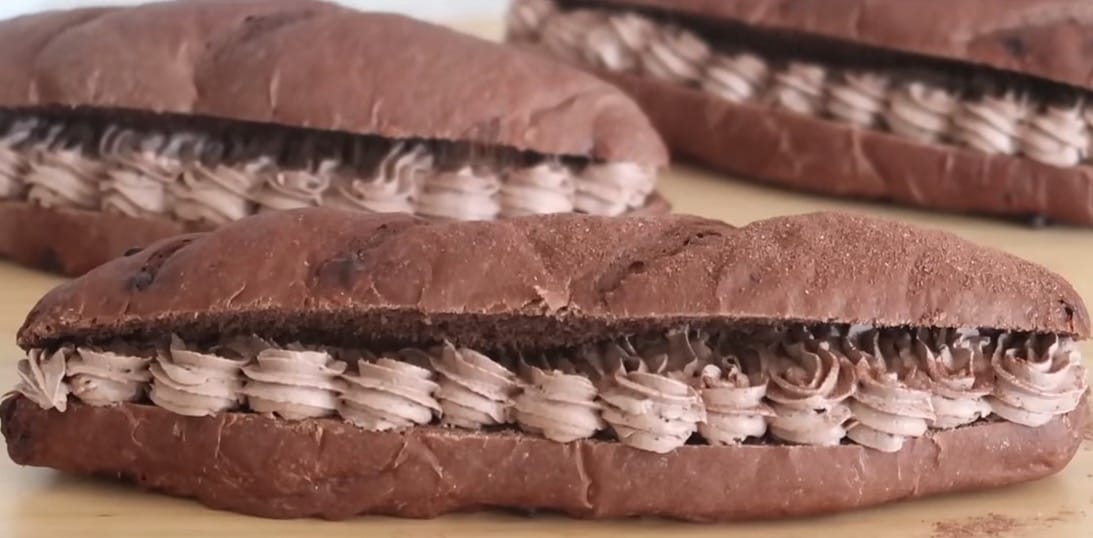 Ingredients
Dough:
245gr high protein flour
4gr salt
3gr Yeast
5ggr sugar
160ml water
15gr chocolate powder
40gr chocolate chip
Filling:
240gr whipping cream
2tbsp Sugar powder
2tbsp chocolate powder
Instructions
Put all the ingredients except the chocolate chips into the bowl and knead until smooth. And put in the chocolate chip in once the dough is ready.
Round the dough and put it in a greased bowl and put it into a proofer for the first fermentation.
Portioning into 100gr. Round the dough, then rest for 15-20min.
Roll the dough into a long log.
Last proof for 30-45min.
Preheat the oven at 250C and spray the oven with water to make steam.
Score the dough with a sharp knife.
Bake at 250C for 7min and spray occasionally with water. Then low the heat into 200C and bake for another 7min.
Slice the bread, fill with chocolate cream and sprinkle with chocolate powder
Did You Make This Recipe?
Recipe video
---
Enjoy