Churros with chocolate sauce are on the menu in Book recipe, and we are going to teach you how to make this delicious recipe from scratch!
A churro is a type of fried dough from Spanish and Portuguese cuisine. They are also found in Latin American cuisine and the cuisine of the Philippines and in other areas that have received immigration from Spanish and Portuguese-speaking countries, especially in the Southwestern United States and France
Follow along with the ???? recipes below????????????????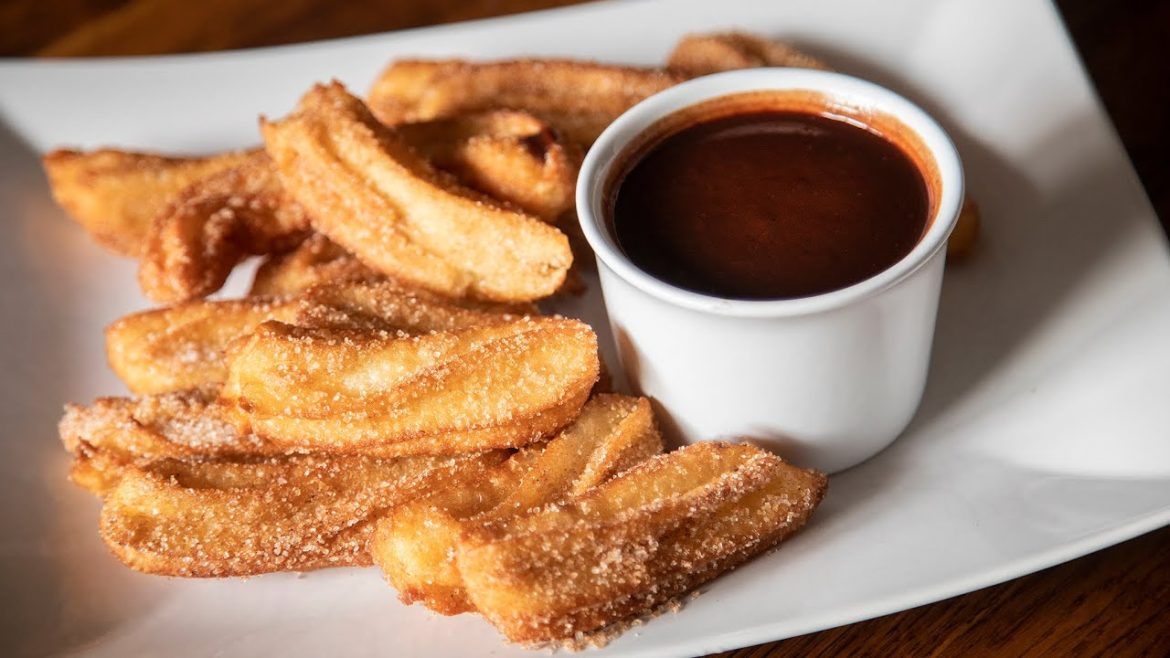 Ingredients
1 cup of water
1/4 cup of unsalted butter
1/2 tsp salt
2 tbsp sugar
1 cup of all purpose flour
3 eggs
Sugar and cinnamon for coating ( about 1 1/2 cups sugar and 2 tbsp cinnamon )
Frying oil
For the chocolate sauce
1/2 cup cream
1/2 cup chocolate 60%
2 tbsp sugar
1/2 tsp salt
1 tbsp butter
Instructions
Bring the water to simmer and add the butter, sugar and salt and mix until dissolved.
Add the flour and start mixing slowly creating a paste, a dough actually. Mix it for 2 -3 minutes until everything has been incorporate and is firm and dry on the exterior.
Let it cool down for 10 minutes. When we add the eggs, we don't want to cook them in to the hot dough.
Add the eggs one at the time but mixing and incorporate well. At the beginning you will think the dough will separate but keep mixing.
After you finish mixing in all the eggs you will have the choux pastry done.
Bring the oil to 300°F and with a piping bag and a star nozzle, create the churros. Help yourself out with a scissor to cut the end of the. dough.
Fry them around 3 minutes each part.
In a pan or a zip bag add the sugar and cinnamon, and add the churros and mix
For the easy chocolate sauce ( cause everyone love chocolate )
Bring to simmer 1/2 cup of cream. Add the chocolate, sugar and salt and mix it gently at low heat. Take it from the heat and add the butter and let it gently melty down mixing at the end.
Did You Make This Recipe?
---
Enjoy