EZOGELIN SOUP is on the menu in Book recipe, and we are going to teach you how to make this delicious recipe from scratch!
We as Turkish people LOVE our soup! We start almost every dinner in winter with a soup, and I want to introduce you to one of our essentials, Ezogelin Soup but with a fancy, delicious bread dome on top which will turn this fulfilling soup into a meal that you can serve to your guests!
Follow along with the ???? recipes below????????????????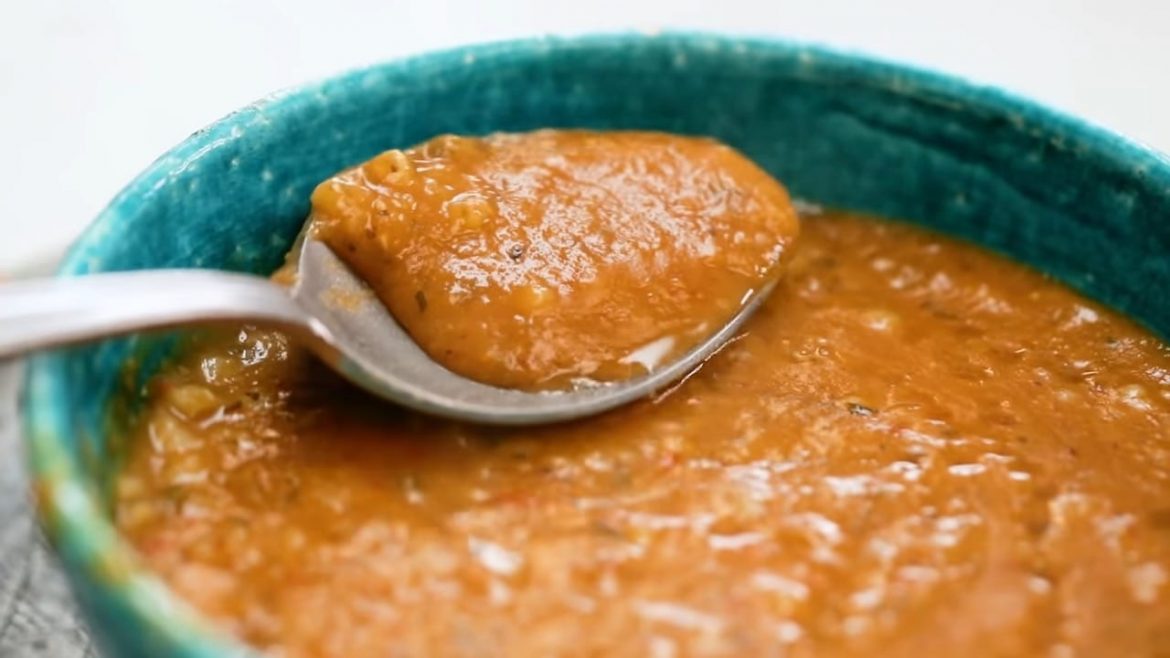 Ingredients
1 tablespoon butter
2 tablespoons olive oil
1 onion, roughly chopped
1 potato, peeled and roughly chopped
1 carrot, roughly chopped
1 tablespoon tomato paste, use 200 ml tomato puree or passata if you don't have paste
1 tablespoon red pepper paste, dried pepper would do good as well
1 cup red lentil, washed and rinsed
½ cup chicken stock, skip if you are a vegetarian
2 L water, (8 cups)
100 g bulgur, (around ½ cup) medium or coarsely ground are better but all would work great
1 heaped teaspoon of salt
1 heaped teaspoon red pepper
1 teaspoon black pepper
3 teaspoons dry mint
1 tablespoon butter
Bread Lid
2 cups flour, (270 g)
150 ml water,
½ teaspoon salt
Instructions
Heat a medium-sized clay pot on high heat. You can use a cast-iron pot or any pot that can go into the oven.
Melt the butter and olive oil.
Add in the onion, potato, and carrot when the oil is hot.
Add in the tomato and pepper paste and stir for a minute.
Add in the lentil and pour the chicken stock and 1,5 L of water.
Bring to boil and simmer for 15-20 minutes.
To make the bread lid combine the flour, water, and salt.
Knead it for about six minutes until you have a smooth and elastic dough.
You can use the dough immediately, but it is better if it rests for 15 minutes. Thus, it will roll out easily.
Preheat your oven to 220 C (430 F) on upper and lower heat without a fan.
After all, the ingredients are cooked blend the soup with an immersion blender until it his smooth.
Until now we made a rich lentil soup. Now it is time to turn it into ezogelin. To make it, add the bulgur, salt, red pepper, black pepper, dry mint, and the left of the water into the pot.
Finally, add in the butter for a shiny and creamy texture and let it simmer.
Roll out the dough a little larger than the pot's size/width
Wet the edge of the pot with a wet kitchen cloth and cover the pot with the dough.
Seal the dough with your hands and let the dough rise with the steam of the soup. If the dough is swelling slowly, it means steam is not leaking.
Place it into the oven on a lower rack and bake for about 15-20 minutes.
When the bread is crispy and brown your delicious ezogelin soup is ready to fulfill you. You can butter the bread to make it shiny.
Did You Make This Recipe?
---
Enjoy
Let us know what you think of today's EZOGELIN SOUP tips, tricks, and hacks!