Eggplant & chickpea stew are on the menu in Book recipe, and we are going to teach you how to make this delicious recipe from scratch!
Eggplant and chickpea stew is a traditional dish of Greek cuisine – delicious, hearty dish to be served hot or cold.
Follow along with the 📝 recipes below👇🏾👇🏾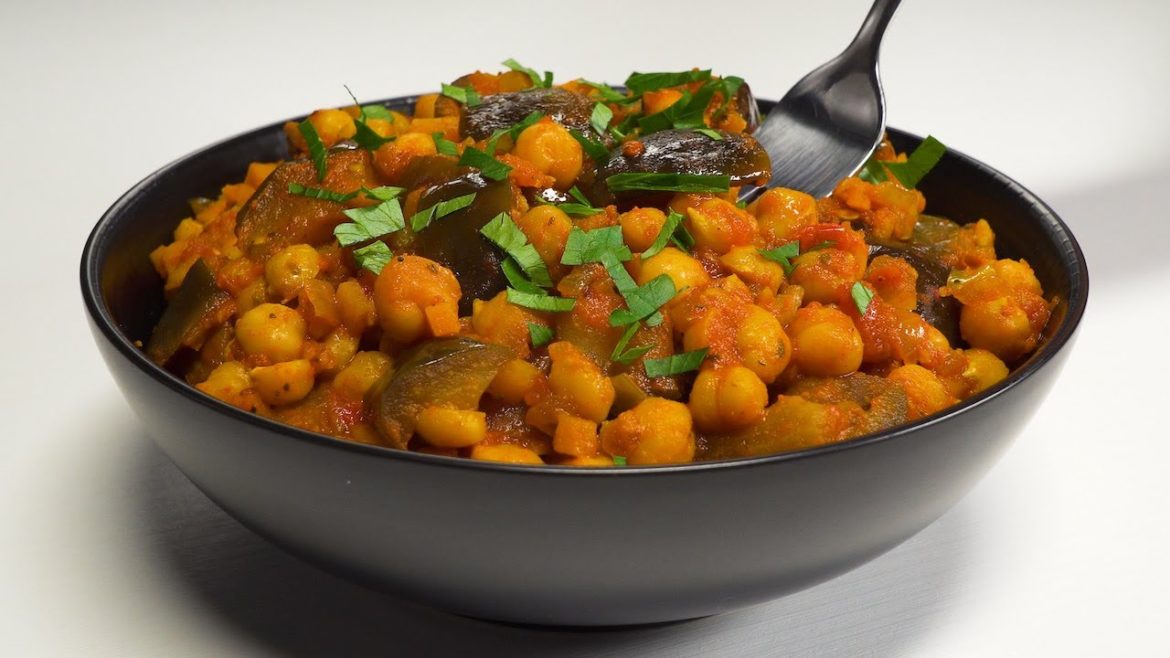 Ingredients
eggplant – 35 oz /1 kg
chickpea – 10 ½ oz /300 g
chopped tomatoes – 2 cup /500 ml
bulb onion – 7 oz /200 g
carrot – 7 oz /200 g
bell pepper – 7 oz /200 g
vegetable oil – 4 tbsp
garlic – 6 cloves
water – 1 cup /250 ml
fresh parsley – to taste
dried oregano – 1 tbsp
sweet paprika – 1 tbsp
ground coriander – 1 tsp
ground turmeric – 1 tsp
1 bay leaf
ground black pepper – ½ tsp
salt – 4 tsp
You will need:
oven
saucepan or stockpot
bowl
carving board
Instructions
Wash the chickpea and soak for 10-12 hours in cold water, then drain and rinse.
Pour the chickpea with 4 cup /1 l of water, bring to a boil and cook for 30 minutes over low heat, then rinse with cold water and peel.
Dice the eggplants coarsely, sprinkle with 2 tsp of salt and leave for 30 minutes.
Then wash with cold water and squeeze.
Dice the bulb onion, carrot and bell pepper finely, mince the garlic.
Heat a stockpot, add the vegetable oil, bulb onion, carrot and bell pepper, fry over medium heat for 5 minutes stirring occasionally.
Add the garlic, oregano, paprika, coriander, turmeric, bay leaf, black pepper and 2 one level tsp of salt, fry over medium heat for another minute.
Add the chopped tomatoes and eggplants and fry for 10 minutes over medium heat.
Add 1 cup /250 ml of water and chickpea and bring to a boil, cover with a lid.
Preheat oven to 350°F /180°C and place the stockpot for 30 minutes.
Sprinkle the eggplant and chickpea stew with the chopped parsley and serve to the table.
Notes
To peel chickpea, rinse with cold water after cooking and rub it with palms, thus it will peel off easily.
If you do not have an oven, then cook it all over on a stove with the same time.
Did You Make This Recipe?
---
Bon Appétit