famous potato & mincemeat casserole are on the menu in Book recipe, and we are going to teach you how to make this delicious recipe from scratch!
One of the most famous dishes of British cuisine shepherd's pie is a layered casserole out of chopped up lamb or mince and mashed potato. Now it is possible to use a beef mince as well. But a special taste, that brought popularity to shepherd's pie, is gained with spices and sauces. About this in our video recipe.
Follow along with the ???? recipes below????????????????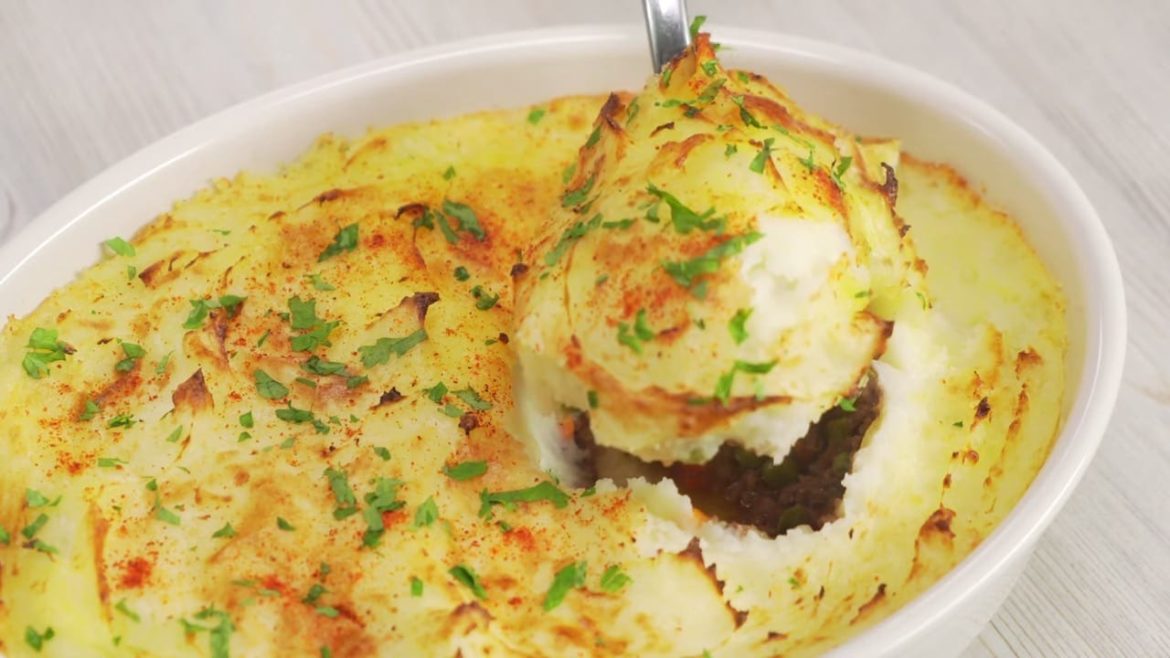 Ingredients
potato – 28 oz /800 g
minced lamb – 21 oz /600 g
carrot – 5 oz /150 g
bulb onion – 4 oz /120 g
green peas – 4 oz /125 g
sour cream – 2 tbsp
milk – 2 fl oz /50 ml
vegetable oil – 1 tbsp
butter – 2 oz /50 g
wheat flour – 2 tbsp
meat broth – 1 cup /250 ml
worcestershire sauce (can be changed for soy sauce) – 1 tbsp
sweet paprika – 1 tbsp
rosemary – 1 tsp
parsley leaves – 2 tbsp
salt – 2 tsp
ground black pepper – ½ tsp
You will need:
baking dish of 12102 in /30246 cm used in the video recipe
stockpot
pan
carving board
bowl
potato masher
Instructions
Peel the potato, cut into small pieces and boil with 1 tsp of salt added until readiness for about 12 minutes.
Heat a pan with the vegetable oil and lay out the minced lamb, fry stirring for 3 minutes over medium heat.
Add 1 tsp of salt, ground black pepper, finely diced bulb onion and carrot and keep frying for 5 minutes over medium heat.
Add the rosemary and worcestershire sauce into the pan.
Into a bowl with 2 tbsp of wheat flour add 2 fl oz /50 ml of cold meat broth and, having stirred well, pour into the pan, add the rest of the broth and green peas and simmer stirring for about 2-3 minutes over medium heat.
Drain the potato and add the butter, cool for 3-4 minutes, add the warm milk and sour cream and mash until puree consistence.
Lay out the minced lamb with vegetables into a baking dish, follow with the mashed potato on top and even.
Put the casserole into the oven preheated to 350°F /180°C and bake for 15-20 minutes until golden crust. Sprinkle your shepherd's pie with the sweet paprika and parsley leaves, serve to the table.
Did You Make This Recipe?
---
Enjoy