We all know and love those addicting frozen pizza rolls! They are the most addicting after-school/after-work snack there is. But health-wise? Not so great for you. Here is a small fraction of the ingredients listed on the pizza rolls we all know and love…
Aluminum Phosphate, Potassium Chloride, Citric Acid, Potassium Sorbate (Preservative), Titanium Dioxide (Artificial Color), Sodium Citrate, Sodium Phosphate, Maltodextrin, Magnesium Oxide, Zinc Oxide, Vitamin A Palmitate, Riboflavin, Vitamin B12), Imitation Mozzarella Cheese
Imitation cheese?!?! But WHY?? And that's only a quarter of the list! It may be easier to just buy them but trust me when I tell you making pizza rolls are worth it! These taste WAYYYY better, and have ingredients that you can pronounce! No chemicals. No eventual trips to the doctor. These DIY Pizza Rolls are delicious and surprisingly easy to make! And the best part? You can make them ahead of time, and freeze them the exact way the premade ones are! When you want some, just throw them in the oven to warm them up!
Make these for your superbowl party and you wont regret it!
Follow along with the ???? recipes below????????????????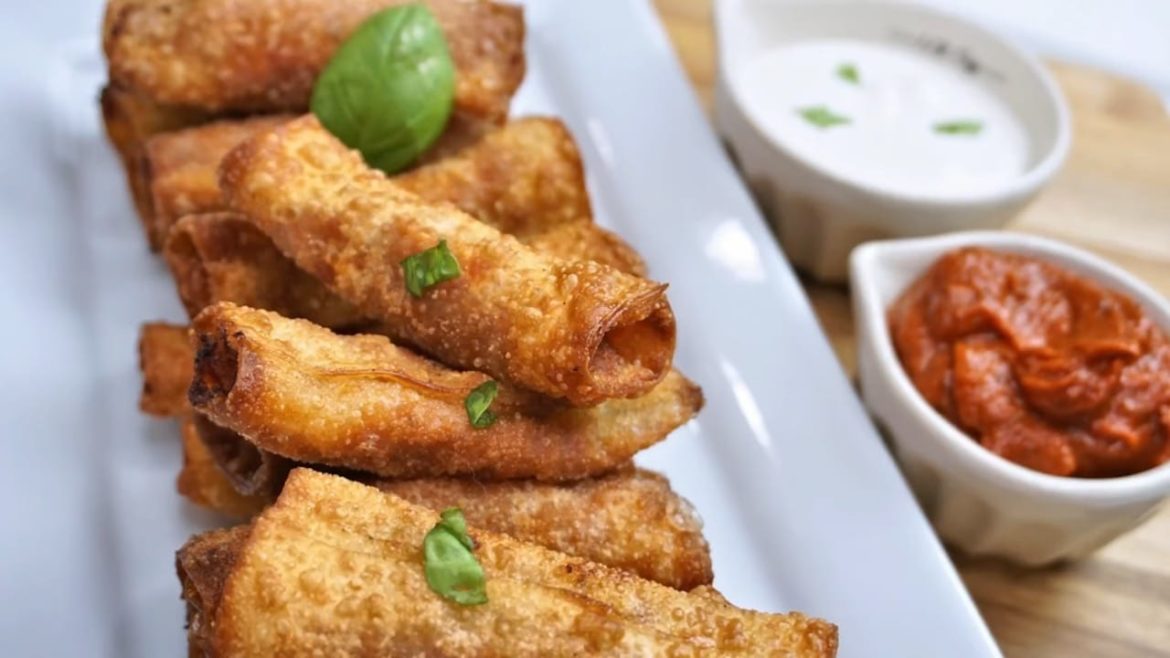 Ingredients
1 Package Wonton Wrappers
¾ Cup Pizza Sauce
½ - ¾ Cup Finely Shredded Pepperoni
½ - ¾ Cup Finely Shredded Mozzarella
Oil of your choice for frying (DO NOT USE OLIVE OIL)
Water as needed
Instructions
Take one wonton wrapper and dampen the outer edges using a small amount of water on your finger.
In the center, place a small dollop of pizza sauce, a sprinkle of pepperoni, and a sprinkle of mozzarella.
Lay another wonton wrapper over top and press to seal the edges. Lightly wet the ends and roll.
Frying Method:
Heat oil in a heavy bottom pot or dutch oven to 350°F – 375°F. Gently drop in wonton rolls.
Fry no more than 3 at a time to prevent the oil temperature from lowering.
Fry until golden brown on all sides and remove to a plate lined with a paper towel to drain.
Baking Method:
Preheat oven to 400°F. Line a baking sheet with parchment paper.
Brush each wonton wrapper on both sides with your choice of cooking oil.
Bake in a 400°F oven for about 15-20 minutes, flipping halfway through.
Did You Make This Recipe?
---
Enjoy