Learn to bake profiteroles and Éclairs at home with Anna. Recipe and ingredients below.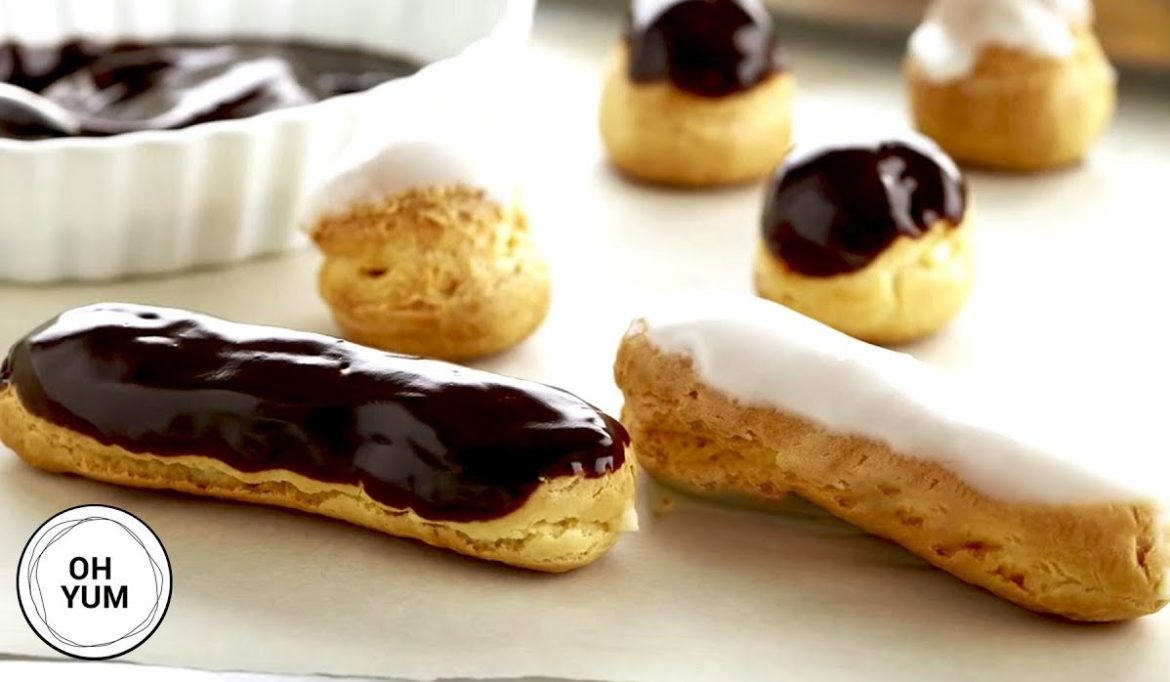 Ingredients
Fore the Pastry Cream
1 cup 2% milk
½ vanilla bean OR 1 1/2 tsp vanilla bean paste
3 large egg yolks
3 Tbsp sugar
2 Tbsp cornstarch
2 Tbsp unsalted butter, cut into pieces
Choux Paste
¾ cup 2% milk
¾ cup water
1/2 cup + 2 Tbsp unsalted butter
2 tsp sugar
½ tsp salt
1 ⅔ cup all-purpose flour
5 large eggs, at room temperature
Chocolate Glaze
4 oz bittersweet chocolate, chopped
¼ cup unsalted butter
1 Tbsp corn syrup
Sugar Glaze
1 ½ cup icing sugar, sifted
3 Tbsp 2% milk
1 ½ Tbsp unsalted butter, melted
Instructions
Pastry Cream
Heat the milk with the scraped seeds of the vanilla bean or the vanilla bean paste until just below a simmer.
In a separate bowl, whisk the egg yolks, sugar and cornstarch. Ready a bowl with the butter, placing a strainer on top of it.
Gradually whisk the hot milk into egg mixture and then return it all to the pot. Whisk this constantly (switching to a spatula now and again, to get into the corners) over medium heat until thickened and glossy, about 2 minutes. Pour this immediately through the strainer, whisking it through if needed, and stir in the butter. Place a piece of plastic wrap directly over the surface of the custard, cool to room temperature and then chill completely until ready to use.
Choux Paste
Bring the milk, water, butter, sugar and salt up to a full simmer over medium high heat. Reduce the heat to low and stir in the flour with a wooden spoon, stirring vigorously until the dough "cleans" the sides of the pot (no longer sticks). Scrape this mixture into a large bowl and use electric beaters or a stand mixer fitted with the paddle attachment and beat on medium speed for a minute or 2 to cool it a little.
Break two eggs into a small dish and whisk them just to blend a little. Add these to the flour mixture while still on medium speed and mix until blended. Add the remaining 3 eggs one at a time and mixing well after each addition.
Work with this recipe while the batter is still warm.
Profiteroles and Éclairs Assem
For the éclairs and profiteroles, preheat the oven to 400 F and line two baking trays with parchment paper.
Fill a piping bag fitted with a large plain tip with the choux paste. Pipe 12 éclairs, each about 4 inches long and 1 ½-inches wide onto the first baking tray and pipe 36 profiteroles, each about 1 ½-inches across onto the second tray (you may need 2 trays for the profiteroles). Wet your finger in cool water and tap any points on the batter.
Bake the éclairs and profiteroles for 10 minutes, then reduce the heat to 375 F and continue to bake for about 15 more minutes (the éclairs may take a bit longer), until they are a rich golden brown colour and are very light. Allow the pastries to cool completely before filling.
To fill, stir the pastry cream to soften and fill a piping bag with a medium plain tip (or an éclair or doughnut tip, if you have one). Use a skewer to first poke a small hole in the end of each éclair and the side of each profiterole. Insert the piping bag and fill each with cream until you feel resistance. Chill until ready to glaze with chocolate or sugar glaze.
Chocolate Glaze
Place the chocolate, butter and corn syrup in a metal bowl and set this over a pot of barely simmering water, stirring until melted. Remove the bowl from the heat.
Dip the tops of the éclairs or profiteroles in the warm glaze and enjoy warm, cool to set or chill to serve later.
Enough to decorate 12 éclairs or 36 profiteroles.
Sugar Glaze
Whisk the icing sugar and milk together until smooth, and then stir in the melted butter. Add food colouring if you wish and use immediately.
Dip the tops of the éclairs or profiteroles in the glaze and set them on a cooling rack to dry for an hour before serving or chilling to serve later.
Enough to decorate 12 éclairs or 36 profiteroles.
The unfilled éclairs and profiteroles can be made up to a day ahead and stored in an airtight container or frozen (unfilled) and thawed, but should be enjoyed within a day of filling and glazing.
Did You Make This Recipe?
---
Enjoy