Butter tarts are on the menu in Book recipe, and we are going to teach you how to make this delicious recipe from scratch!
The perfect treat to celebrate Canada's 150th birthday! Butter Tarts are a classic Canadian sweet treat and a perfect desert for Canada
Follow along with the ???? recipes below????????????????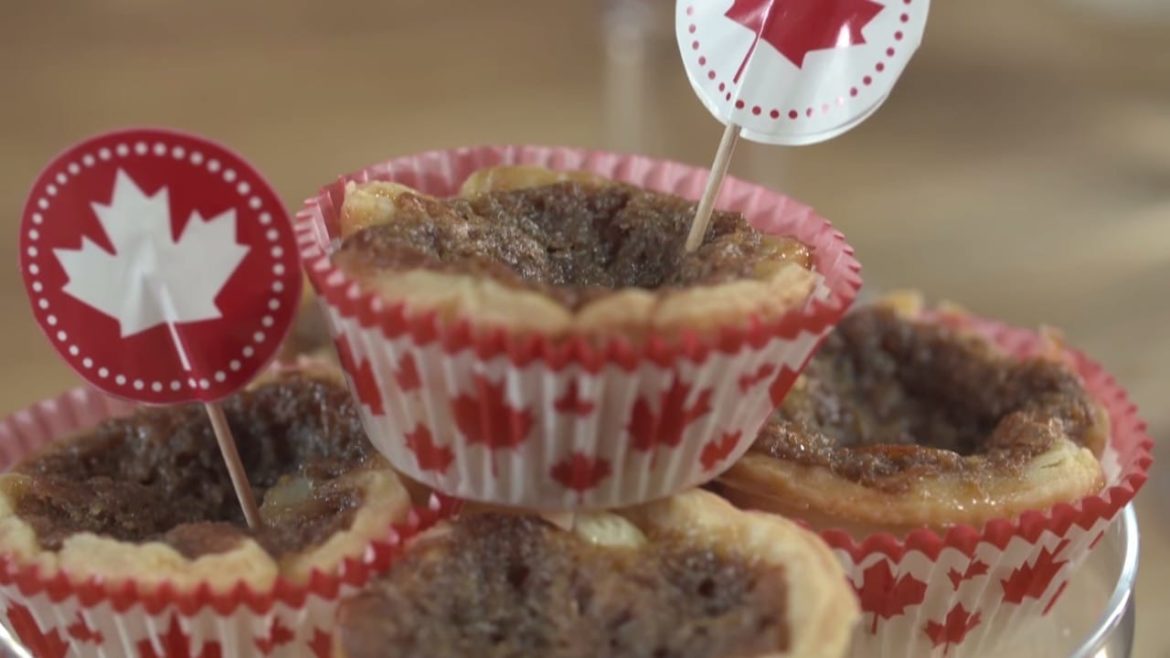 Ingredients
Pastry:
2 ½ cups (375 g) of all-purpose flour
1 Tbsp (12 g) of granulated sugar
1 tsp (5 g) salt
3 Tbsp (45 mL) of vegetable oil
1 cup (225 g) of cool unsalted butter, cut into pieces (does not have to be ice cold)
¼ cup (60 mL) of cool water
2 tsp (10 mL) of white vinegar or lemon juice
Filling:
¾ cup (150 g) of dark brown sugar, packed
¾ cup (175 mL) of maple syrup
½ cup (115 g) of unsalted butter, melted
2 large eggs, at room temperature
1 tsp (5 mL) white vinegar
1 tsp (5 mL) vanilla extract
½ cup (125 mL) raisins, pecans or walnut pieces
Instructions
Pastry:
Combine the flour, sugar, and salt together. Add the oil and blend in using a pastry cutter, electric beaters, or a mixer fitted with the paddle attachment, until the flour looks evenly crumbly in texture.
Add the butter and cut in until rough and crumbly but small pieces of butter are still visible. Stir the water and vinegar (or lemon juice, if using) together and add all at once to the flour mixture, mixing just until the dough comes together. Shape the dough into 2 logs, wrap and chill until firm, at least an hour.
Filling:
Preheat the oven to 200 C and lightly grease a 12-cup muffin tin. Pull the chilled dough from the fridge 20 minutes before rolling.
Cut each of the logs of chilled pie dough into 6 pieces. Roll each piece out on a lightly floured work surface to about 5 mm thick and use a 12 cm round cookie cutter to cut each into a circle. Line each muffin cup with the pastry so that it comes about 1 cm higher than the muffin tin, and chill the lined tin while preparing the filling.
Whisk sugar, maple syrup, and butter in a bowl by hand until combined. Whisk in eggs, then vinegar and vanilla. Sprinkle a few raisins, pecans, or walnut pieces into each cup and then pour the filling into the shells and bake the tarts for 5 minutes, then reduce oven to 375 F and continue baking until butter tart filling starts to dome, about 20 more minutes. Cool tarts in the tin, and chill the tarts in the tin before removing them.
Did You Make This Recipe?
---
Enjoy