Brown butter pecan pie is on the menu in Book recipe, and we are going to teach you how to make this delicious recipe from scratch!
I am quite picky when it comes to pecan pie. I prefer a pecan pie that is not too sweet and has an even balance of syrupy filling and nuts – too much of one or the other, and I'm thrown off balance. While rich and nutty, the browned butter lends so much flavor to the filling and enhances the tastiness of the pecans.
Follow along with the ???? recipes below????????????????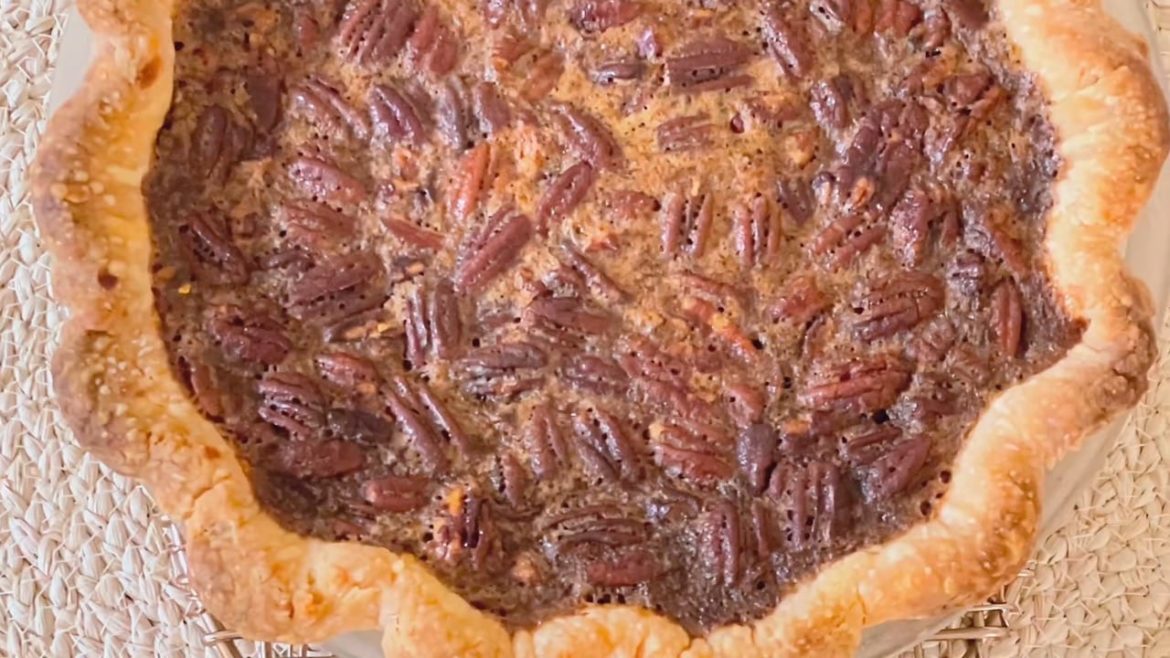 Ingredients
Pie Pastry (makes enough for one double-crust pie):
2½ cups (375 g) all-purpose flour
1 Tbsp (12 g) granulated sugar
1 tsp fine sea salt
3 Tbsp (45 mL) vegetable oil
1 cup (225 g) cool unsalted butter, cut in pieces (does not have to be ice-cold)
¼ cup (60 mL) cool water
2 tsp white vinegar or fresh lemon juice
Filling:
½ cup (115 g) unsalted butter
1 cup (200 g) packed dark brown sugar
½ cup (125 mL) maple syrup
¼ cup (60 mL) corn syrup
¼ cup (60 mL) whipping cream
2 tsp (10 mL) lemon juice or white vinegar
1 tsp (5 mL) vanilla extract
½ tsp fine salt
3 large eggs
1 ½ cups (150 g) pecan halves, lightly toasted
Instructions
Combine the dry ingredients by stirring the flour, sugar, and salt in a large bowl. Add the oil. Using a pastry cutter, electric beaters, or a mixer fitted with the paddle attachment, blend until the flour looks evenly crumbly in texture.
Add the butter and cut in until the dough is rough and crumbly, but small pieces of butter are still visible.
Add the liquids. Place the water and vinegar (or lemon juice) in a small bowl, stir together and then add all at once to the flour mixture, mixing just until the dough comes together. Shape it into two discs, wrap well and chill until firm, at least 1 hour.
Store. If you are not making a pie immediately, refrigerate the dough, well wrapped, for up to 2 days, or freeze it for up to 3 months. Thaw it overnight in the fridge before rolling.
Roll out one disc of the pastry on a lightly floured surface to a circle that is just under ¼-inch (6 mm) thick. Dust the bottom of a 9-inch (23 cm) glass pie plate with flour and line it with the pastry. Trim, tuck and crimp the edges of the pastry shell and chill for at least an hour.
Preheat the oven to 400 °F (200 °C).
Brown the butter. Melt the butter in a saucepan over medium-high heat and let it cook, stirring occasionally, until the bubbling subsides and the butter itself turns a rich nutty color, about 5 minutes. Set this aside to cool for 10 minutes.
Make the filling. Whisk the brown sugar, maple syrup, corn syrup, whipping cream, lemon juice (or vinegar), vanilla, and salt together until well combined. In a separate bowl, whisk the eggs together, add them to the sugar batter and whisk until blended. Pour in the butter and whisk this in well. Toss the pecans in the filling and pour everything into the pie shell.
Bake the pie on a baking tray for 10 minutes, then reduce the oven temperature to 375 °F (190 °C) and continue to bake for another 30 to 35 minutes, until you see the pie filling start to souffle around the outside edge, but it will still be jiggly in the center. Cool the pie on a rack before serving.
Notes
Makes one 9-inch (23 cm) pie
The pie is best served at room temperature but should be stored refrigerated after a day.
Did You Make This Recipe?
---
Enjoy