Upside Down Onion Cake is on the menu in Book recipe, and we are going to teach you how to make this delicious recipe from scratch!
Full recipe included below – follow along with pro pastry chef Anna Olson's savoury onion, cheese & herb cake. Serves as a delicious side dish, starter, or lunch!
This combination of caramelized onions and fluffy cheese & herb cake makes for a tasty side dish to a roast in place of bread or potatoes, or it can make a tasty starter course with a side salad. The method for making this cake is identical to making a pineapple upside-down cake but without the obvious fruit and sugar.
Follow along with the 📝 recipes below👇🏾👇🏾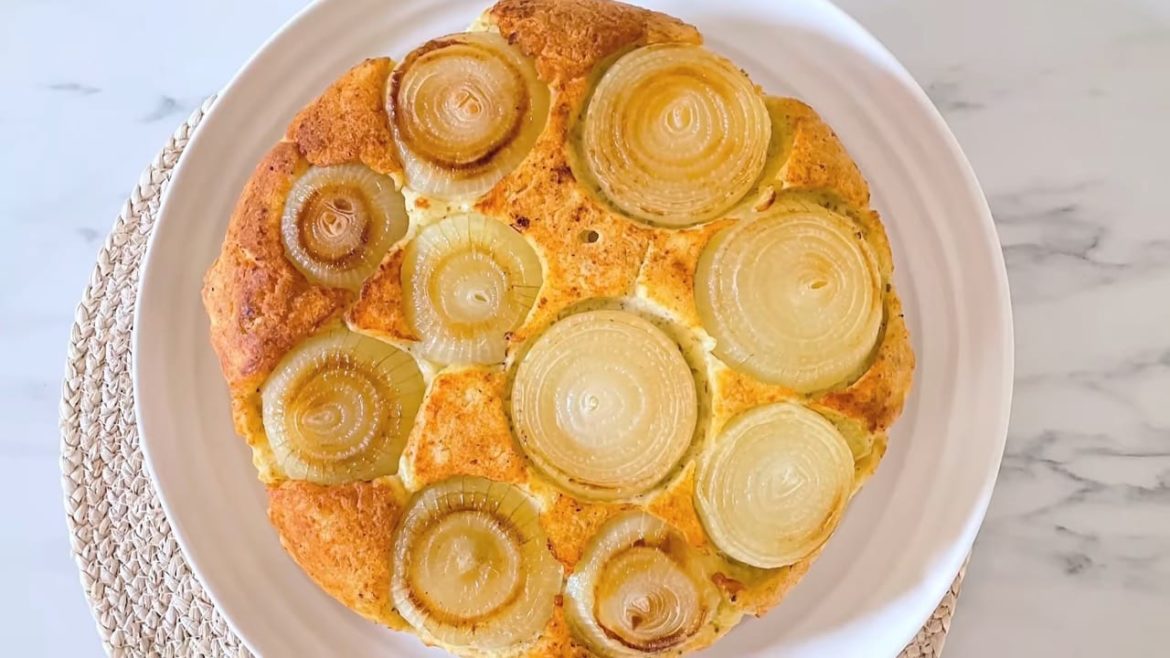 Ingredients
1 ½ cups (225 g) all-purpose flour
¾ cup (75 g) grated Parmesan cheese
3 Tbsp (24 g) cornstarch
1 Tbsp (12 g) granulated sugar
2 tsp dried oregano or Herbes de Provence
1 ½ tsp baking powder
½ tsp fine salt
6 Tbsp (90 mL) sour cream
6 Tbsp (90 mL) 2% milk
2 large eggs
6 Tbsp + 1 Tbsp (105 g) unsalted butter, melted
3 to 4 medium cooking onions
1 Tbsp (30 mL) olive oil
Instructions
Preheat the oven to 400°F (200°C). Have a 9-inch (23 cm) heavy-bottomed ovenproof skillet ready.
Make the cake batter. Stir the flour, Parmesan, cornstarch, sugar, oregano or Herbes de Provence, baking powder, and salt. Whisk the sour cream, milk, and eggs in a bowl and add this all at once to the flour, stirring just until combined. Stir in the melted butter (the batter will be thick) and set aside.
Peel and cut the onions into ½-inch (1.2 cm) thick slices and leave the rings intact (do not separate the rings of the onions).
Cook the onions. Heat the skillet over medium-high heat. Add the remaining 1 Tbsp (15 mL) of butter and oil and swirl to coat the pan. Once the butter stops bubbling, arrange the onions to completely fill the bottom of the pan, placing them as close together as you can without them overlapping. Let the onions cook for about 4 minutes until you start seeing the edge of the rings starting to brown.
Top the onions with the cake batter. Remove the pan from the heat and dollop the batter over the onions, using a spatula to gently spread the batter evenly over the onions to cover them. Put the pan in the oven and bake immediately reduce the oven temperature to 375°F (190°C).
Bake the cake for about 25 minutes, until a tester inserted in the center of the cake comes out clean. Cool the cake in its pan for about 20 minutes before inverting the pan to tip the cake out onto a plate. Serve the cake warm or at room temperature
Notes
Makes one 9-inch (23 cm) cake

Did You Make This Recipe?
---
Bon Appétit