Italian chicken is on the menu in Book recipe, and we are going to teach you how to make this delicious recipe from scratch!
Chicken Cacciatore is a famous Italian dish of a chicken fried until golden crust and braised with tomatoes, mushroom and sweet pepper. One of legends says that wives cooked a chicken in the way a wildfowl was cooked when hunters came home without a gain. Hunter-style chicken is a perfect meal for a family or friendly dinner or as a main course for a festive one.
Follow along with the ???? recipes below????????????????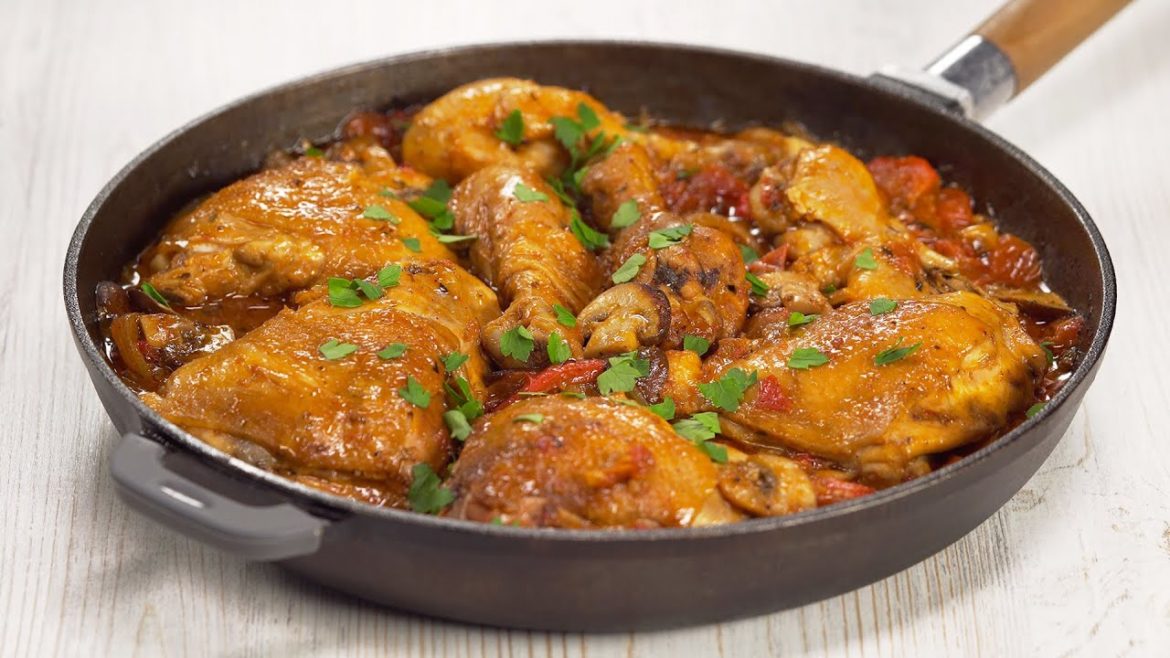 Ingredients
chicken – 2 lb /1 kg
bulb onion – 8 oz /240 g
red bell pepper – 6 oz /180 g
mushrooms – 9 oz /250 g
chopped tomatoes – 24 oz /700 g
garlic – 2 cloves
dry white wine – 3 fl oz /100 ml
vegetable oil – 2 tbsp
dried thyme – 1 tsp
dried oregano – 1 tsp
sugar – 1 tsp
ground black pepper – ½ tsp
salt – 1 tsp
You will need:
Instructions
Wash and dry out the chicken, cut the bulb onion and bell pepper into strips, mince the garlic, cut the mushrooms into slices.
Heat the vegetable oil in a pan over medium heat.
Lay out the chicken pieces and fry over medium heat for 3-4 minutes on each side until golden crust.
Take out the chicken into a bowl.
Lay out the cut bulb onion, bell pepper and mushrooms into the pan, fry over medium heat for 5 minutes.
Add the salt, sugar, pepper, thyme, oregano, garlic and dry wine, stir and braise over low heat for 3 minutes.
Add the chopped tomatoes and bring to a boil, cover with a lid and braise over low heat for 7 minutes.
Lay out the chicken onto the vegetables in the pan and cover with the lid, braise over low heat for 15 minutes, then flip the chicken, cover the lid and braise for 15 minutes more. Then flip the chicken again and keep braising over low heat for another 5 minutes.
Serve the chicken cacciatore hot with potato, pasta or rice.
Did You Make This Recipe?
---
Bon Appétit