Lobster Chowder is on the menu in Book recipe, and we are going to teach you how to make this delicious recipe from scratch!
Follow along with the ???? recipes below????????????????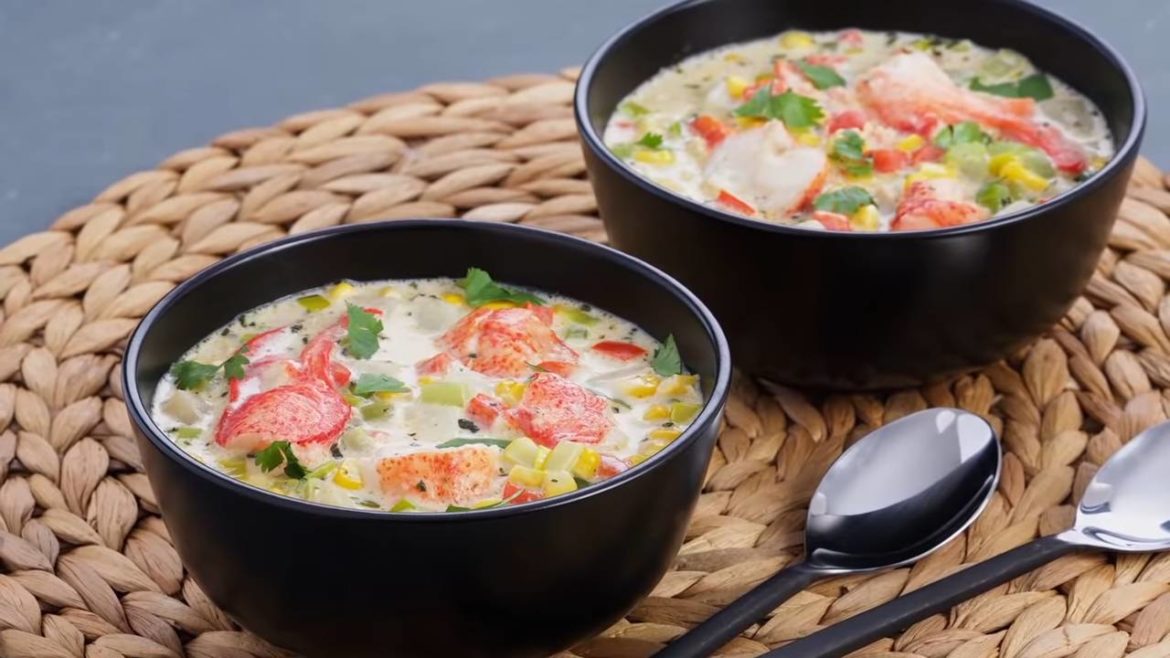 Ingredients
Stock:
30 mL (2 Tbsp) vegetable oil
Shells from 1.3-1.8 kg (3-4 lbs) of whole, cooked lobster, meat reserved
2 chicken legs, thigh attached
2 cooking onions, peeled and roughly chopped
2 celery stalks, chopped
2 carrots, peeled and chopped
2 fresh thyme sprigs
25 g (1 oz) fresh ginger, peeled and sliced
2 garlic cloves, peeled
Chowder:
30 mL (2 Tbsp) vegetable oil
125 g (1 cup) diced leek (white and light green part)
125 g (1 cup) finely diced celery (2 stalks)
165 g (1 ½ cups) diced red bell pepper (1 pepper)
10 mL (2 tsp) chopped fresh thyme
18 g (2 Tbsp) all-purpose flour
250 g (1 ½ cups) peeled and diced potato
1 L (4 cups) lobster stock
1 ½ cups (225 g) corn kernels (you can add the cobs to the stock)
350-450g (3/4-1 lb) diced cooked lobster meat
250 mL (1 cup) whipping cream
salt & pepper
chopped fresh coriander, for garnish
lime juice, for garnish
Instructions
For the stock, heat a large stockpot on high heat and add the oil. Add the lobster shells and sauté to extract the flavor, for about 3 minutes. Reduce the heat to medium and add the chicken, onions, celery, carrots, thyme, ginger and garlic. Add enough water to cover and bring this to a gentle simmer over medium heat and cook for 90 minutes. Strain away the solids and discard (the chicken meat can be saved for chicken salad or another dish), reserving the liquid.
For the chowder, heat a large soup pot over medium heat and add the oil. Add the leeks, celery, pepper and thyme and sauté until the leeks are tender, about 5 minutes. Add the flour and stir for a minute, just until the flour starts to stick to the bottom. Add the potato and then stir in the stock. Bring this up to a gentle simmer and cook, uncovered, for about 20 minutes, until the potato is tender. Stir in the corn and the lobster meat and simmer an additional 10 minutes. Stir in the cream and season to taste. Ladle into large bowls and serve with chopped coriander and lime juice.
Did You Make This Recipe?
---
Enjoy