Mini Chocolate Hazelnut Friands are on the menu in Chef Anna Olson's amazing kitchen, and she is going to teach you how to make this delicious recipe from scratch!
Follow along with the recipe below!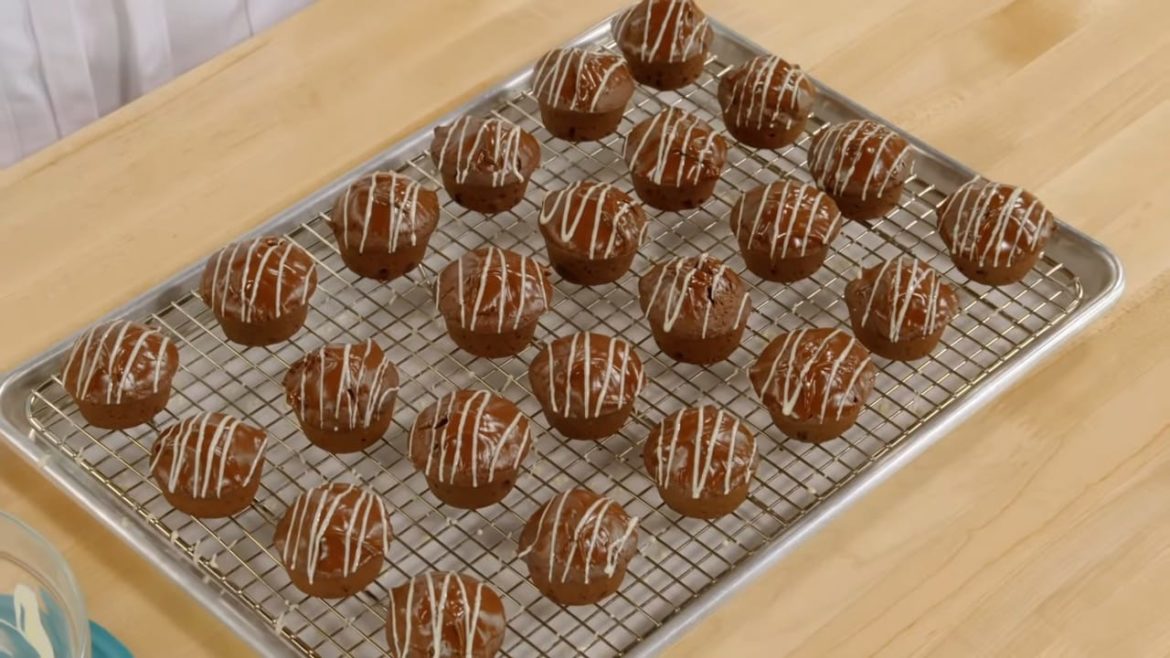 Ingredients
Friands
1 ½ cups (200 g) whole hazelnuts, toasted and peeled
1 ¼ cups (185 g) all-purpose flour (plain flour)
¼ cup (30 g) Dutch process cocoa powder
2 tsp (10 mL) instant espresso powder
¼ tsp (1 mL) ground nutmeg
2 cups (260 g) icing sugar, sifted
¾ cup (180 g) unsalted butter, melted
6 large egg whites, at room temperature
Ganache glaze
4 oz (120 g) semisweet chocolate, chopped
1 Tbsp (15 g) unsalted butter
2 tsp (10 mL) corn syrup (or golden syrup)
1 ½ oz (45 g) white chocolate
Instructions
Preheat the oven to 400 F (200 C) and grease a mini friend pan (24 mini friands). Alternatively, you can bake these in a standard mini-muffin tin.
Pulse the hazelnuts with the flour, cocoa powder, espresso powder and nutmeg until the nuts are finely ground. Have the sifted icing sugar in a large bowl and stir the nut mixture into it. Stir in the melted butter (the batter will be dense).
In a separate bowl, whisk the egg whites until they are foamy and stir these into the batter. Use an ice cream scoop to scoop the batter into the prepared pan. Bake for 15-20 minutes, until a tester inserted in the centre of a friend comes out clean. Immediately turn out the friands to cool completely.
For the ganache glaze, place the chocolate, butter and corn syrup in a metal bowl resting over a pot of barely simmering water and stir gently until melted. Cool just enough so that the ganache clings to a spoon or spatula with running. Dip the top of each friend into the glaze and set upright to cool.
Melt the white chocolate in a metal bowl resting over a pot of barely simmering water, stirring gently until melted. Spoon the melted chocolate into a little piping bag or use a fork to drizzle a pattern over each friend and let them set.
Notes
The friands will keep up to 5 days stored at room temperature (they actually taste better a day after they've been baked.)

Did You Make This Recipe?
Recipe video
---
Enjoy