Naan Bread is on the menu in Chef Anna Olson's amazing kitchen, and she is going to teach you how to make this delicious recipe from scratch!
Follow along with the recipes below!
Naan bread is traditionally baked on the walls of a tandoori oven, but you can easily make this at home, using a cast-iron skillet. Once you see how easy it is to make authentic naan from scratch, you'll never buy pre-made again!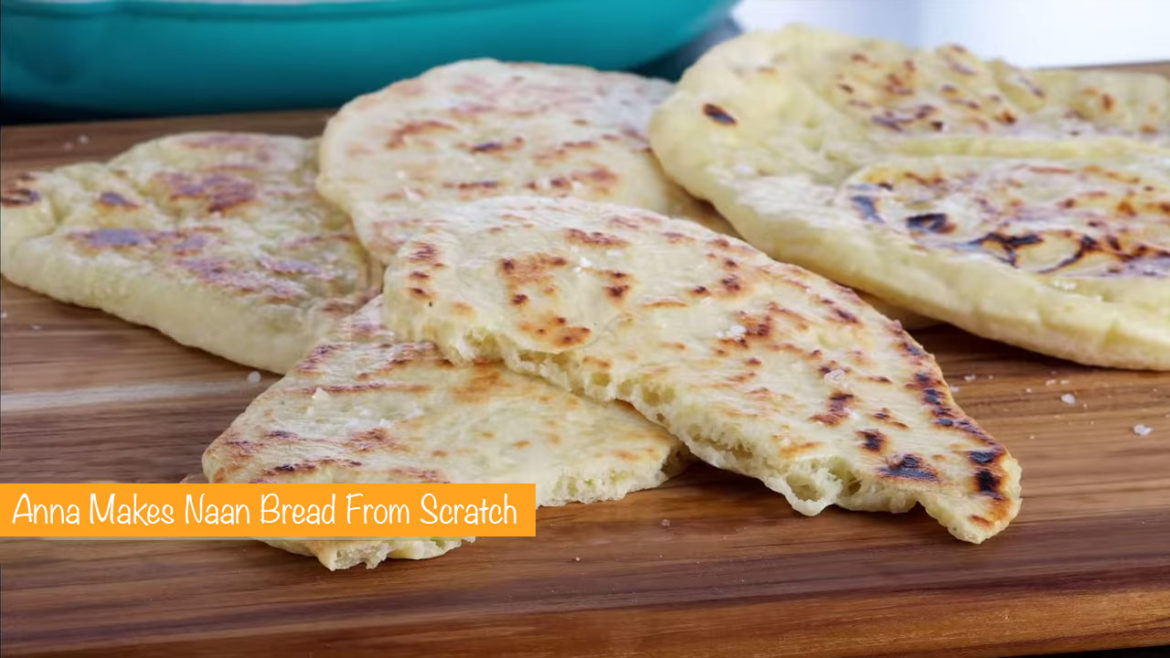 Ingredients
¾ cup (180 mL) warm water (just about body temperature)
½ cup (125 mL) plain yogurt (any fat %)
2 Tbsp (60 mL) olive oil or vegetable oil
2 ¼ tsp (1 pkg) 8 g instant yeast
2 ½ cups (375 g) all-purpose flour (plain flour)
½ tsp (2 mL) salt
melted butter or ghee, for brushing
sea salt and/or chopped fresh coriander, for sprinkling
Instructions
Place the water, yogurt, oil, yeast, 2 ¼ cups (337 g) of the flour and salt in a large mixing bowl and stir with a wooden spoon until it becomes too awkward. Pour the remaining ¼ cup (37 g) of flour on a clean work surface and tip the dough out onto it. Knead the dough for about 3 minutes, turning it and working in all of the remaining flour. Place the dough back in the bowl, cover the bowl with plastic wrap, and set aside to rise for an hour.
Turn the dough out onto a work surface lightly dusted with flour and divide it into 6 pieces. Roll out each piece of dough into a rough circle (precision is not essential here) about 8 or 9-inches (20-23 cm) across.
Heat a cast-iron or other heavy-bottomed skillet on high heat. Drop-in a naan and cook for about 90 seconds, until browned in spots on the bottom. Use tongs to flip the naan over to cook another 90 seconds, until the bubbles blister and turn toasty brown. Brush the naan with melted butter or ghee, sprinkle with salt and/or coriander. Repeat with the remaining pieces of dough. Stacking the naan will keep it warm, or you can hold them in a 300 F (150 C) oven until ready to serve.
Notes
The naan is best eaten the day it's cooked.
Resting Time: 1 hour

Did You Make This Recipe?
Recipe video
---
Enjoy