Hello friends! Today we're going to show you how to make no-bake white chocolate cheesecake with delicious maple Bourbon whiskey syrup.
No-bake cheesecake is the perfect dessert for summer! You don't even need to turn the oven on, and it's super easy, only uses a few simple ingredients, but tastes creamy, rich and amazing.
Usually, making no-bake cheesecakes needs gelatine to set, but this no-bake cheesecake is made with white chocolate ganache instead of gelatine and to help the cheesecake set in the fridge overnight to a perfect, tenderly firm consistency. Moveover, we make a maple bourbon topping for it, it's a great addition to waffles, french toast, and cakes. Can't wait to share the recipe with you guys.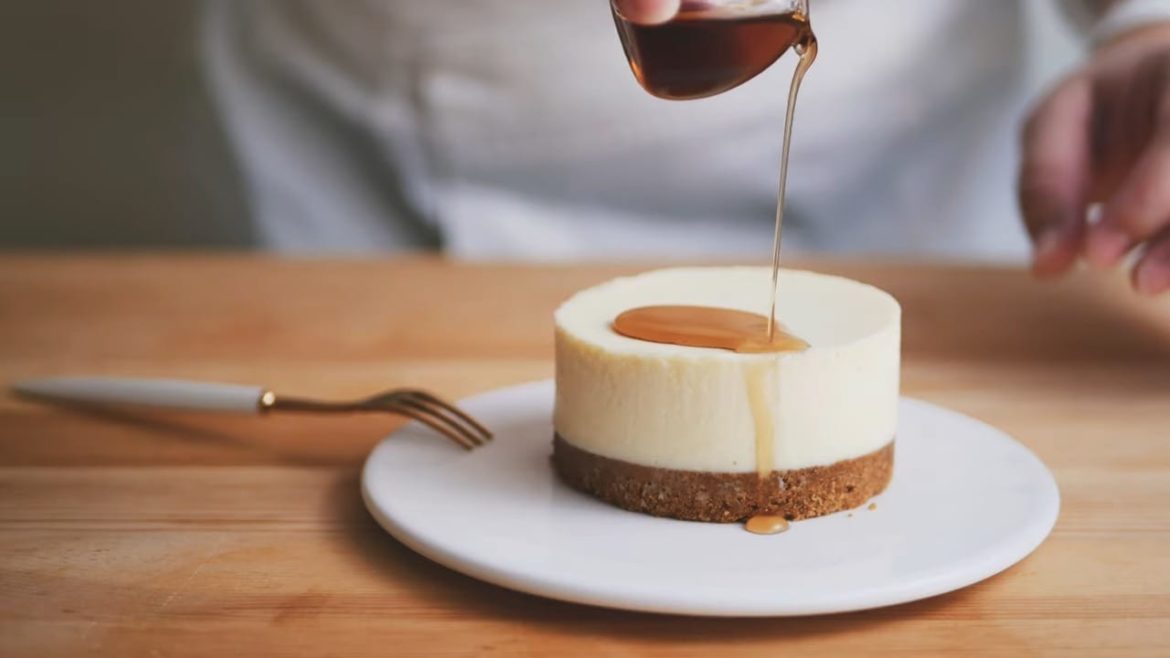 Ingredients
For the cake
unsalted butter 20g, melted
digestive biscuit 65g
whipping cream 30g, warm
white chocolate 90g
cream cheese 100g
mascarpone 80g
For the syrup
maple syrup 40g
bourbon whiskey 3g
Instructions
To prepare the cake crust, place digestive biscuits and a little bit of sea salt into a food processor and blend until fine crumbs.
Add melted butter with crumbs and blend until well combined.
Press the biscuit mixture evenly & firmly into an 8cm diameter cake mold.
And refrigerate until firm.
Add the chocolate chips and warm whipping cream In a small bowl, then place the bowl over another bowl of hot water, set for 5 minutes.
Once the chocolate is all melted, stir the ganache until smooth. Let cool.
In a large bowl, whisk softened cream cheese and mascarpone together by a hand mixer on low speed, until well combined.
Add the melted chocolate ganache and whisk on low speed, until just incorporated.
Spoon the cheesecake filling over the cooled and set biscuit base, then smoothing with a spatula.
Return to the fridge, and chill at least 5 hours or overnight.
Serve with bourbon maple syrup, enjoy.
Notes
Cake mold: ⌀ 7.5cm Diameter

Did You Make This Recipe?
Recipe video
---
Enjoy