Poppy Seed Bagel Bites are on the menu in Chef Anna Olson's amazing kitchen, and she is going to teach you how to make this delicious recipe from scratch!
Follow along with the recipes below!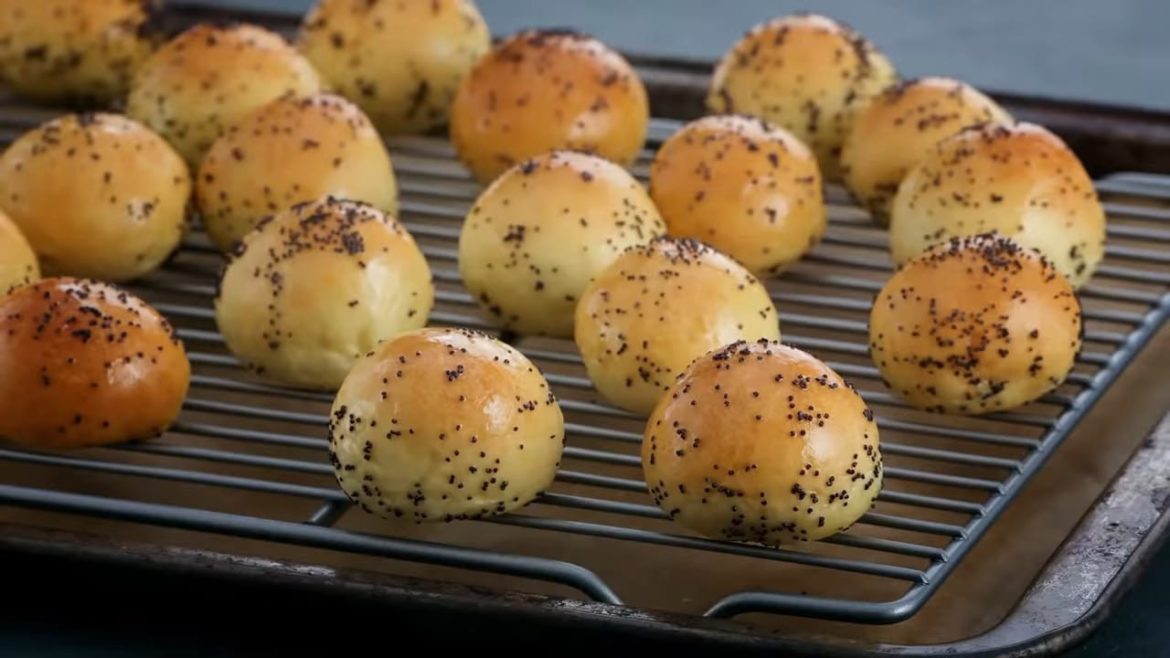 Ingredients
Dough:
1 cup (250 mL) milk
½ cup (115 g) unsalted butter
¼ cup (50 g) granulated sugar (caster sugar)
1 large egg
1 ½ tsp (6 g) instant yeast
3 ½ cups (525 g) all-purpose flour (plain flour)
½ tsp (2 g) salt
Poppyseed Syrup:
2 Tbsp 18 g poppyseeds
½ cup 125 mL milk
¼ cup 50 g granulated sugar (caster sugar)
1 Tbsp 15 g unsalted butter
Instructions
For the dough, heat the milk and butter on low heat until the butter has melted and the milk is at about 110 F (43 C) (no need to precisely measure the temperature – just above body temperature is a good gauge). Place the milk into the bowl of a stand mixer fitted with the dough hook attachment or in a large mixing bowl, if mixing by hand. Add the sugar, egg, yeast, flour, and salt, mixing first on low speed until blended and then on one sped higher, kneading until the dough is smooth and elastic. If mixing by hand, stir the dough with a wooden spoon until it is too hard to do so, and then turn the dough out onto a surface and knead by hand until elastic, about 5 minutes. Place the dough in a bowl, cover with plastic wrap, and let it rise for an hour until almost doubled.
Preheat the oven to 350 F (180 C) and line 2 baking trays with parchment paper. Turn the dough out onto a surface (try and avoid dusting it with flour) and divide the dough into 4 pieces. Roll out a piece of dough into a rope about 12-inches (30 cm) long and cut it into 12 pieces. Shape each piece into a ball and place these on the baking tray, leaving about 2-inches (5 cm) between them. Cover the trays with tea towels and let the bites rest for 15 minutes.
Bake the bagel bites for 16-20 minutes until they brown just a little (they will not brown a lot). While baking, prepare the poppyseed syrup. Bring the poppyseeds and milk up to a full simmer and then whisk in the sugar and butter, simmering for just a few minutes. When the bagel bites come from the oven, immediately place them in a large bowl (you may need to do one tray at a time). Pour the hot syrup over the bagel bites and toss well to coat. Transfer them to a cooling rack to cool and enjoy.
Notes
The bagel bites are best enjoyed the day they are made but will keep up to 2 days stored in an airtight container.
Resting Time: 75 minutes

Did You Make This Recipe?
Recipe video
---
Enjoy