Coconut Cream Pies are on the menu in Chef Anna Olson's amazing kitchen, and she is going to teach you how to make this delicious recipe from scratch!
Follow along with the recipes below!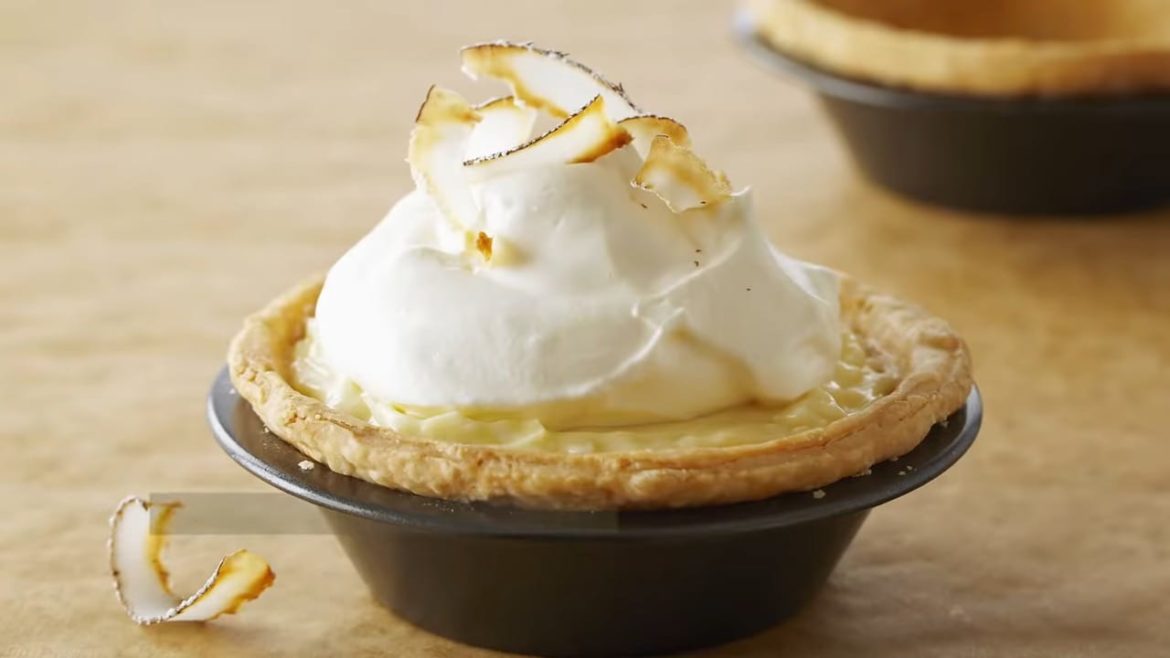 Ingredients
Crusts
1 recipe 2-crust pie dough, shaped into 2 logs and chilled
Coconut Cream Filling
1 (398 mL) tin coconut milk
2 tsp (10 ml) vanilla bean paste or vanilla extract
5 large egg yolks
1/3 cup (70 g) sugar
5 Tbsp (38 g) cornstarch
3 Tbsp (45 g) unsalted butter, room temperature
1 Tbsp (15 ml) rum (optional)
2/3 cup (70 g) sweetened flaked coconut
Topping and Assembly
2 cups (500 ml) whipping cream
3 Tbsp (38 g) sugar
2 Tbsp (8 g) skim milk powder
1 tsp (5 ml) vanilla extract
lightly toasted sweetened flaked coconut, for garnish
Instructions
For the crusts, pull the dough out of the fridge 20 minutes before rolling. Slice each log into 3 pieces and roll each piece out on a lightly floured work surface to just under ¼-inch thickness. Lightly dust six 5-inch individual pie shells with flour and line each with pie dough, trimming the edges completely. Chill the pie shells for 20 minutes.
Preheat the oven to 400 F (205 C). Dock the bottom of each pie shell with a fork and place an empty pie pan over each shell. Turn the pie shells upside down and place them on a parchment-lined baking tray. Bake the shells for 8 minutes at 400 F (205 C), then turn the oven down to 375 F (190 C) and bake for another 8-10 minutes until golden. Flip the pie shells right side up, remove the top pie pan and let the shells cool.
For the coconut cream filling, heat the coconut milk and vanilla bean paste (or extract) in a pot until just below s a simmer. Whisk the egg yolks, sugar, and cornstarch in a bowl and then slowly pour in the hot coconut milk while whisking. Return the mixture to the pot and whisk over medium heat until the custard is thick and glossy about 5 minutes. Pour this through a strainer and stir in the butter and rum (if using), then stir in the coconut. Place a sheet of plastic wrap directly on the surface of the custard, cool to room temperature, then chill until set, at least 3 hours.
To assemble, whip the cream to a soft peak and then whip in the sugar, skim milk powder, and vanilla.
Stir the coconut cream filling to soften (it will be quite firm) and then fold in ¾ cup of the whipped cream. Spoon this into the cooled tart shells and spread to level. Pipe or dollop the remaining whipped cream onto each pie and sprinkle each with a little toasted coconut. Chill until ready to serve.
Notes
The pies can be stored, refrigerated, for up to 2 days.

Did You Make This Recipe?
Recipe video
---
Enjoy