Pumpkin Pie is on the menu in Book recipe, and we are going to teach you how to make this delicious recipe from scratch!
Winter is coming… so is pumpkin time!
As a child, I grew up with a particular pumpkin dessert of pumpkin slices boiled in syrup, topped with walnuts and sometimes tahini. Today, I will share my twist on this classic recipe.
Using the same ingredients you can turn the dessert into a pumpkin pie with crunchy walnuts and cream.
This recipe was born one Saturday when my mom had guests and there wasn't enough pumpkin dessert to serve them. I mashed the slices and shaped a small pie.
Now it is one of the favorites in my kitchen. Plus there is a bonus pumpkin soup recipe to use the scraps!????
Follow along with the ???? recipes below????????????????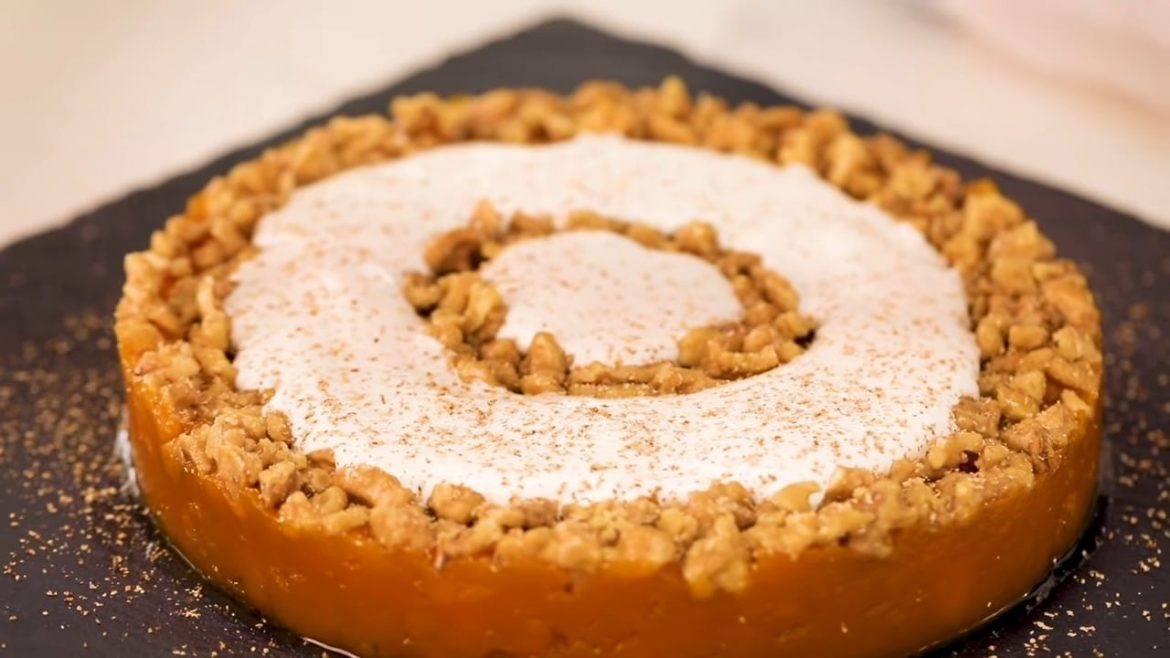 Ingredients
2 kg pumpkin, roughly chopped (you can use butternut squash as well)
40-50 ml water (4-5 tablespoons)
3,5 cups sugar (alternatively, 4 cups of molasses or 2,5 cups maple syrup)
6-7 cloves
4 tablespoons brown sugar
2,5 tablespoons water
A few lemon drops
5 good handfuls of walnut, roughly crushed (or pecan, macadamia)
100 g cream (35% milkfat)
1/3 nutmeg
2 sprigs of fresh mint, leaves picked
Pumpkin soup, the best way to use the scraps:
750 g pumpkin, roughly chopped (especially green parts)
3 cloves of garlic
1 onion, halved
1 potato, roughly chopped (optional)
Walnut sized ginger, peeled and chopped
4-5 cups of water
Salt & black pepper
Instructions
Cut the green parts of the pumpkin. Green parts usually tend to be less sweet, so it would be better to use them for a soup or any savory dish.
Put the pumpkin into a pot. Add the water and sugar into it on medium heat.
Add 6-7 cloves. Crush the top parts before adding them to enhance their flavor.
Cover with the lid partially, so water can continue to evaporate. To make the classical pumpkin dessert, cook for 15 to 20 minutes. Go for another 10 minutes for the squashed pumpkin pie.
To make the coated walnuts, add the brown sugar and water to a pan on low heat.
Stir until the sugar is melted. Squeeze a few lemon drops and add in the walnuts after 1,5 minutes of boiling.
Toss until the walnuts are evenly coated. Turn the heat off and allow walnuts to cool and get harden.
Transfer the pumpkin to a large bowl and leave the excess water in the pot. You can make a pumpkin soda or sorbet with that later.
Mash the pumpkin with a fork or an immersion blender. Let it sit to cool down.
Whisk the cream for about a minute. The cream should be still runny but fluffier.
Put a 20-25 cm diameter ring on your serving dish and spread the pumpkin puree into it.
Arrange the walnuts around the edges and make an inner circle around the center. You can refrigerate at this stage until the serving time.
Pour over the cream on the pumpkin between the walnut walls
Finally, grate the nutmeg and sprinkle some mint leaves. Take a full spoon and feel the pumpkin, walnuts, and cream. Then mint will prepare you for another bite!
Pumpkin soup, the best way to use the scraps:
Put the pumpkins in a pot.
Add the garlic, onion, potato, and ginger.
Add the water and boil on medium heat for about 30 minutes.
Puree the soup with an immersion blender until smooth.
Season to taste with salt and black pepper. Voila! Your silky pumpkin puree is ready.
Did You Make This Recipe?
---
Enjoy
Let us know what you think of today's Pumpkin Pie tips, tricks, and hacks!