Rhubarb Crumble Tart is on the menu in Chef Anna Olson's amazing kitchen, and she is going to teach you how to make this delicious recipe from scratch!
Follow along with the recipes below!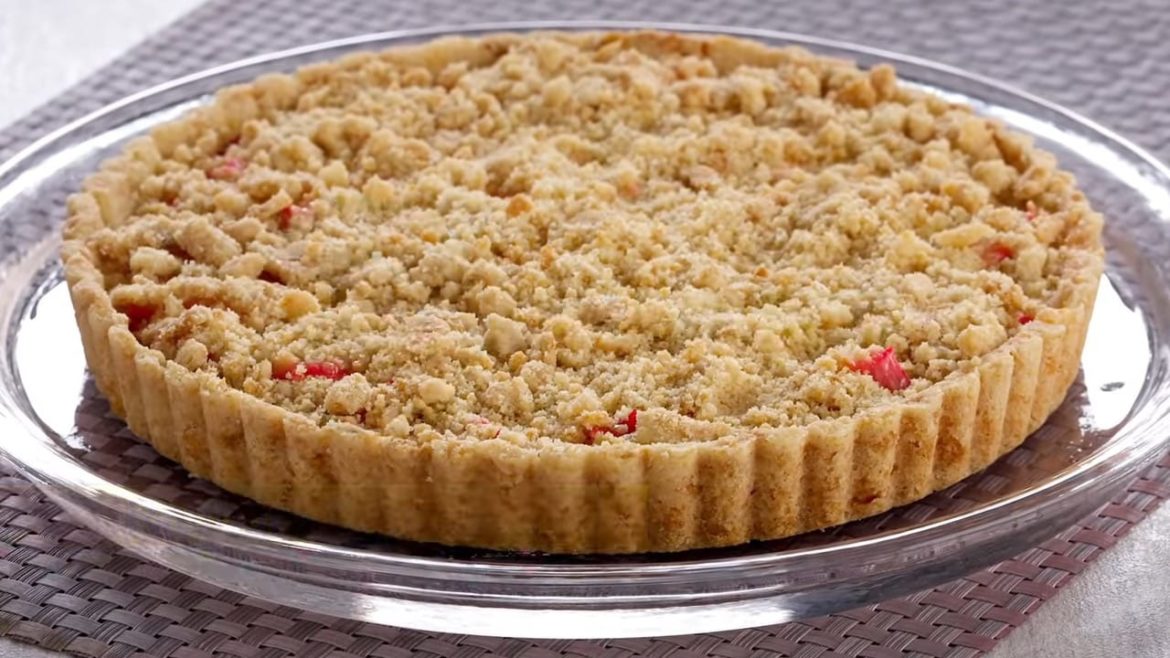 Ingredients
Crust & Crumble
1 ½ cups (225 g) all-purpose flour (plain flour)
½ cup (100 g) granulated sugar (caster sugar)
¼ cup (30 g) ground almonds (almond meal)
1 Tbsp (12 g) packed light brown sugar
¼ tsp (1 mL) baking powder
¼ tsp (1 mL) salt
10 Tbsp (150 g) cool unsalted butter, cut into pieces
Filling
2 cups (500 mL) diced fresh rhubarb
1/3 cup (80 mL) whipping (35%) cream
1 large egg
1 egg yolk
¼ cup (50 g) granulated sugar (caster sugar)
2 Tbsp (18 g) all-purpose flour
2 Tbsp (15 g) ground almonds (almond meal)
1 tsp (5 mL) vanilla extract
1 Tbsp (15 mL) brandy (optional)
LAUREL CRÈME ANGLAISE
1 ½ cups (375 mL) 10% cream (half-&-half)
2 bay laurel leaves
½ vanilla bean
3 large egg yolks
¼ cup (50 g) granulated sugar (caster sugar)
Instructions
Preheat the oven to 350 F (180 C).
For the crust, combine the flour, sugar, ground almonds, brown sugar, baking powder, and salt in a large mixing bowl or in the bowl of a stand mixer fitted with the paddle attachment. Add the butter and blend until the mixture is a rough, crumbly texture, and pieces of butter are no longer plainly visible. Scoop out 1 cup (140 g) of the crumble and spread this in the bottom an ungreased pie plate (do not press in) or onto a parchment-lined baking tray. Press the remaining crumble into an ungreased 9-inch (23 cm) removable-bottom fluted tart pan and place this on a baking tray. Bake both for 20 -25 minutes, until the crust browns a little at the edges. Cool the shell before filling.
Spread the rhubarb onto the bottom of the cooled crust. Whisk the cream, egg, egg yolk, sugar, flour, ground almonds, brandy (if using), and vanilla extract. Pour this over the fruit (it will not completely cover the fruit) and sprinkle the pre-baked crumble overtop. Bake this (still at 350 F/180 C) for about 30 minutes, until the tart filling no longer jiggles in the center. Cool the tart to room temperature, then, chill until ready to serve.
LAUREL CRÈME ANGLAISE
Place the cream in a small saucepot over medium heat and add the bay leaves and the scraped seeds and the pod of the vanilla bean. Bring this to just below a simmer.
In a small bowl, whisk the egg yolks and sugar. Remove the vanilla bean pod from the cream and then add a little of the cream to the yolks while whisking, then gradually ladle in about half of the cream while whisking. Add this mixture back to the pot and continue to whisk on medium-low heat until it thickens enough to coat the back of a spoon, 3-4 minutes. Strain this into a bowl, cool to room temperature, and then chill completely.
Notes
The tart can be served chilled or at room temperature.
Serve with Laurel Crème Anglaise (recipe follows)
The Crème Anglaise will keep for up to 4 days refrigerated.

Did You Make This Recipe?
Recipe video