Pumpkin Pie is on the menu in Book recipe, and we are going to teach you how to make this delicious recipe from scratch!
Pumpkin Pie Oh My! Anna Olson shows you how to bake individual sized Pumpkin Pies, a perfect dessert for Thanksgiving!
Follow along with the ???? recipes below????????????????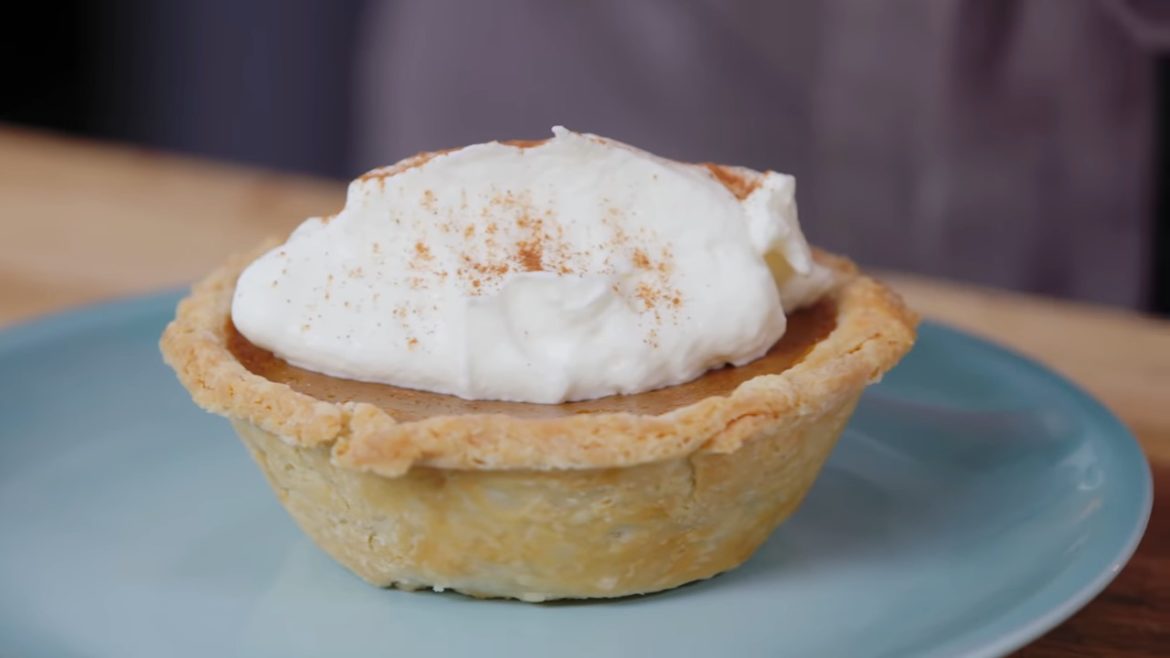 Ingredients
Pie Dough:
2 ½ cups (375 g) all-purpose flour
1 Tbsp granulated sugar
1 tsp fine salt
3 Tbsp (45 ml) vegetable oil
1 cup (225 g) cool unsalted butter, cut into pieces (does not have to be ice cold)
¼ cup (60 mL) cool water
2 tsp (10 ml) white vinegar or lemon juice
Filling
2 cups (500 g) pure pumpkin puree
¾ cup (150 g) packed light brown sugar
3 Tbsp (45 mL) fancy molasses
¾ tsp ground cinnamon
¾ tsp ground ginger
½ tsp ground nutmeg
¼ tsp ground allspice
¼ tsp ground cloves
¼ tsp fine salt
3 large eggs
1 1/3 cups (330 mL) whipping cream
Topping:
1 ½ cups (375 mL) whipping cream
1 ½ Tbsp instant skim milk powder
2 Tbsp icing sugar
Instructions
Combine the flour, sugar and salt together. Add the oil and blend in using a pastry cutter, electric beaters or a mixer fitted with the paddle attachment, until the flour looks evenly crumbly in texture.
Add the butter and cut in until rough and crumbly but small pieces of butter are still visible. Stir the water and vinegar (or lemon juice, if using) together and add all at once to the flour mixture, mixing just until the dough comes together. Shape the dough into 2 logs, wrap and chill until firm, at least an hour.
Preheat the oven to 375°F (190°C) and line a baking tray with parchment paper. Pull the pie dough from the fridge 30 minutes before you wish to roll it out.
Divide the dough into 6 pieces. On a lightly floured surface, roll out a piece of dough to just under ¼-inch (6 mm) thick. Dust each of your 6 pie shells with flour and line the tart shell with the pastry, trimming away any excess. Place on the prepared baking tray. Repeat with the remaining pastry portions and tart shells, and chill the shells while you prepare the filling.
Whisk the pumpkin puree with the brown sugar, molasses, cinnamon, ginger, nutmeg, allspice, cloves and salt until evenly blended. Whisk in the eggs followed by the cream. Pour this carefully into each of the tart shells and bake for about 30 minutes, until all but an inch at the centre of each tart jiggle when the shell is moved. Allow the tarts to cool on the tray on a cooling rack to room temperature and then chill for at least 90 minutes before serving.
To garnish the tarts, whip the cream and skim milk powder until it holds a soft peak when the beaters are lifted. Whisk in the icing sugar. Remove each tart from its metal shell. Dollop each tart with a bit of cream and serve.
Notes
This recipe can be baked as a traditional 9-inch (23 cm). Prepare the dough and filling as above, line a glass pie plate with the pastry and chill while making the filling. Bake the pie for about 50 minutes at 375°F (190°C).

Did You Make This Recipe?
---
Enjoy