Cabbage Pasta is on the menu in Book recipe, and we are going to teach you how to make this delicious recipe from scratch!
Today I would like to cook for you a guilt and gluten-free pasta made from cabbage! The beautiful cabbage will be like tagliatelle and will be combined with a gorgeous tomato sauce along with delicious minced meat.
It's a recipe I've developed and make whenever I want to lose weight or do a carbohydrate-free diet.
Follow along with the ???? recipes below????????????????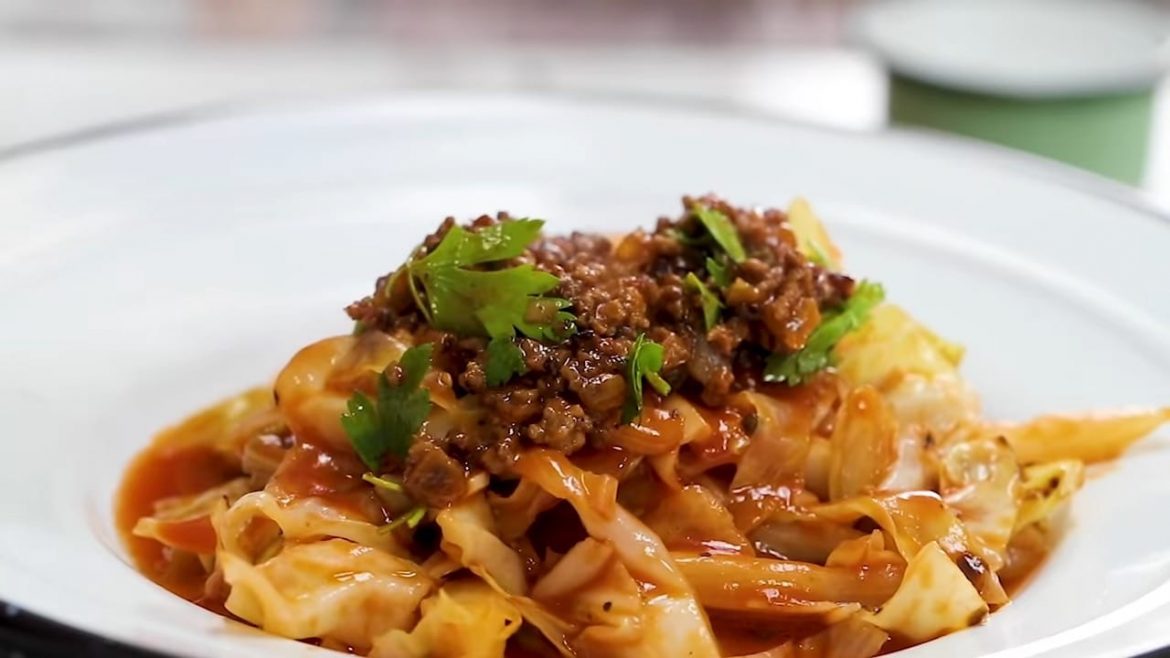 Ingredients
200 gr minced meat
1 large onion, diced
Salt
1 tablespoon butter
Grated nutmeg
2 cloves garlic, sliced
1/2 tablespoon butter
1 tablespoon olive oil
200 ml tomato puree
250 ml tomato juice
2 pinches sugar
1 tablespoon vinegar
8 tablespoons beef stock
1 teaspoon oregano
Salt & black pepper
500 gr white cabbage, cut into strips
2 tablespoons olive oil
1 clove of garlic, sliced
Parsley, chopped
Parmesan, grated
Black pepper
Instructions
Heat a large frying pan on high heat.
Add the minced meat to the pan and spread with a wooden spoon. But do not stir all the time. Let one side brown, then stir again. You can also use pork, veal, or lamb.
Add the onion, turn the heat to low, and continue sautéing.
Stir from time to time for about 15 minutes. Minced meat will get perfectly brown, and onions will almost disappear in the pan.
While cooking, add butter and salt to your taste.
When cooked, add black pepper, and grate the nutmeg.
Meanwhile, heat a wok pan, add the olive oil, and sauté the cabbage.
While sautéing the cabbage, the heat should be high and the pan should be large to have crunchiness.
Add the garlic to increase the taste and continue to sauté.
Cook the cabbage for around 5 minutes on high heat until they get a brown crisp.
When cabbage comes to the al dente stage take it out to a plate.
To the same pan add butter, garlic, and olive oil.
Add the tomato puree and juice.
To reduce the acidity, add sugar and vinegar.
Add brown stock then season with oregano, salt, and black pepper and simmer a bit.
Pour some sauce into the minced meat and cook a little. If minced meat sticks to the pan, scrub the bottom with a spatula so you won't waste any amazing flavor.
Combine the cabbage with minced meat and transfer to the plate.
Garnish with parsley, grate some parmesan, sprinkle some black pepper and it's ready to eat.
Did You Make This Recipe?
---
Enjoy
Let us know what you think of today's Cabbage Pasta tips, tricks, and hacks!