Kabocha Squash Bread is on the menu in Book recipe, and we are going to teach you how to make this delicious recipe from scratch!
Follow along with the ???? recipes below????????????????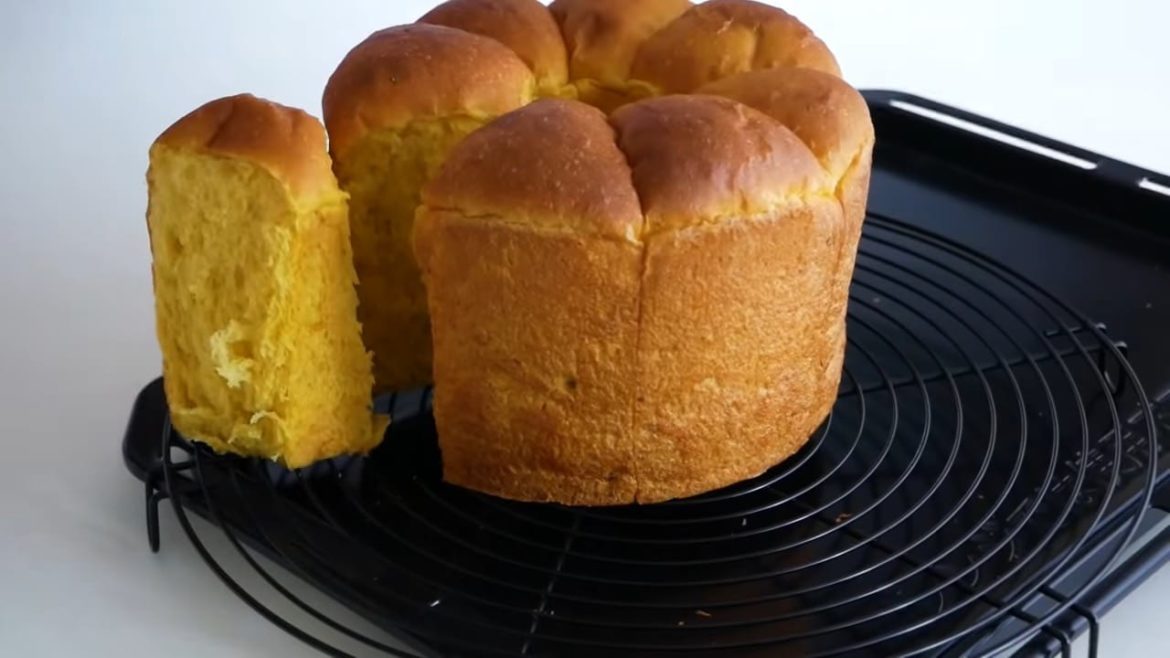 Ingredients
17cm chiffon cake pan
★280g Bread flour
★35g Sugar 
★4g Salt
4g dry yeast
140g Milk
35g Water
135g Mashed kabocha squash

28g Unsalted butter(room temperature)
Mashed kabocha squash
Take out the seeds from 200g of kabocha squash and peel the kabocha squash.
Cut the kabocha squash into bite-sized pieces.
Microwave until tender, and mash with a fork. Leave to cool.
*To keep the pretty color, I left out the skin of the kabocha squash.
Instructions
Grease the chiffon cake pan with butter.
Combine the dry ingredients (★)and mix together with a whisk.
Add dry yeast, Milk, and water, and Mix.
Put it on the table and knead(10mins)
Add Mashed kabocha squash and knead.
Add butter and knead more. (5mins)
Make it round, then leave it at a warm place until it gets twice as bigger. (primary fermentation)
Degas the dough from ⑤, divide it into 8 pieces, and make them round.
Cover them with a wet cloth and leave them for 10 mins. (bench time)
After resting, deflate with your hand, round and smooth the surface of the dough well, and firmly close the seam.
Put them on the chiffon cake pan.
Cover them with plastic wrap or a wet cloth not to dry, leave it at a warm place until they get twice as bigger. (secondary fermentation)
Preheat the oven at 190°C and bake it for 14 min.
After that, turn the degree down to 170°C and bake it again for 12 min.
Remove from the pan and place it on a wire rack to cool.
Notes
The best milk(water) temperature for the dough: About 30℃ for spring and autumn. About 10℃ for summer, and about 40℃ for winter.
Be careful not to let the dough dry out when you are letting it rise or rest.
When the dough is too moist and sticky, powder the dough a little.

Did You Make This Recipe?
Recipe video
---
Bon Appétit