Sütlaç is on the menu in Book recipe, and we are going to teach you how to make this delicious recipe from scratch!
You could probably tell just how much I adore today's recipe from the first 20 seconds of the video because it is one of my absolute all-time favorite dessert recipes! It's called "sütlaç," a type of rice pudding, and it's the Turkish take on one of the lightest, milkiest, and most delicious desserts out there – ALSO, we're going to be making a version of it, or a family heirloom recipe I should say, and it's called "Bahti."
It's cooked on very low heat in a pressure cooker for hours in order to achieve this insanely delicious, caramelized taste, and it allows you to make this bahti inspired rice pudding in half an hour ???? Enjoy today's episode, and don't forget to let us know what you think!
Follow along with the ???? recipes below????????????????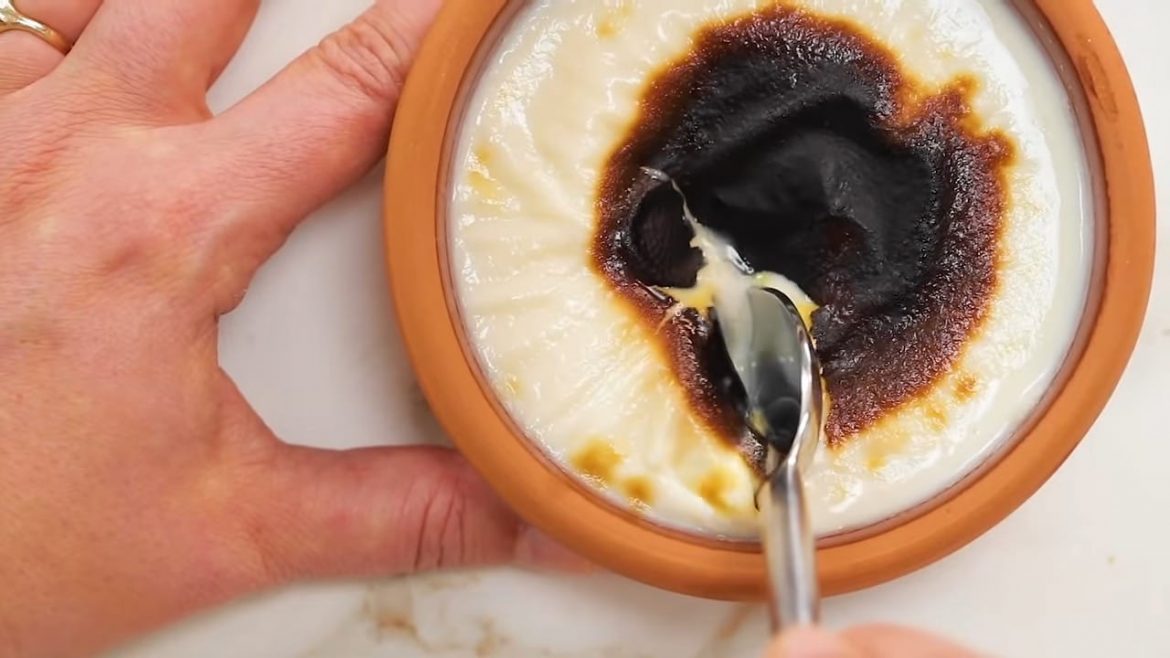 Ingredients
Oven-Baked Sütlaç:
150 g rice (4/5 cup, 165-170 g, for lower starch content rice like basmati. 130-135 g, for higher starch content rice, like arborio)
1 l milk (4 cups), at least 3% fat content
500 ml water (2 cups)
300 g sugar (1,5 cups)
To garnish,
Roasted hazelnut, chopped
3-4 pieces of mastic, optional (also known as mastic tears. Mastic is some sort of a tree resin used to give flavor, especially to desserts. You can find it in Turkish and Greek stores or order online)
Bahti Inspired Caramelized Sütlaç:
150 g rice (4/5 cup)
1 l milk (4 cups)
150 g sugar (3/4 cup)
Instructions
Oven-Baked Sütlaç:
Add the rice and water to a large pot. Let the rice cook for about 30 minutes on low heat until almost all water is absorbed. Put the lid on with a little bit of space to let the air flow and prevent it from boiling over.
Pour in the milk and add the sugar. If you use mastic, add it in at this step. Freeze the mastic for at least 15 minutes and mash with a pestle and mortar.
Give it a stir and cook for another 30 minutes. Place a wooden spoon across the top of the pot to prevent it from boiling over.
Meanwhile, preheat your oven to 230C (445F) on grill mode.
Transfer the mixture to oven-proof bowls or ramekins, leaving 1/2 cm (1/5 in) space at the top. Stir the mixture after each filling to distribute the rice evenly to each bowl.
Pop the air bubbles with a toothpick, if there are any.
Transfer the bowls to a deep tray and place the tray on the highest rack of your oven. Pour enough hot water into the tray to cover halfway through the bowls. This will keep the oven moist and prevent the cracking or overcooking of the sütlaç.
Bake until the tops are dark brown and remove from the oven.
Let it cool down to room temperature, then refrigerate for at least 2 hours, ideally overnight.
Serve cold with roasted hazelnuts.
Bahti Inspired Caramelized Sütlaç:
Pour in 1 cup of milk with rice in a pressure cooker. Set the pressure to high and cook on low heat for 12 minutes after making sure that the lid is tight and the pressure is enough to cook.
Release the pressure by removing the lid or putting the pan under running cold water.
Add in the sugar and the rest of the milk. Give it a stir and again cook on high pressure for another 15 minutes after the lid is tight.
Release the pressure and transfer the sütlaç to bowls. You can bake them as well, just like the traditional sütlaç.
Let it cool down to room temperature then refrigerate for at least 2 hours. Serve cold.
Did You Make This Recipe?
---
Enjoy
Let us know what you think of today's Sütlaç tips, tricks, and hacks!