Sausage Buns is on the menu in Book recipe, and we are going to teach you how to make this delicious recipe from scratch!
Follow along with the recipes below!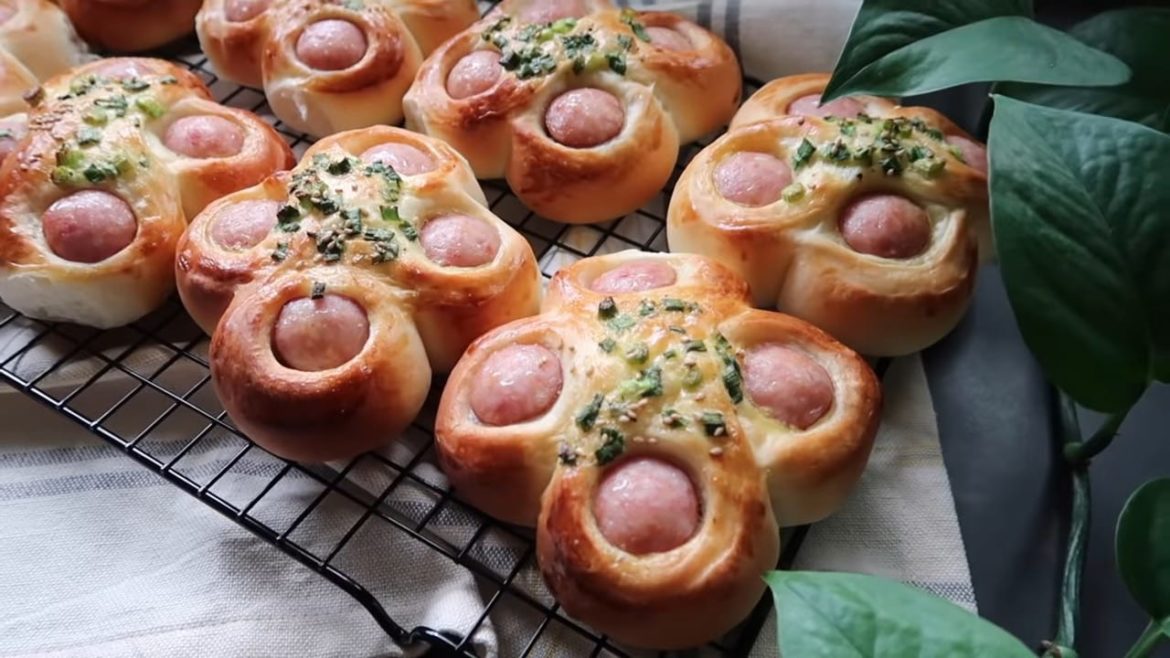 Ingredients
Sponge Dough Ingredients:
Bread Flour 210g
Lukewarm water 135ml (35 degrees C)
Instant Dry Yeast 3g
Main Dough Ingredients:
Bread Flour 90g
Milk Powder 12g
Sugar 25g
Milk 60-65ml
Salt 5g
Unsalted Butter 25g (room temperature)
Instructions
Make the Sponge Dough the night before. Dissolve the instant dry yeast with lukewarm water, then add the bread flour and mix until a dough is formed, then hand knead for ~5 mins.
Put the sponge dough in an airtight container and put it in the frig overnight to let it ferment for 15-17 hours.
NEXT DAY
Put the bread flour, milk powder, sugar, and milk (half portion) in the mixing bowl, then tear the ready-to-use sponge dough into small pieces and put in the mixing bowl as well.
Turn to low speed to mix together the ingredients, meanwhile slowly pouring in the rest of the milk; mix for around 2 minutes
Once a dough is formed, turn to high speed and add salt; mix for around 8-10 minutes
Check if the dough is elastic enough and the broken edges are zigzag shape
Add unsalted butter and turn to low speed, mix for around 2 minutes
Change to high speed and mix for around 5-8 minutes, until the dough is even more elastic than before, and the broken edges are smooth
Shape the dough into a big ball and put in a bowl, cover the bowl with plastic wrap and move to a warm corner for fermentation, needs approximately 30-45 minutes (the dough is done fermenting if you poke a hole into the dough and the hole doesn't shrink back)
Get rid of the big air bubbles from the dough, then divide the dough into 8 portions, each ~65g
Shape all 8 doughs into a circular ball, then cover with a semi-wet towel and let them rest for 15-20 minutes
Prepare 8 hot dogs, cut off the two sides
Wrap the hot dogs with the doughs and make them into a flower shape (refer to video)
Put the bread into the oven for final fermentation (can put 2 cups of hot water in the oven), needs approximately 1 hour
Combine some minced spring onion, 1/2 egg mixture, salt, black pepper, and oil
When the bread is done fermentation, brush a thin layer of egg mixture, then put some spring onion mixture on the center of the bread. Can also sprinkle some white sesame.
Put the bread at the bottom rack and bake at 180 degrees C for 15-18 minutes (depending on your oven)
Did You Make This Recipe?
Recipe video
---
Enjoy