Crusty and Juicy Lahmacun is on the menu in Book recipe, and we are going to teach you how to make this delicious recipe from scratch!
We're back in the studio – at least for this video ???? Today we've got a very special recipe for you, as always! It's the number 1 street food in Turkey, the crusty delight, the one and only…
LAHMACUN! Those of you who visited Turkey in the past had probably had this beauty on their list of many things to eat while you were here, and if you did try it, I'm sure you miss the crunchy and juicy taste of it every day! So we thought we'd show you how to easily make it at home from dough to filling, and while we're at that, we added an easier way to make it with lavash or large tortillas to the recipe.
We hope you enjoy today's episode! Don't forget to leave a comment and let us know how your delicious homemade lahmacun turned out! ????
The perfect homemade lahmacun:
Today I want to make you Turkey's number one street food and take away – a thin layer of tasty meat on bread that is crunchy and bendy at the same time. They married to become the flawless lahmacun. It should definitely be on your bucket list!
Follow along with the ???? recipes below????????????????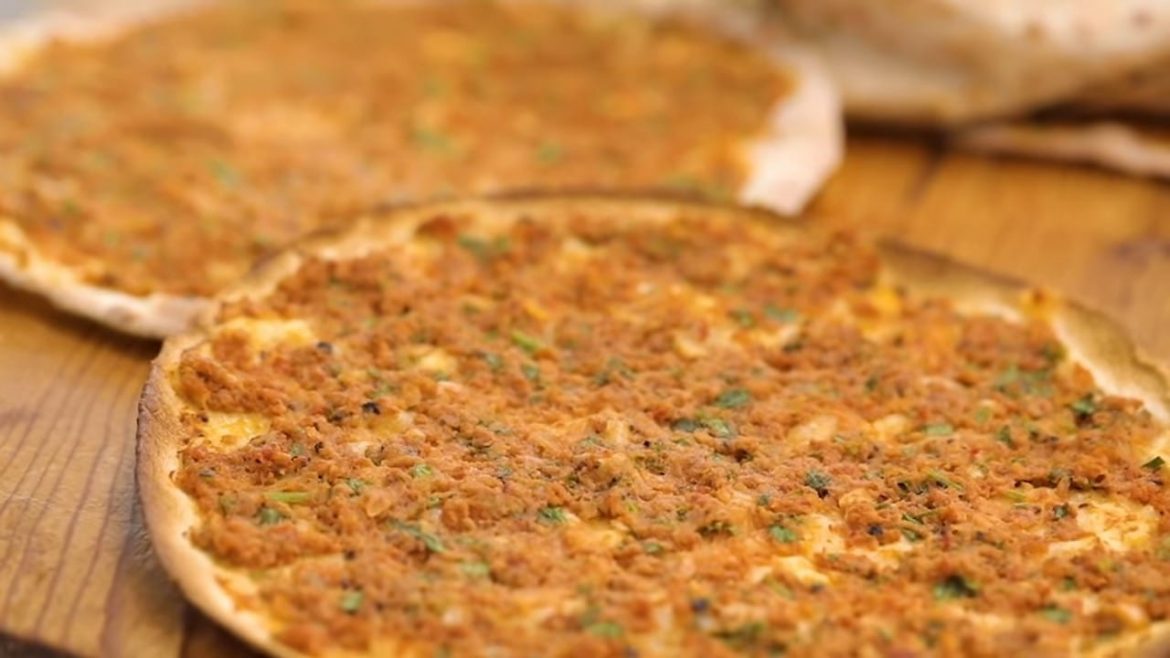 Ingredients
For the dough, (makes 9 lahmacuns)
300 gr all-purpose flour (2 cups)
1,5 teaspoons instant yeast
½ teaspoon sugar
180 ml water (3/4 cup)
1 heaped teaspoon of salt
or skip the dough and use 8-9 lavash bread as the base
For the meat mixture:
200 gr minced meat, half beef half lamb (you can use just lamb, beef, or chicken as well. Add half a teaspoon of butter if using just beef. Add cumin, tomato paste, and pepper paste to flavor if just using chicken.)
1,5 onions
2 cloves of garlic
50 gr sucuk (or any cured meat such as chorizo, salchica, pepperoni, mortadella, pastrami, pancetta or bresaola)
8 tablespoons homemade tomato puree, (6 tablespoons if store-bought, alternatively, use a grated tomato with a teaspoon of tomato paste)
12 sprigs of parsley, chopped
1 teaspoon yogurt
1 teaspoon salt
1 teaspoon black pepper
1 teaspoon hot red pepper flakes
1 teaspoon isot (any smoked pepper works like paprika or even fresh hot chilli)
Instructions
Preheat the oven on upper and lower heat, without a fan to its maximum heat, around 280C (536F) is fine. Place a pizza stone or baking steel on the bottom of the oven. You can use the back of a cast-iron pan as well.
To make the dough, mix the flour, yeast, sugar, water, and salt in a bowl and knead for 2 minutes.
When the dough becomes smooth and less sticky, cover with a damp cloth and let it rest for about 10 minutes in a warm place.
Meanwhile, for the meat mixture, pulse the onions, garlic, and sucuk in a food processor until they become a paste, or grate the onions and garlic if you are not using cured meat. Cured meat helps enhance the flavor because it is aged and fermented.
Mix the paste, minced meat, tomato puree, yogurt, salt, black pepper, red pepper flakes, and the isot. If the mixture isn't juicy enough, add a couple of teaspoons of water to spread the mixture easier.
Add in the parsley and give it a last mix.
To make the dough, divide the dough into 9 equal balls. Dust the work surface and the rolling pin with flour and roll out the balls around 30 cm (12 in). Place the dough on a peel and remove the excess flour. Spread a heaped tablespoon of mixture on the dough and slide the lahmacun onto the hot stones in the oven. Bake for about 2 minutes and repeat with the rest.
To make lavash, heat a pan for around a minute and place the lavash in it. Spread a heaped tablespoon of the meat mixture on the lavash and cook it for around a minute. Then, transfer the pan to the oven's top shelf and bake for 2-3 minutes.
To enjoy the lahmacun at its best, thinly slice a red onion and mix it with sumac and olive oil. Place the onions on lahmacun with parsley, squeeze some lemon and roll it. If you also have a glass of ayran then it is a perfect feast!
Did You Make This Recipe?
---
Enjoy
Let us know what you think of today's Crusty and Juicy Lahmacun tips, tricks, and hacks!