Tomato salads are on the menu in Book recipe, and we are going to teach you how to make this delicious recipe from scratch!
Follow along with the ???? recipes below????????????????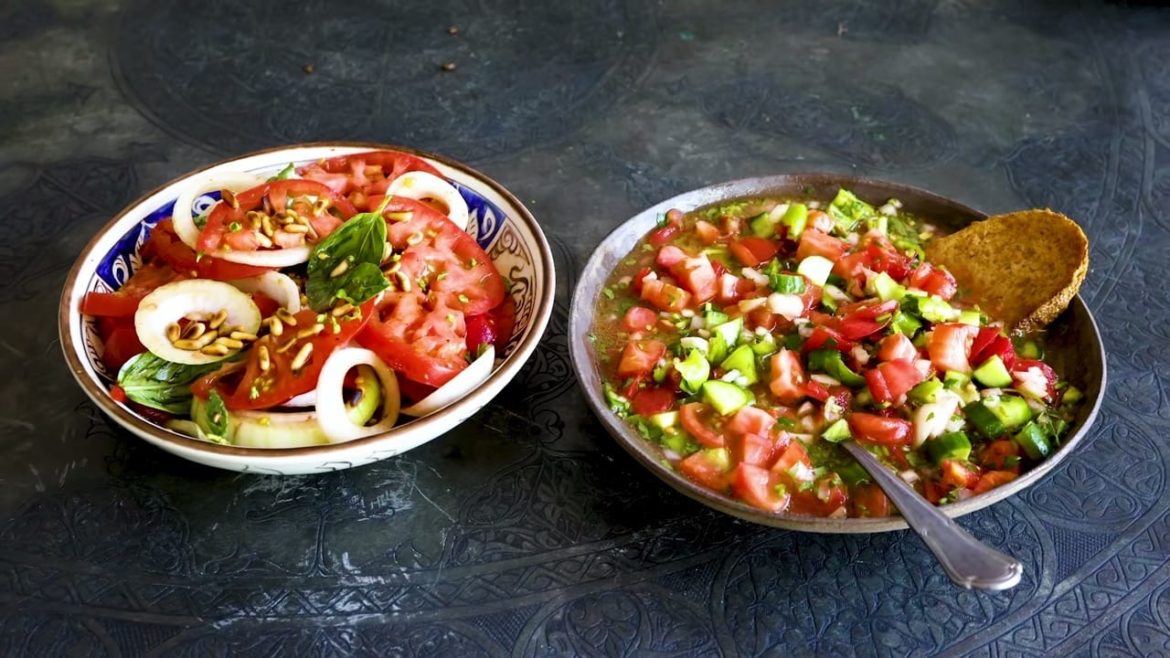 Ingredients
Shepherd's Salad
2 large tomatoes, diced
1 medium onion, diced
2 cucumbers, diced
2 green peppers, diced, bell peppers work great as well
10 sprigs of parsley, chopped
2 pinches of salt
5 tablespoons extra virgin olive oil
1/2 lemon
Manipulated Tomato & Onion Salad
1 handful of pine nuts, you can use any nuts
2 large tomatoes, sliced into semi-circles
1 medium onion, sliced into circles
3 cloves of garlic, peeled
A pinch of salt
4 tablespoons extra virgin olive oil
1 lemon
4 tablespoons balsamic vinegar, to substitute, mix molasses and vinegar
A pinch of black pepper
5 sprigs of basil, leaves picked
Instructions
Shepherd's Salad
Mix the onions, peppers and tomatoes in a large bowl. Add a pinch of salt and rub it with your hands. This way, the onion will soften, and tomatoes will release their tasty juice to triple the taste of the salad.
Add in the cucumbers and parsley.
Season with a pinch of salt. Pour in the olive oil and squeeze the half lemon juice.
Give it a good final mix and simple, fresh and delicious çoban salad is ready. It is great with hummus, köfte, falafel, toasted bread and white cheese (feta). Feel free to add pomegranate molasses if you have any. You can also add 4-5 ice cubes to keep the salad cool even on a hot summer day.
Manipulated Tomato & Onion Salad
Roast the pine nuts in a pan on medium heat for a couple of minutes until golden brown.
To make the sauce, crush the garlic with a pinch of salt using a pestle and mortar.
Pour the olive oil into the mortar. Squeeze the lemon juice and use 1,5 lemon if your lemon is not juicy.
Add the balsamic vinegar and black pepper.
Rub the basil leaves to wake their flavours.
Mix the sauce with the onion, tomato, basil leaves and half of the pine nuts in a large bowl.
Transfer to your serving dish and let it rest for half an hour for the flavours to engage with each other.
Heat the rest of the pine nuts and sprinkle over the salad. Your juicy salad is ready with bitterness, sweetness, sourness, saltiness embraced with fresh and nutty flavours. Enjoy with your loved ones!
Did You Make This Recipe?
I know our cuisine is famous for its kebab, really good pastries, vegan/ vegetarian mezes and they all are incredibly tasty. But today I want to talk about our mouth-watering, simple yet not so known salads. They are sweet, sour, salty at the same time and with fresh ingredients they become the most amazing salads you can eat all day, every day. First one is Çoban salad (Shepherd's salad), one of the Turkish classics. The last but not least, is the one I call 'manipulated tomato salad', I took some ingredients out of the Çoban salad and added some international flavours like balsamic vinegar and made another heavenly salad. It is great with fish, kebab or even by itself!
---
Bon Appétit