Mango Mousse Tart is on the menu in Chef Anna Olson's amazing kitchen, and she is going to teach you how to make this delicious recipe from scratch!
Follow along with the recipes below!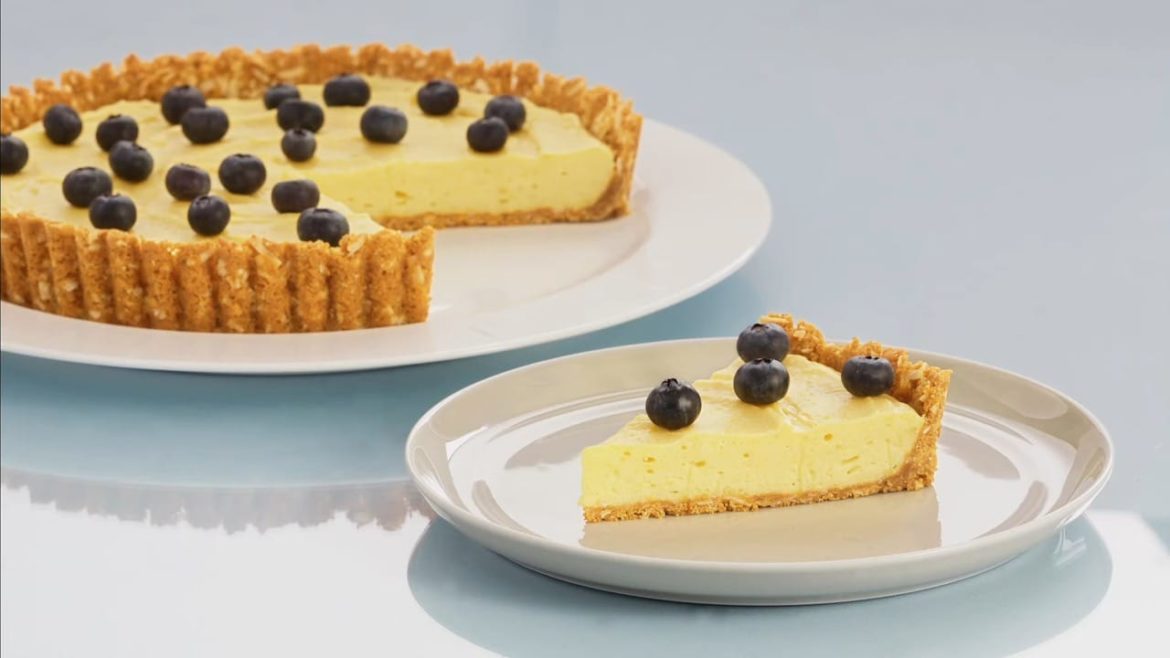 Ingredients
Crust
1 ¼ cups (280 g) graham cracker crumbs
½ cup (50 g) sweetened flaked coconut
¼ cup (60 g) unsalted butter, melted
Mousse
¼ cup (60 mL) cool water
1 ½ tsp (4.5 g) agar agar powder
1 cup (250 mL) Ataulfo** mango purée
½ cup (100 g) granulated sugar
2 Tbsp (30 mL) fresh lime juice
¾ cup (175 mL) whipping cream
1 tsp (5 mL) vanilla extract
fresh blueberries, for décor
Instructions
Preheat the oven to 350 F (180 C).
Stir together the graham crumbs, coconut and melted butter until combined and press this into a 9-inch (23-cm) removable-bottom fluted tart tin. Bake this for 10 minutes and then set aside to cool.
For the mango mousse, Pour the cool water into a small saucepan and sprinkle the agar agar over top, stirring. Let sit for a few minutes to soften.
Stir ½ cup (125 mL) of the mango purée into the agar mixture, as well as the sugar and lime juice. Bring this up to a simmer while whisking constantly on medium heat and simmer for at least a minute before removing the pan from the heat and pouring the mixture into a bowl. Stir in the remaining ½ cup (125 mL) of mango purée to cool it down. If not at room temperature after stirring in the remaining mango, then set aside to cool a little longer.
Whip the cream to a soft peak and add the vanilla. Fold the cream into the cooled mango puree in 2 additions and scrape this into the tart shell. Chill the tart for at least 3 hours before topping with a sprinkling of fresh blueberries and serving.
Notes
The tart will keep, refrigerated, for up to 3 days.
Ataulfo is a variety of mango that has an intensely sweet, aromatic and deep yellow flesh, and lends itself well towards mango desserts because of this.
Makes 1 9-inch (23 cm) tart

Did You Make This Recipe?
Recipe video
---
Enjoy