Savory Spiral Scones is on the menu in Chef Anna Olson's amazing kitchen, and she is going to teach you how to make this delicious recipe from scratch!
Follow along with the recipe below!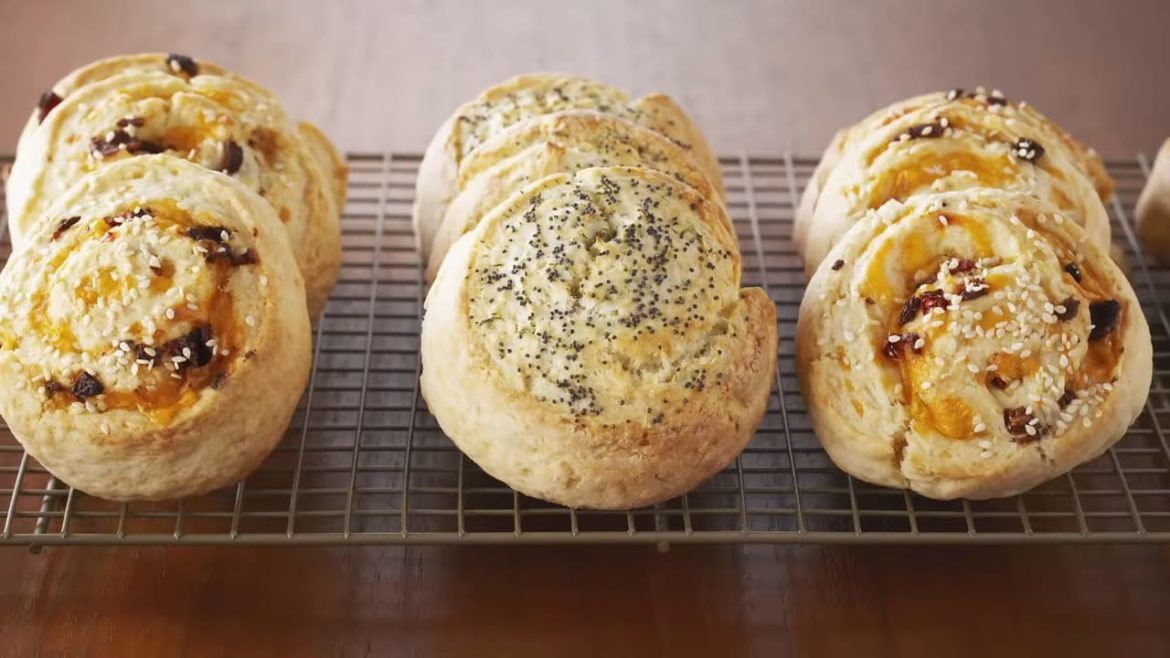 Ingredients
Scones:
2 cups (300 g) all-purpose flour
¼ cup (50 g) sugar
1 Tbsp (9 g) baking powder
¼ tsp (2 g) salt
½ cup (115 g) cold unsalted butter, cut into small pieces
½ cup (125 ml) whipping cream
¼ cup (60 ml) 2% milk, plus extra for brushing
1 large egg
Filling Option 1 – Bacon, Sundried Tomato & Cheddar
¼ ( approx 40 g) cup cooked diced bacon
2 Tbsp (7 g) finely chopped sundried tomato (oil-packed and drained is best)
½ cup (130 g) finely grated cheddar cheese
milk, for brushing
sesame seeds, for sprinkling
OR
Filling Option 2 – Garlic Cream Cheese & Dill
½ pkg cream cheese at room temperature
1 clove garlic, minced
3 Tbsp (2 g) chopped fresh dill
milk, for brushing
poppy seeds, for sprinkling
Instructions
Preheat the oven to 375 F (190 C) and line a baking tray with parchment paper.
Sift the flour, sugar, baking powder, and salt into a large bowl. Cut in the butter until the mixture is rough and crumbly but still small pieces of butter are visible.
In a separate bowl, whisk the cream, milk, egg, and vanilla together. Add this to the flour mixture and stir to just bring the dough together, turning out onto a lightly floured work surface to complete bringing it together with your hands. Press the dough out into a rectangle about 10-x-14-inches.
For Filling Option 1, Sprinkle the dough with the bacon, sundried tomato, and cheddar. Roll the dough up tightly from the 10-inch side.
For filling option 2, beat the cream cheese with the garlic and dill and spread this over the dough. Roll the dough up tightly from the 10-inch side.
Slice the dough into 8 rounds and place them on a parchment-lined baking tray. Brush the tops of the scones with milk and sprinkle with sesame seeds or poppy seeds. Bake the scones for about 20 minutes until lightly browned. Allow the scones to cool for at least 10 minutes before serving.
Did You Make This Recipe?
Recipe video
---
Enjoy