Raspberry Jelly Donuts are on the menu in Chef Anna Olson's amazing kitchen, and she is going to teach you how to make this delicious recipe from scratch!
Follow along with the recipes below!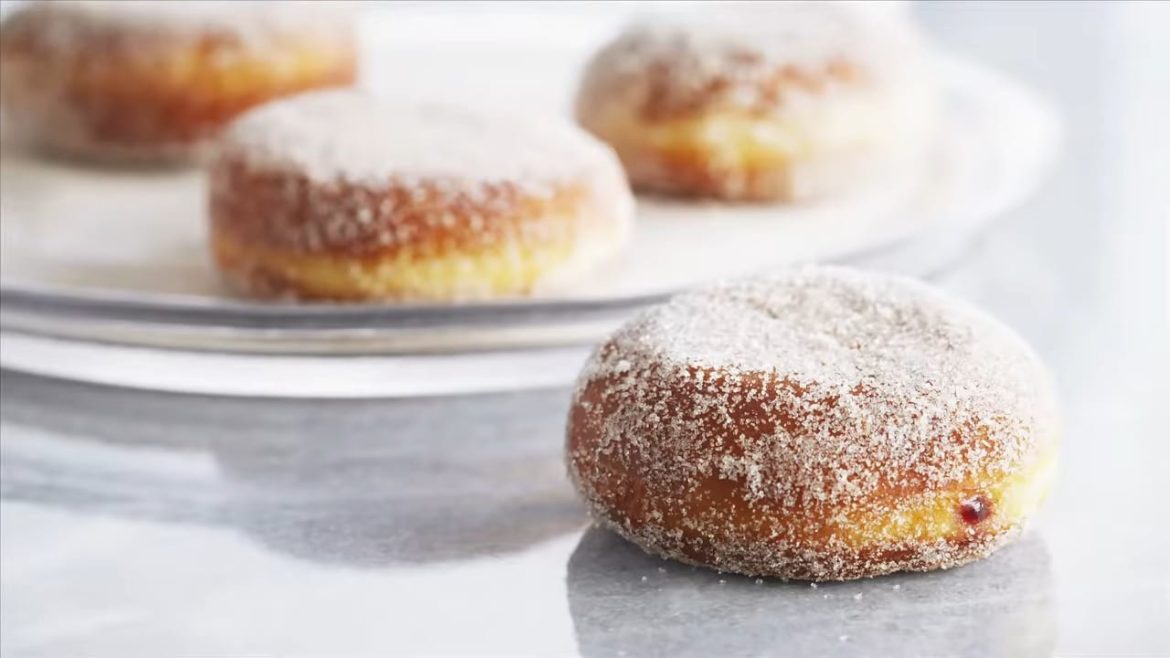 Ingredients
2/3 cup (160 ml) milk, just above body temperature (105 F)
2 ¼ tsp (1 pkg) (8 g) instant dry yeast
1/3 cup (70 g) sugar
3 eggs at room temperature
3 ½ cups (525 g) all-purpose flour
1 tsp (5 g) salt
¼ tsp (1 g) ground nutmeg
½ cup (115 g) unsalted butter at room temperature
vegetable oil, for frying
½ cup (100 g) sugar mixed with ¼ tsp (1 g) cinnamon, for coating
½ cup (125 ml) stirred raspberry jam
Instructions
Add the milk, yeast, sugar, and eggs to a bowl and blend slightly. Add the flour, salt, and nutmeg and blend by hand or in a mixer fitted with the hook attachment. Immediately start adding the butter a bit at a time and continue to mix until the dough comes together. If using a mixer, continue to knead the dough until smooth and elastic, about 5 minutes and if mixing by hand, once the dough becomes too difficult to stir, turn it out onto a lightly floured surface and knead by hand until smooth and elastic. Place the dough into a lightly oiled bowl, cover the bowl with plastic wrap and let rise for at least 2 hours, or chill and let rise overnight.
Turn the risen dough out onto a lightly floured surface and roll it out to 1/2 –inch thickness. Use a doughnut cutter or 3-inch cookie cutter to cut out 12 doughnuts, re-rolling the dough if needed. Place the doughnuts onto a parchment-lined baking tray, cover the tray with plastic wrap, and let the doughnuts rise for 45 minutes, if using room temperature dough or for an hour if using a cold dough.
Pour the oil into a tabletop deep fryer (following manufacturer's instructions) or into a large, deep pot so that it is only filled about 3 inches. Heat the oil to 350 F (175 C) use a candy thermometer if cooking doughnuts in a pot). Have a baking tray lined with a paper towel, with a cooling rack placed over it. Place a doughnut onto a slotted spoon and lower gently into the oil. Fit in as many doughnuts as you can, but with enough room that they have at least an inch between them. Fry the doughnuts for about 4 minutes, then flip over the fry for another 4 minutes. Use your slotted spoon to remove the doughnuts onto the cooling rack to drain. While still warm, dip the doughnuts in the cinnamon sugar to coat, and then return to the rack to cool completely.
To fill the doughnuts, spoon the raspberry jam into a piping bag fitted with a doughnut tip (also known as an éclair tip) or a medium plain tip. Insert the tip into the doughnut and fill with about a 2 tsp of the jam. The doughnuts are best enjoyed the day they are made.
Did You Make This Recipe?
Recipe video
---
Enjoy