Banana Bread is on the menu in Book recipe, and we are going to teach you how to make this delicious recipe from scratch!
Banana Bread is such an easy & amazing dessert to make at home. I've given quite a bit of thought to this recipe so please enjoy!
Follow along with the ???? recipes below????????????????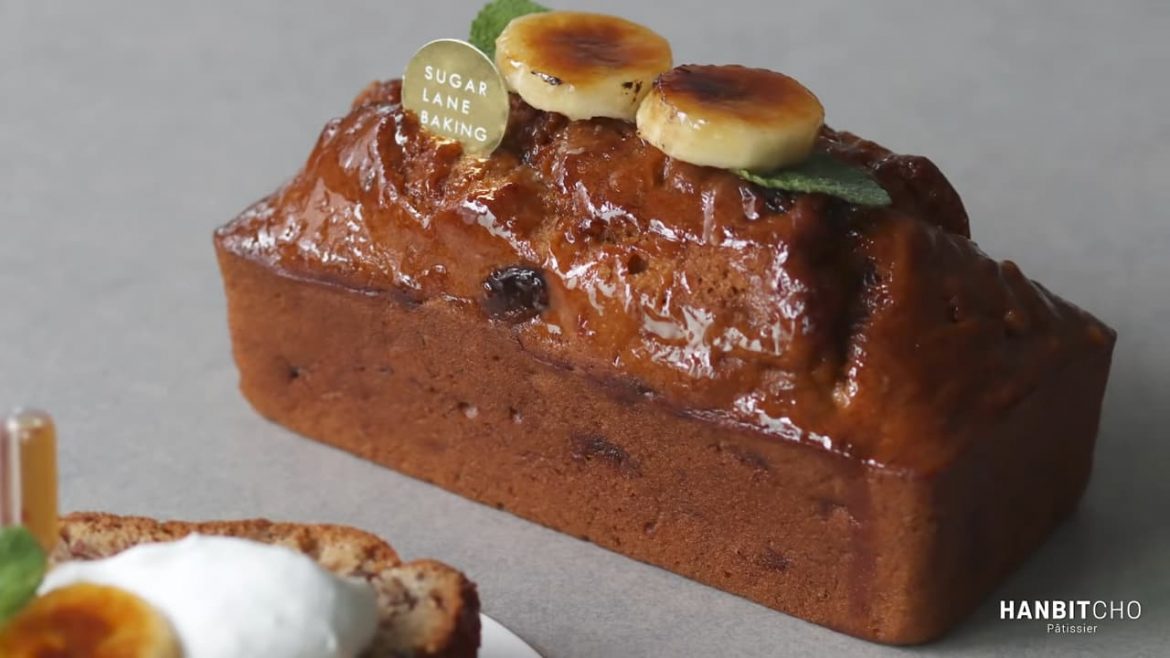 Ingredients
Banana Bread:
Bananas 255g (Ripe bananas pls!)
Unsalted Butter 40g
Grapeseed Oil 34g
Light Brown Sugar 133g (can use white sugar but light brown sugar is recommended)
Whole Egg 48g
Sour Cream 35g (or plain yoghurt)
Vanilla Extract a few drops
All-purpose flour 205g
Cinnamon powder 1.2g
Baking soda 3.4g
Salt a pinch
Walnuts 45g (optional but recommended)
Raisins 45g (optional but recommended)
Whipped Cream:
100g Heavy cream
10g Sugar
10g Mascarpone cheese (optional)
Instructions
Mash the bananas
In a bowl add the banana, melted butter, oil, sugar, egg, sour cream, and whisk.
Sift in the flour, cinnamon powder, baking soda, salt, walnuts, and raisins.
(pre-heat 160℃) 160℃ for 50mins~1hr. You MUST adjust baking temp/time due to the difference in the pan size.
Optional: Homemade neutral glaze & slices of banana
Note: Applying the neutral glaze will make the applied surface sticky – the neutral glaze is meant to be sticky.
Personally, I prefer wrapping the banana bread in cling film and storing it at room temp to serve the next day for optimal tenderness.
Quickly ripen bananas:
Put the banana into a paper bag with an apple inside. Check back after half a day and leave it longer if not ripe enough.
Another super quick way would be to bake unpeeled bananas at 150℃ (pre-heat 150℃) for 15~30mins. The banana will turn black but that's ok.
Whipped Cream
Add everything to a bowl, and whip to the desired consistency.
Yield: 2 x mid-sized pound cake pans (15cm x 7cm x 6cm, somewhere around 700ml in volume)
Notes
How to store / Shelf life
Air-tight container for 3 days at room temp. It's possible to store it in the freezer for up to 2wks.
Baking time/temp
Everyone uses different-sized pans – so adjust baking time & temperature. I've explained in the video "how to check" if your banana bread is baked well. My advice is to stick to 160℃ and adjust the time first - if it takes too long to bake even after extending the time then raise the temp by 10~15℃. (I know my suggested baking temperature is lower compared to a lot of those recipes out there – I prefer baking at a lower temp for longer)

Did You Make This Recipe?
---