Cinnamon Rolls are on the menu in Book recipe, and we are going to teach you how to make this delicious recipe from scratch!
Follow along with the ???? recipes below????????????????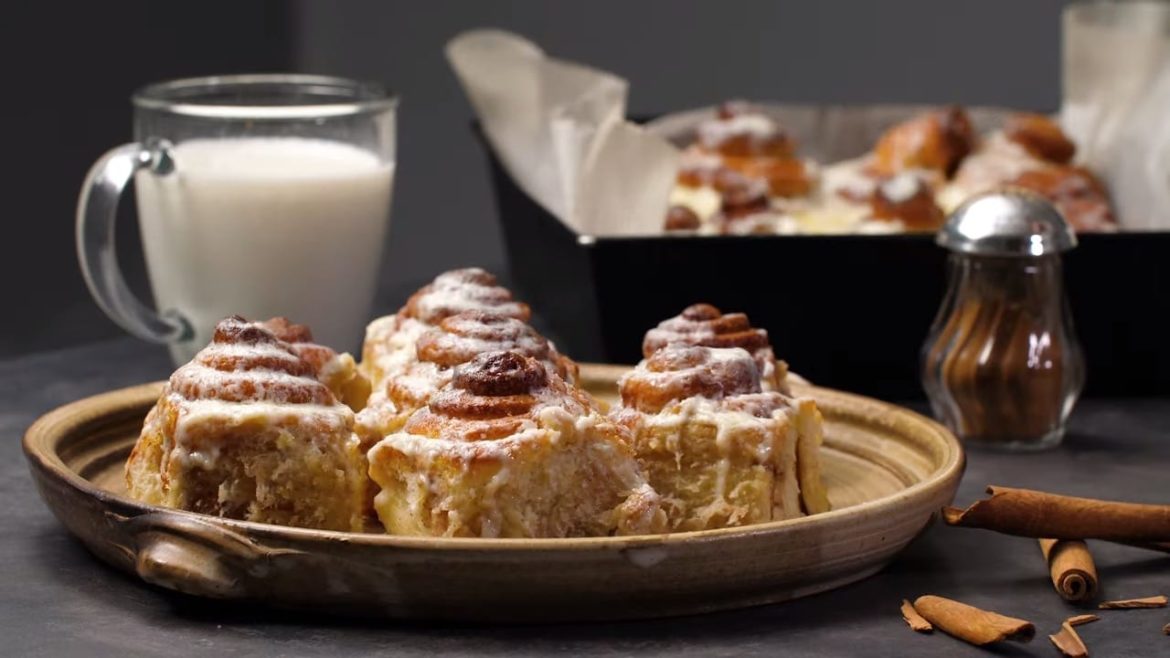 Ingredients
2 tsp instant yeast
75 g | 1/3 cup powdered sugar
125 ml | 1/2 cup warm milk
80 ml | 1/3 cup buttermilk
2 eggs
500-630 g | 4-5 cups all purpose flour - sifted
125g | 1/2 cup soft unsalted butter
1 tsp salt
3 tbsp cinnamon
200 g | 1 cup brown sugar
60 g | 1/4 cup melted unsalted butter
225 g | 8 oz mascarpone cheese
25g | 1/4 cup powdered sugar
1 tbsp lemon juice
60 g | 1/4 cup soft unsalted butter
Instructions
Combine powdered sugar, instant yeast and warm milk in a bowl. Set the yeast mixture aside for 5 to 10 minutes until it gets foamy.
In a mixing bowl place buttermilk, eggs and unsalted butter. Mix until well combined.
Pour in yeast mixture and add in salt. Then, add sifted flour - cup by cup. Do not add all flour at once! Use a stand mixer with a dough hook to knead the dough. Mix the dough slowly until it does not stick to your finger. You might need more flour.
Place the dough onto a floured surface to knead. In order to knead the dough take the dough and fold it over onto itself and then push down and out with your palm stretching the dough then turn the dough a quarter turn and repeat. Knead the dough for 8 to 10 minutes the resulting dough will be nice and smooth. If it's sticky, sift some more flour.
Place the kneaded dough into a large bowl that has been sprayed with kitchen spray or sprinkled with flour and cover it with a damp towel. We use foil so you can see the dough inside. Keep it in a warm place for 2 hours until doubled.
After the dough has risen and is about double in size, roll out the dough into a rectangle about a little less than half of an inch thick.
Prepare the filling. Place the cinnamon and brown sugar in a bowl and combine them with a whisk or spoon. Brush the dough with melted butter, be generous ???? Then just sprinkle on the cinnamon sugar until it covers the whole surface.
Time to roll the buns. Cut the dough into long, 5cm | 2" wide stripes and roll each stripe tightly. Of course, you can also roll the dough and then cut into pieces with knife or dental floss. Next, just place the cut rolls into a lined with parchment paper baking tin - the size should be appropriate for the amount of your buns. Do not place them too tight. I used 23cm | 9" square baking tin. Cover it with a damp towel and set aside for 1h - if you are really hungry, you can skip this point.
Brush on some butter to the tops of the cinnamon rolls, which will add flavor and help them get a nice golden brown color. If you have any brown sugar leftovers, you can sprinkle it over. Bake the rolls in a preheated at 190°C | 375°F, for around 20 minutes.
Prepare the frosting. Combine together soft butter, lemon juice, mascarpone cheese and powdered sugar. Spread onto hot buns. If your cinnamon rolls are not hot enough, place them in still warm oven for 2 minutes.
Enjoy!
Notes
Prep Time: 30 minutes (+3h rising time)

Did You Make This Recipe?
---
Enjoy